Gregory N. Mandel named Temple University provost
Mandel was nominated for the position by President Jason Wingard and confirmed by the Board of Trustees.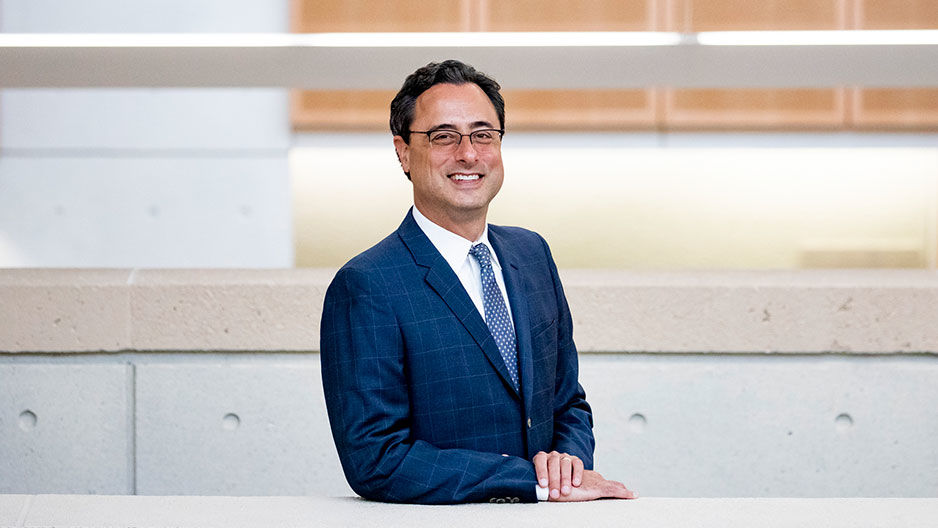 Gregory N. Mandel has been unanimously confirmed as Temple University's senior vice president and provost by the Board of Trustees. A member of the faculty since 2007, Mandel was selected by President Jason Wingard in August 2021 to serve as interim provost.
With the board's confirmation, Mandel becomes the university's chief academic officer and will oversee a broad portfolio that includes the university's 17 schools and colleges and encompasses several administrative offices including Faculty Affairs, Student Affairs, Enrollment Management, Information Technology Services and International Affairs.
"One of my presidential priorities is to enhance Temple's value proposition by adapting and updating our curriculum to better prepare students for the workforce," said Temple President Jason Wingard. "With Greg officially named provost, we can continue universitywide efforts to build on an existing platform of excellence to ensure that when students graduate with Temple degrees, they have the skills and competencies to be leaders in their chosen fields. Greg will be instrumental in positioning a Temple education as best in class."
"I look forward to working with President Wingard and our exceptional faculty and staff to deliver on the promise of an excellent, affordable education to a diverse student body that is primed for success long after graduation," said Mandel.
Throughout his tenure at Temple, Mandel has built strong relationships across the university.
 
"Greg's ties to Temple run deep," said Board of Trustees Chair Mitchell L. Morgan. "His ability to inspire and influence colleagues and students alike through his scholarship, dedication and leadership makes him well-suited for this role."
Mandel's ties to Philadelphia also run deep, having grown up in East Mount Airy. "Like President Wingard, Greg has a history and familiarity with the city of Philadelphia. He gets this city and the place Temple holds in it," said JoAnne Epps, senior advisor to the president and former provost. "He is supremely qualified. He also embodies the values that are deeply imbued in the Temple culture. I am delighted for him to take the reins and carry the office of the provost forward."
Prior to his appointment, Mandel was a member of the Beasley School of Law faculty, including the past five years during which he served as dean. He has also been involved with the university's strategic planning process as co-chair of the Futures Committee with Klein College of Media and Communication Dean David Boardman.
"In our work together over the past two years co-chairing the Futures Committee, I was impressed by Greg's intellectual curiosity, his ability to work with people from across campus, and his commitment to the values that make Temple unique. I have no doubt that the university will make significant strides with Greg fully in this role," said Boardman.
In addition to his roles as interim provost and dean, Mandel was associate dean for research and, as an expert in intellectual property and the interface among technology, science and the law, he authored some of the most influential and frequently cited intellectual property and patent law articles of recent years.
"Gregory Mandel's credentials as a scholar and educator are quite impressive. He has excelled as an administrator on so many levels and, like another former colleague always says, as former dean of the Law School, he has a track record of doing the right thing because it's right—and not because it is always easy," said Kimmika Williams-Witherspoon, president of the Faculty Senate and an associate professor of urban theater and community engagement in the School of Theater, Film and Media Arts. "Having served on a number of committees with him and worked with him as interim provost, I have gotten to know him a little and I can attest that he will bring a wealth of expertise to his appointment as provost—but more than anything else, he is a good listener, he is thoughtful and he publicly recognizes that faculty are an important part of the Temple enterprise, too."
This appreciation of the importance of faculty will guide Mandel's approach as provost. As interim provost, as he did as dean of the Law School, he's been immersed in the critical work of recruiting, supporting and promoting faculty.
"It is exciting to witness the appointment of an individual with great understanding of the need for interdisciplinary collaborations across schools and colleges as our provost. It is not often to have a provost from a law school with a physics degree specializing in intellectual property," said Shohreh Amini, a professor of biology in the College of Science and Technology. "Under Greg Mandel's leadership, I foresee interdisciplinary collaborations across our great institution, and I am certain that the appointment and retention of underrepresented faculty at Temple will exponentially grow. He has demonstrated his commitment to diversity, equity and inclusion in every previous position he has held at Temple, including most recently as interim provost."
Wingard has also tapped Mandel, along with Vice President for Public Affairs Valerie Harrison, to lead the effort to stand up a task force on violence reduction strategies. Mandel will help steer the group's efforts in collecting data and making recommendations on key issues of campus safety and gun violence.
An active member of his community, Mandel was president of the Board of The Miquon School from 2013–2015 and on the board for six years. His passion for education was shaped in part by his father, Richard, who served as longtime principal at The Miquon School and Head of School at Friends Select. Mandel's pro bono legal work includes a prominent asylum case before the Attorney General of the United States and the Ninth Circuit Court of Appeals. He was associate dean for research and professor of law at Albany Law School prior to joining Temple.
Before entering academia, he practiced law with Skadden, Arps, Slate, Meagher & Flom LLP; clerked for Judge Jerome Farris, United States Court of Appeals for the Ninth Circuit; and interned with former Chief Judge Anthony J. Scirica, United States Court of Appeals for the Third Circuit. Mandel worked on NASA's Hubble Space Telescope prior to attending law school. He received his JD from Stanford Law School and his bachelor's degree from Wesleyan University with a double major in physics and astronomy.