Temple senior works to preserve a neighborhood staple
North Philadelphia native Tyler A. Ray, Class of 2022, works to raise awareness about the historically and culturally significant Church of the Advocate.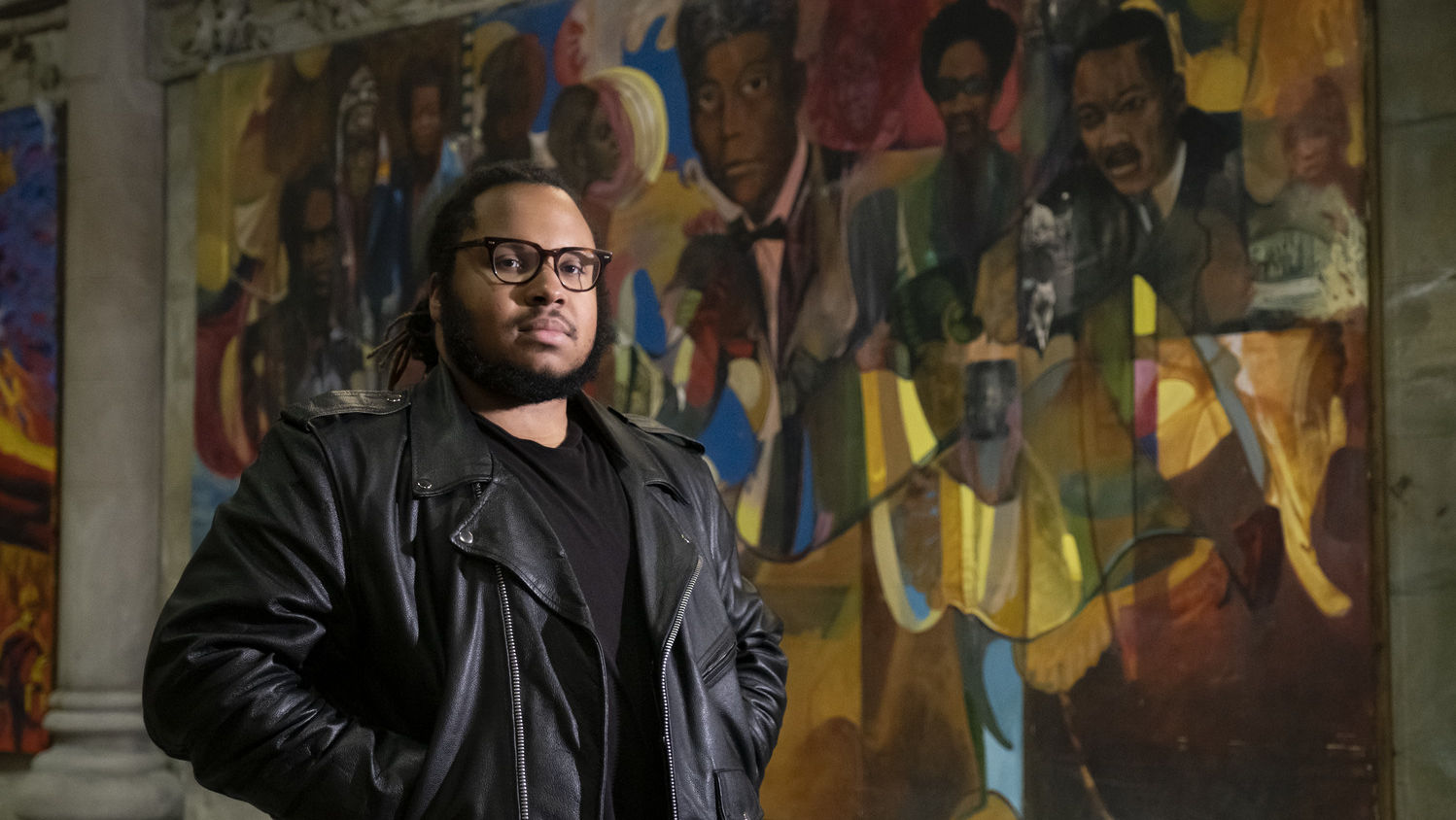 Tyler A. Ray, Class of 2022, hopes to use his education to help preserve his North Philadelphia neighborhood starting with one of its greatest gems: The Church of the Advocate. Majoring in community development and earning a certificate in historic preservation, Ray cites the Advocate for nurturing his love of architecture and passion for preservation. Long before graduation, he has been sharing his enthusiasm and extensive knowledge through his public tours that highlight the architectural as well as cultural and historical significance of the Advocate. 
Ray's lifelong proximity to Main Campus is the reason he initially didn't want to come to Temple for college, but he eventually realized that Temple was exactly where he needed to be.
Temple Now: What made you choose to study community development and historical preservation?
Tyler Ray: Growing up in North Philadelphia, I always saw so many abandoned buildings in my neighborhood. It made me ask, why do historic buildings in Black or low income neighborhoods sit abandoned without even a historical marker? You don't see that in predominantly white neighborhoods. I started wondering in high school about who was making these decisions and I learned this was urban planning. 
I didn't know there was a part of architecture called historic preservation, where I didn't need to build brand new things. I could work with what's already there, fix those things up and adapt them to modern life. I chose historic preservation so I can save buildings with historic value from getting torn down because they will never be built again. I want to be the person that makes these decisions.
TN: What is your connection to the Church of the Advocate?
TR: My family's been going to Church of the Advocate for about 60 years. It started with my music-loving grandmother from the south who moved to North Philadelphia in 1962. The story goes that one Sunday, she was lured into the Advocate by the choir and classical organ music. Ever since then my family have been members. I was baptized there along with my siblings. I was an acolyte, also known as an altar boy. My grandmom and dad were in the vestry and my dad was also a sexton.
The Advocate was not just my church, it was also my hangout during the week when my dad was working. Because of my dad, I know that church inside and out, including all the underground passageways that tunnel underneath the Advocate's three buildings. 
TN: What is the current state of the Advocate?
TR: The church complex consists of three very large buildings and spans two city blocks. The buildings have been in disrepair ever since I was a kid. There was a capital campaign but the repairs haven't been maintained. I understand that the congregation is small and it would take millions of dollars to repair but the Advocate is the reason why the Episcopal church has assumed a social justice stance on a national level. It's due to all the things that have occurred in the church over the years.
TN: Why is preservation important to you?
TR: Every city, every neighborhood, every culture has a place that they know is their place but when these places close down and then they are demolished; that takes a lot out of a community. 
Walking into the Advocate is like being in a completely different world right in the middle of North Philadelphia. I'm going to use all the connections I've made and the resources I've gained to help the Advocate. I need to save one of America's gems.
TN: Tell me about your role within the Community Affairs Department at Temple?
TR: I was giving a tour of the Advocate when I met Judith Robinson, also a North Philadelphia resident and public historian. She connected me with Andrea Swan, the director of community and neighborhood affairs at Temple. Andrea immediately wanted to do more with the Advocate after taking one of my tours. I'm now working for the department as a liaison to raise awareness and build connections between the church and the university. In addition to hosting tours for the Temple community, I hope to start a collection of Advocate artifacts at Charles Library.
TN: How do you envision Temple assisting with preservation efforts of the Advocate?
TR: A good first step is for Temple faculty and students to know that the church is there. As a student, my art history and architecture professors would use pictures to teach us about Gothic architecture and then I would tell them about the Advocate. Most of the time, they either didn't know it was there or thought it was closed down. 
I would like to see the Advocate being used like a laboratory where Temple students in architecture, preservation, art history, even students studying social movements can use the Advocate as an educational tool. I would like to see both the university and the Episcopal Diocese of Pennsylvania, who oversee all decisions related to the church, be open to this.
TN: What made you change your mind about coming to Temple?
TR: I was doing a lot of community work. I wanted to stay focused on North Philly. Temple is in my backyard, it's my community. I realized I could use that to my advantage. I realized it would be weird if I went to an institution that wasn't in my neighborhood. Temple has helped me stay grounded.