Rachel Rebouché named dean of the Beasley School of Law
One of the nation's leading reproductive law scholars, Rebouché takes on the position of Law School dean after holding the position in an interim capacity since August 2021.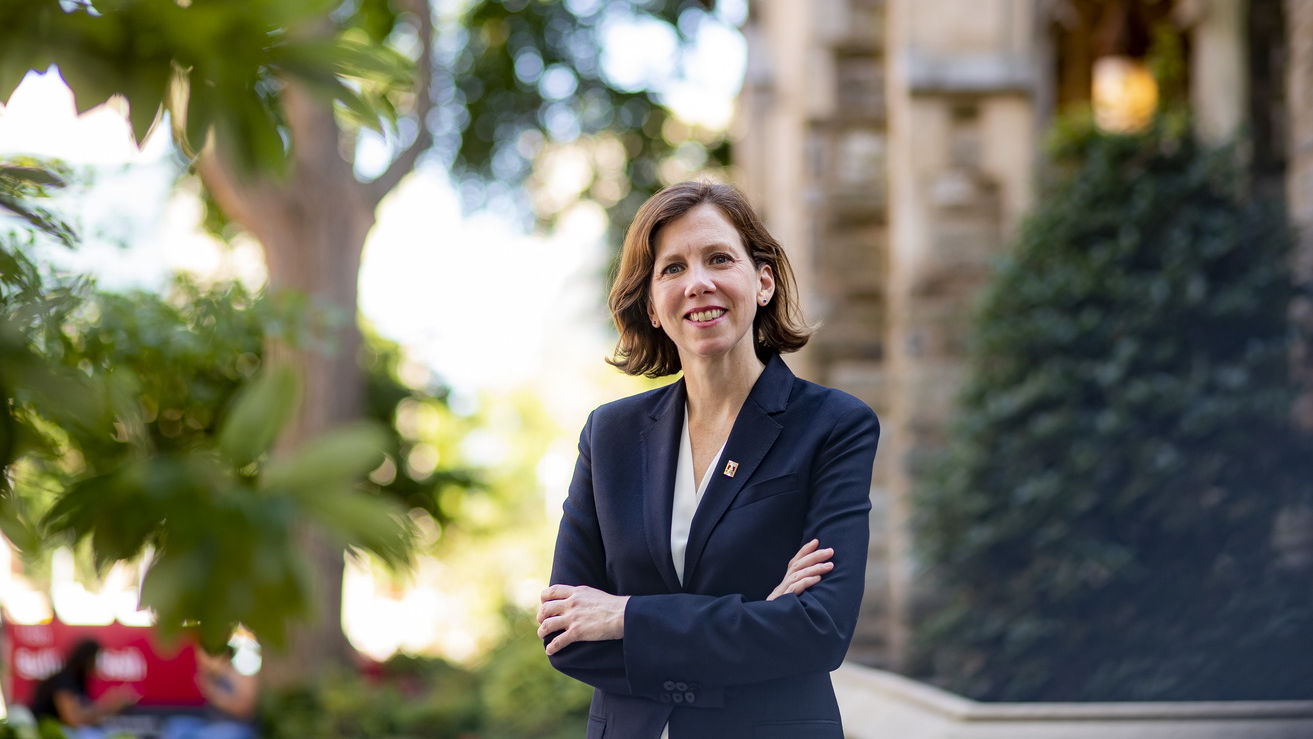 Rachel Rebouché has been appointed dean of the Beasley School of Law, Temple University Provost Gregory Mandel announced Thursday, July 21. 
Rebouché had served as the law school dean in an interim capacity since August 2021, when Mandel left the role to become the university's chief academic officer. One of the nation's leading reproductive law scholars and an expert in family law and health law, Rebouché previously served as the law school's associate dean for research. As dean, she will continue in her roles as the James E. Beasley Professor of Law and as a Faculty Fellow at Temple's Center for Public Health Law Research.
"Three of the strategic pillars that I have identified during my tenure as Temple president are thought leadership, community engagement and reputational excellence, and Rachel exemplifies all of these," Temple University President Jason Wingard said. "Her scholarship is relevant, timely, and impactful, and it has the ability to guide policy and improve outcomes for women and families, both here in Philadelphia and around the globe. Under Rachel's leadership, I expect the Law School's reputation to further be elevated, and I am eager to continue working with her as we build on the school's historic commitment to excellence in teaching, learning, scholarship, and service."
"As its former dean, it's fair to say that the Law School holds a very special place in my heart. It was imperative for both me and the search committee that we find the right person for this position," Mandel said. "Rachel brings experience as a scholar, educator, leader, and practitioner to the role along with a strong commitment and sensitivity to cultivating a collaborative community. She has a deep understanding of the school, yet she also is an outside-the-box thinker with the innate ability to relate to others and find common ground with all stakeholders. We could not be more pleased than to have Rachel leading the Law School into the future."
A first-generation student, Rebouché is committed to educational access. As dean of the Beasley School of Law, she will oversee nearly 900 full-time students, 65 staff, and more than 50 full-time faculty members. In addition to its Juris Doctor program, the school offers six Master of Law programs, a Master of Science in Taxation and a Doctor of Juridical Science (S.J.D.).
"I am honored and delighted to be named dean of Temple Law School," Rebouché said. "The members of our community – our faculty, staff and students -- are passionate about social justice, advocacy, and are deeply committed to the rule of law. I am so proud to be dean of a law school with people and programs that inculcate these important values."
Committed to fostering an intellectual community that is engaged in impactful and innovative research, as a scholar, Rebouché has maintained an active research agenda, focusing on family law and reproductive health. Her work involves various disciplines including contracts, public health, and comparative law. She is the author of several books, many law review articles, essays, and book chapters. Her publications include an edited volume of the Feminist Judgments series for Cambridge University Press and two co-authored books on feminist legal theory. She has also written a leading casebook on family law and recently joined, as a co-author, a contract law casebook.
The practical applications of Rebouché's research have arguably never been more important. In the wake of the Supreme Court's controversial decision to overturn Roe v. Wade, Rebouché has become a frequent expert commentator in the news media on issues related to reproductive health. She has co-authored several op-eds for The New York Times, and her byline has also appeared in the Washington Post, USA Today, Rolling Stone, Politico, The Boston Globe, The Boston Review, The Hill and The Atlantic.
She has been quoted in TIME Magazine, Vanity Fair, Fortune, The Boston Globe, The New York Times, The Christian Science Monitor, Bloomberg and countless other outlets. She has appeared on CNN, CBS, NBC and ABC National News, and she was featured in a sit-down interview for an episode of Full Frontal With Samantha Bee.
"Serving as interim dean drove home for me the importance of engaging in the national dialogue," Rebouché said. "Our faculty at Temple Law includes the nation's leading experts in bankruptcy, tax, corporate law, international law, social justice and other areas, and we can shape and move conversations forward. We are a place where people should feel welcomed and expected to contribute to national discussions, and we're committed to that at Temple Law."
Rebouché received a J.D. from Harvard Law School, an LL.M. from Queen's University, Belfast, and a B.A. from Trinity University. Prior to law school, she worked as a researcher for the Northern Ireland Human Rights Commission and the Human Rights Centre at Queen's University, Belfast.
After law school, Rebouché clerked for Justice Kate O'Regan on the Constitutional Court of South Africa and practiced law in Washington, D.C., where she served as an associate director of adolescent health programs at the National Partnership for Women & Families (formerly, the Women's Legal Defense Fund) and as a Women's Law and Public Policy Fellow at the National Women's Law Center.