Welcome to Homecoming's Tailgate Village and TU Philly Fest
Tailgate Village and TU Philly Fest are an opportunity for students and alumni from Temple schools and colleges to reconnect at the largest tailgate of the season.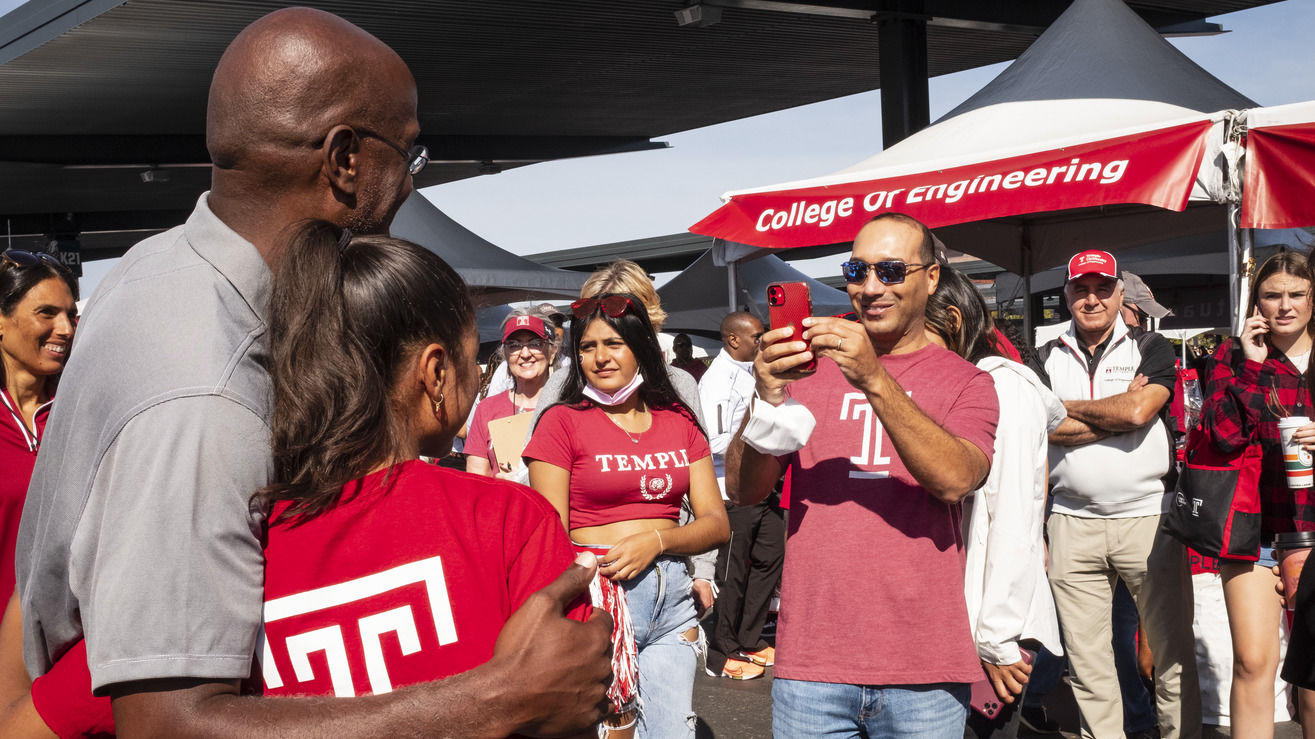 Alumni, students, families, faculty, staff and the Temple community are invited to Temple's 2022 Homecoming Tailgate Village and TU Philly Fest on Sept. 17, the largest tailgate of the season kicking off the biggest football game of the year. 
This year, the Homecoming Tailgate Village and TU Philly Fest will feature 42 campus partners that will offer opportunities for the whole family to celebrate their Temple pride, engage with schools and colleges, get involved with alumni associations and alumni-owned businesses, and form relationships with fellow Owls of all ages. Admission to Tailgate Village and TU Philly Fest is free, but registration is required. The festivities will start at 10:30 a.m. at Lincoln Financial Field, Lot K 1. Kick off is at 2 p.m. 
"Tailgate Village and TU Philly Fest has been a pillar of Homecoming for a number of years. It is an opportunity for all of our college partners and alumni to showcase their Temple pride, and an opportunity for our alumni networks to reconnect with Temple," explained Eliza Stasi,THM '08,  interim associate vice president of alumni and constituent engagement. 
At the Temple Spirit Station, attendees will be able to have their face painted, get temporary Temple branded tattoos and more. The parent and family tent will offer family-themed fun, games, giveaways and activities for all ages, while the arts and craft—Temple style tent will offer Temple-themed projects, including coloring, painting and more. 
Tailgate Village and TU Philly Fest will also have tailgating tents from each school and college at Temple, including the College of Engineering; College of Public Health; Fox School of Business; Kornberg School of Dentistry; Lewis Katz School of Medicine; and the School of Sport, Tourism and Hospitality Management Alumni Association.
A major feature of the Homecoming Tailgate Village and TU Philly Fest is the opportunity to connect with alumni networks, including the Temple University Alumni Association and regional alumni and affinity groups, while supporting alumni-owned businesses. 
"Similar to past years, we are featuring Temple alumni-owned food trucks, entertainment and businesses throughout Tailgate Village. We're also bringing back our partnership with Victory Brewing Company, which is owned and operated by Temple alumnus Bill Covaleski, TYL '85," Stasi said. "Each year we look to grow our support of alumni businesses during Homecoming to showcase our amazing Owls!"
Temple Health and the Temple Fox Chase Cancer Center will also provide various community-related resources to support the Temple community. 
Celebrating its 96th year at the Homecoming football game, the Temple Diamond Marching Band will be performing at Tailgate Village. Current and former band members will come together in celebrating the "Pride of the Cherry and White." 
This year's Homecoming celebration will be unique in that it will include events surrounding President Wingard's inauguration as Temple's 12th president. But, like all prior years, it will be a chance for the Temple community to come together to celebrate. 
"Over the years it has been great to see Temple's Homecoming grow and bring together so many Owls. Tailgate Village is the perfect opportunity to reconnect and celebrate with your fellow Owls, and see all the amazing transformations at Temple," said Stasi.
For a complete list of events and to register online, visit Homecoming and Family Weekend 2022's website.