Looking back at President Wingard's first year as Owl-in-chief
During Wingard's first year as Temple's president, he led universitywide efforts to boost our community's vaccination rate; enhance diversity, equity and inclusion programming; and improve campus safety and mental wellness, among other achievements.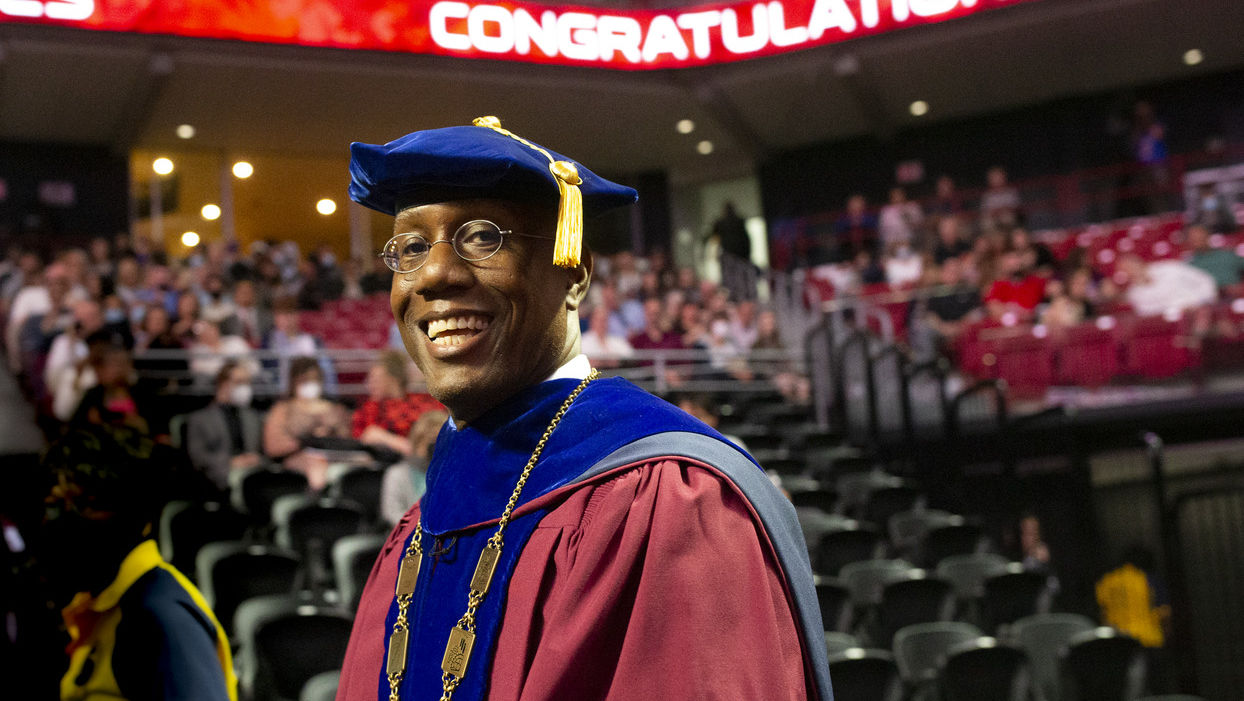 President Jason Wingard took the helm at Temple during an unprecedented year, as the country rounded the corner on the COVID-19 pandemic and as urban universities across the country saw homicide rates rise and a corresponding increase in gun violence in major cities. During this uncertain time, Wingard has begun propelling the university forward.

To begin his tenure, he announced his three strategic priorities for Temple: elevating the university's reputation and profile, adapting the curriculum to prepare students for the future of work, and engaging with the North Philadelphia community in a more definitive and authentic way.

Here, we look back at some of Wingard's first-year wins.

Shortly after assuming presidency, Wingard was interviewed by various local media outlets such as 6abc, the Philadelphia Tribune and WURD as well as by Temple student Niccolas Uff, Class of 2022.

In August, the Class of 2025 gave President Wingard a warm welcome during move-in and Convocation.

Throughout fall 2021, he helped lead the #VaxUpTU campaign to ensure the Temple community met Philadelphia's COVID-19 vaccination mandate requiring all students, faculty and staff at colleges and universities in the city to be fully vaccinated.

As a champion of diversity, equity and inclusion, Wingard appointed Arthur Johnson as the university's vice president and director of athletics and played an important role in hiring Stan Drayton as the football coach, allowing Temple to become the only Football Bowl Subdivision school to have a Black president, a Black athletic director, and Black head coaches in football and men's and women's basketball.

In November, he joined the students, faculty and staff at the Lewis Katz School of Medicine for the third annual Evening for Black Men in Medicine. The evening was part of the Office of Health Equity, Diversity and Inclusion's efforts to recruit, support, retain and advance high-quality medical students from backgrounds that are historically underrepresented in medicine, as well as to specifically address the ongoing shortage of Black men in medicine.

And he has led initiatives to enhance campus safety, including a security upgrade grant program for landlords of private residences near campus; an upcoming neighborhood watch program for areas around Main Campus; the installation of additional lighting and cameras; the one-touch personal safety RAVE Temple Guardian mobile app allowing students, faculty and staff to directly connect with Temple University Police; and an increase in Temple police officers and Philadelphia Police presence off campus.

In December 2021, Wingard hosted a listening session with students, parents, landlords and Temple Police in a North Philadelphia neighborhood to discuss campus safety solutions. 

Following spring break, the president—along with campus safety officers, students, parents and university officials—biked through North Philadelphia neighborhoods surrounding Main Campus to gain insights about how Temple and the local community can work together.

Also in the spring, the president and other university officials met with Philadelphia Mayor Jim Kenney and Philadelphia Police Commissioner Danielle Outlaw to discuss strategies for addressing the gun violence crisis in the city and potential prevention tactics. And, he enlisted the help of former Philadelphia Police Commissioner Charles Ramsey and 21CP Solutions to begin an audit of Temple's Campus Safety services.

In April 2022 at the Administrative Council meeting, Wingard shared his vision for taking Temple to the next level by providing insights about such topics as safety, curriculum and campus improvement. And he joined Maura Shenker, director of Temple's Small Business Development Center, for a candid conversation hosted by the Center City Business Association at Philadelphia's Union League.

Then in May, he addressed the Class of 2022 and Temple community at his first Commencement ceremony, which was in person for the first time in three years. During his speech, he shared words of wisdom and advice such as "create impact."

Additionally, Wingard established the Blue Ribbon Commission on Antisemitism and University Responses, which met for the first time in a daylong workshop in April to address the rising hate across universities in the U.S. and how Temple can create a more inclusive and supportive community for its Jewish students, faculty and staff. As part of this effort, he traveled to Israel in June for an academic exchange to strengthen academic partnerships with higher education institutions there as well as engage with alumni and meet with civic and business leaders and government officials.

Over the course of the past 12 months, he has penned four op-eds about national issues appearing in some of the country's biggest daily newspapers: "Colleges can lead hot-button issues by pushing critical thinking" in the Chicago Tribune on Oct. 18, 2021; "Want Black coaches? Get more Black managers" in the New York Daily News on Feb. 15, 2022; "Homicides near universities are a crisis that needs immediate action and long-term solutions" in the Chicago Tribune on April 18, 2022; and "Name, image, likeness—and, finally, some fairness: College athletics' brave new world" in the New York Daily News on June 9, 2022.  

To cap off an amazing year, our president was ranked No. 3 on City & State PA's Higher Education Power 100 List and discussed his core values and motivating principles with Temple Now.