Temple works to increase the number of Black men in medicine
The third annual An Evening for Black Men in Medicine took place on Nov. 5 at the Lewis Katz School of Medicine's Medical Education and Research Building. The event advocates for Black men in the medical field, whose presence has declined since 1978.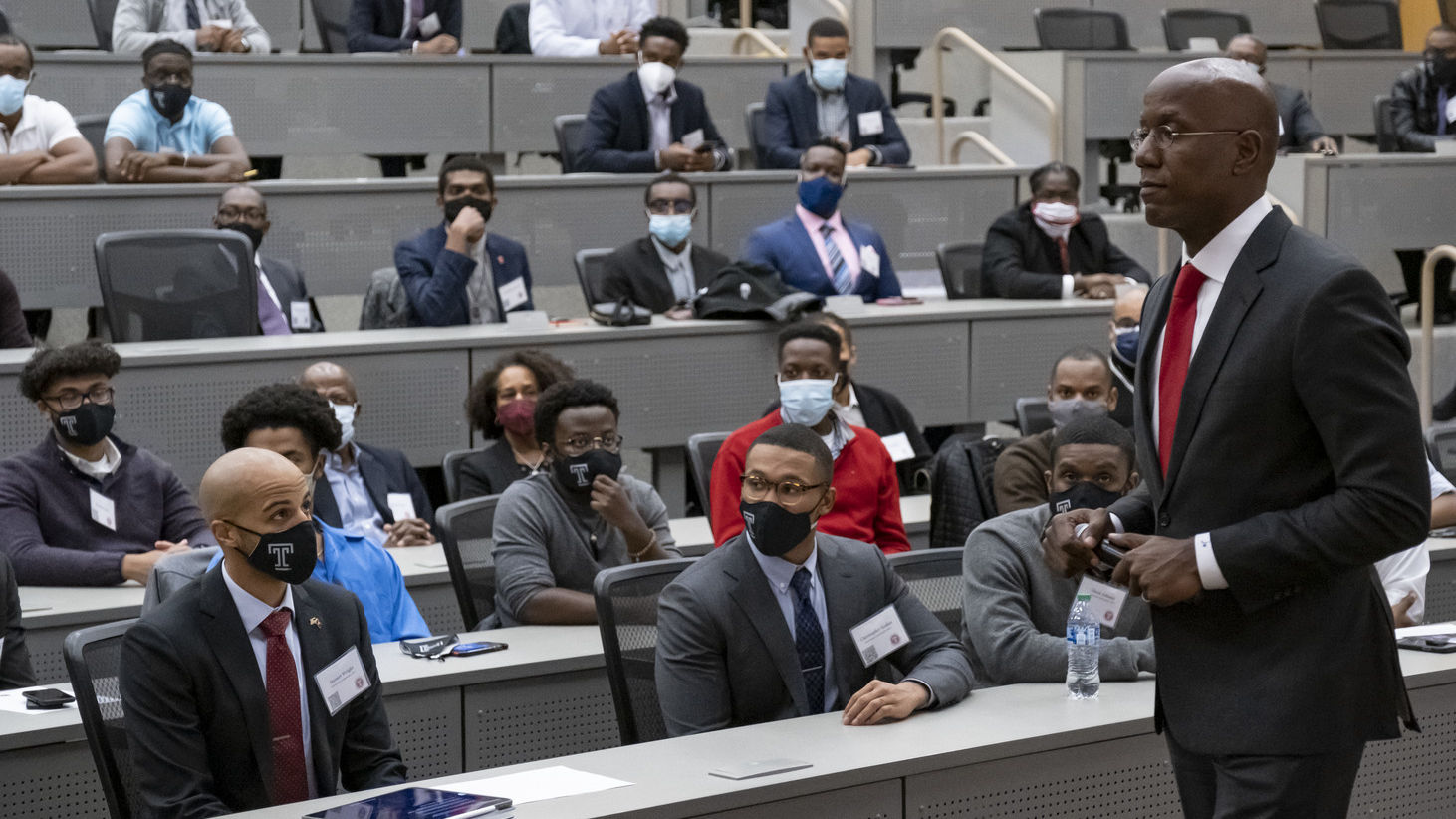 Black male physicians at Temple gathered in the Lewis Katz School of Medicine's Medical Education and Research Building on Nov. 5 for the third annual Evening for Black in Men Medicine: an event celebrating the achievements of and offering mentorship opportunities for Black premedical and medical students as they make their way into the medical field. 
The evening was part of the Office of Health Equity, Diversity and Inclusion's efforts to recruit, support, retain and advance high-quality medical students from backgrounds that are historically underrepresented in medicine, as well as to specifically address the ongoing shortage of Black men in medicine.
Black male medical students accounted for just 3.1% of the national medical student body in 1978. By 2019, the figure had declined to 2.9%. And the number of Black male matriculants to medical schools for more than 40 years has not surpassed the numbers in 1978. 
According to a 2015 report by the Association of American Medical Colleges, there were 542 Black male matriculants in medical school in 1978. That was reduced to 515 in 2014.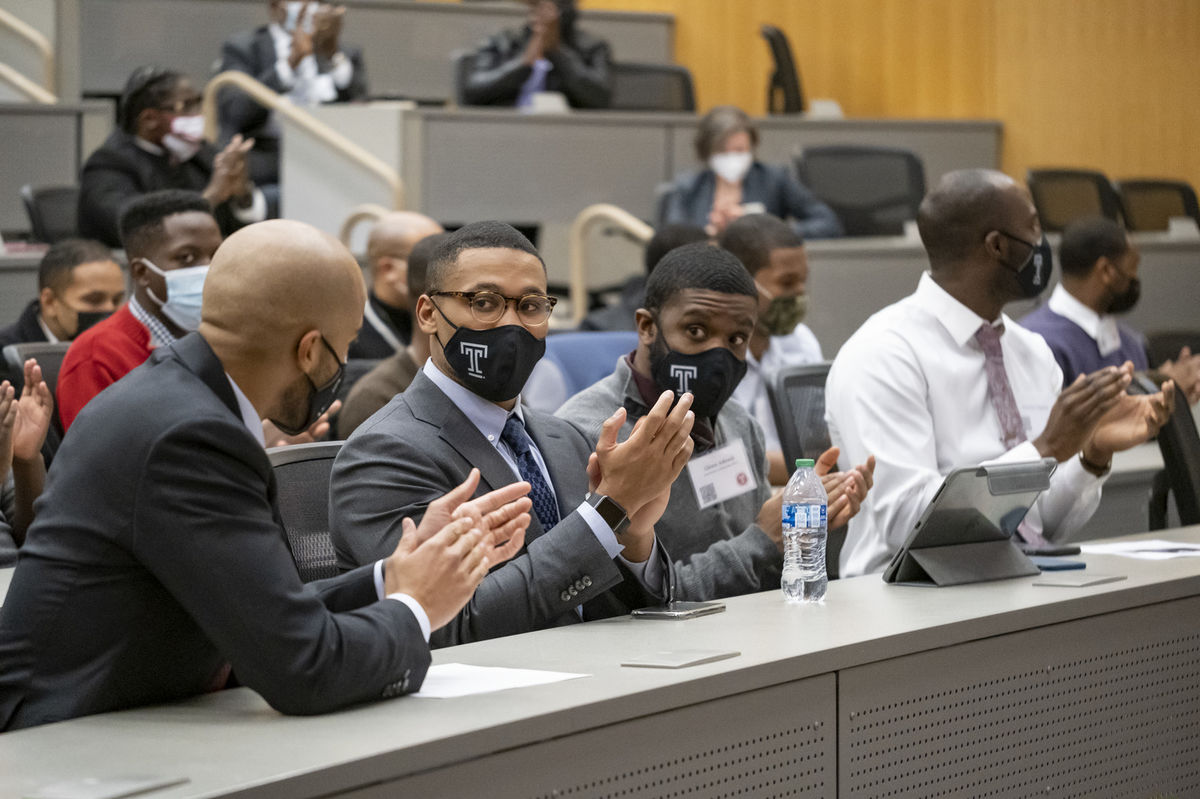 Participants at An Evening for Black Men in Medicine. (Photography by Joseph V. Labolito)
The participants in attendance represented a range of Black male doctors from the Katz School of Medicine, Temple University Health System and the Greater Philadelphia region. Alongside them were pre-med students identified through Temple's Pre-professional Health Studies Office, primarily from Temple and other local area colleges and universities, plus Temple medical students.
Abiona Berkeley, the interim senior associate dean of diversity, equity, and Inclusion at the Katz School of Medicine, and Amy Goldberg, the school's interim dean, were the first two speakers at the event. 
Steuart Wright, a Black medical student at Temple, introduced Temple President Jason Wingard as a guest speaker.
During President Wingard's speech, he asked the group questions like, "What is the responsibility of Black men in medicine?" and, "Why do we need to increase the number of Black men in medicine?"  
"The reason why we're having this interactive dialogue is first to listen, to better understand what the community's needs are and what the physicians' or the aspiring physicians' needs are,'' he said. "You have to use the resources available to you. Build relationships. Secure resources, financial and intellectual, and identify stakeholders of all kinds, then put it all into practice and don't be afraid to take risks.
"We have a commitment and a responsibility to the community," added President Wingard.
Wingard noted that there have been financial barriers for Black men trying to pursue a path in the medical field, as well as not having the background or the necessary resources.
One of the participants in the room asked President Wingard what he will do to help forge a tighter connection between the university and the community to make it easier for Black physicians to serve the community. 
"I'm going to listen, execute fearlessly, leverage our resources, raise money and apply it to the places in need. We want this room to be full of Black men in medicine," said President Wingard. "We want Philadelphia and Temple University to be the leaders in dialogue around this topic." 
Also speaking at the event was Provost Gregory N. Mandel, who said one of Temple's primary goals is to provide education that is affordable and accessible to a diverse student body. 
"Many people face not having a parent who was in the health profession, so they may not know the steps to take. We are thinking about how to get information out in order to provide a support system with both a diverse and inclusive environment where everyone can participate," said Mandel.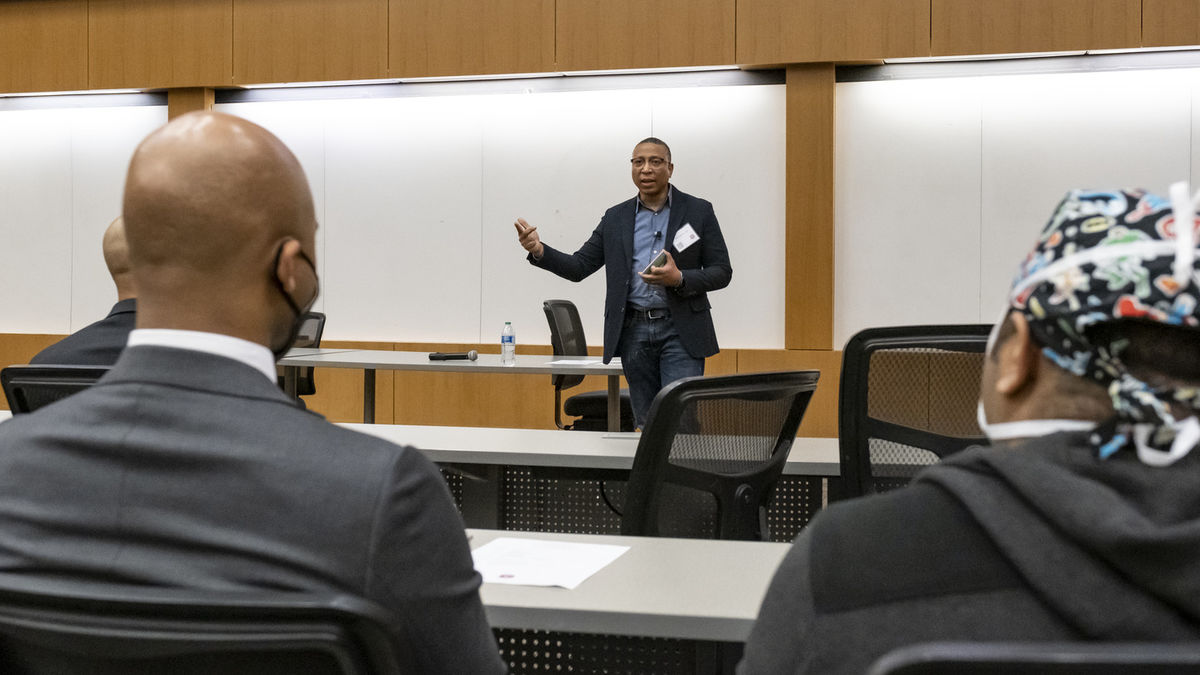 Deric C. Savior served as the keynote speaker at the Evening for Black Men in Medicine event. (Photography by Joseph V. Labolito)
Deric C. Savior, head of the medical oncology section in Fox Chase Cancer Center at Temple University Hospital and an associate professor in the Department of Hematology/Oncology, also spoke with the group. 
Savior specializes in treating lung, head and neck cancers and has earned recognition from Best Doctors in America and Medical Oncology and Hematology in 2015–2016 and 2019–2020 and Top Doctors, Medical Oncology and Philadelphia magazine in 2018–2021.
Savior added to his list of accomplishments by receiving the 2021 Black Men in Medicine Award at Temple. 
Following the presentations, the participants gathered for conversation and networking over dinner in the Medical Education and Research Building.