Your guide to Weeks of Welcome and Convocation 2022
Jump headfirst into the school year with these fun and exciting events spread out over the course of the next few weeks!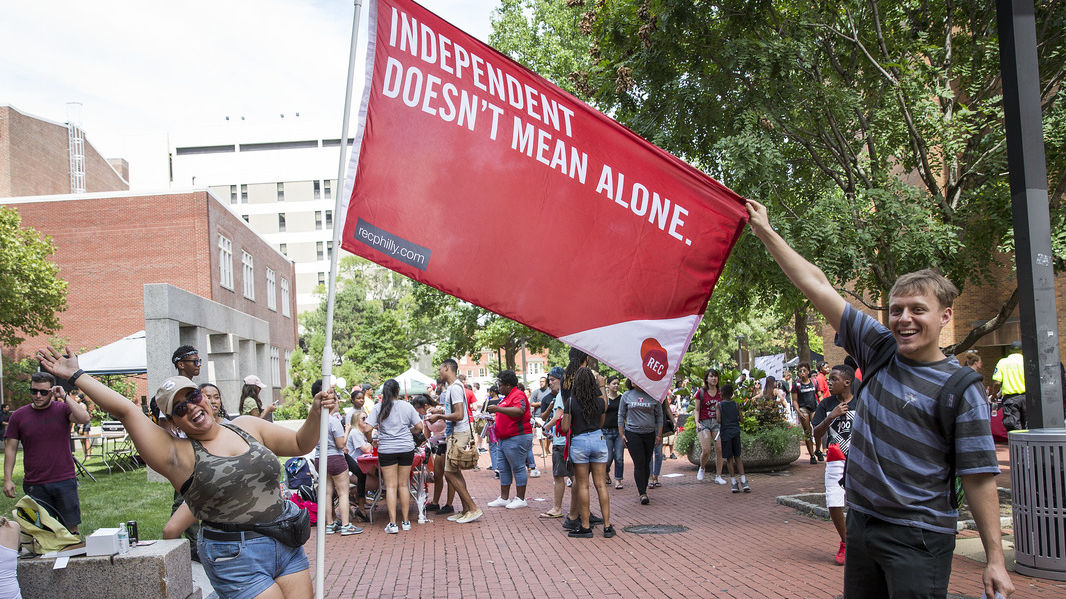 Summer is coming to an end and it's time for our Owls to fly back to the nest! You've just about moved in, said goodbye to your folks, unpacked, hung posters and set up your twinkle lights—what's next? Don't worry, Nutshell has the inside scoop on your first few weeks. It's called Weeks of Welcome, and is full of jam-packed fun and exciting things to do spread out from Aug. 17 to Sept. 10.
There's so much planned that you won't want to miss. Here are a few highlights.
Finding Balance: Self-care and College Life
Aug. 17, 4–5 p.m. in Student Center 217A
Let's be honest—college can be stressful. Transitioning to a new environment, meeting new people and familiarizing yourself with campus can all be overwhelming at times. During Weeks of Welcome, there are several self-care workshops, like this one, that can help you develop strategies to learn how to get the most out of your college experience, while also taking care of yourself.
Aug. 17, 11 a.m.–2 p.m. (Day one)
Aug. 18, 11 a.m. –2 p.m. (Day two)
Join your fellow Owls for some fun in the sun at the historic Bell Tower for two days of lawn games, music, giveaways and free Playabowls! Students will have the opportunity to meet departments and register their bikes. Don't worry about that summer heat though, because there will be plenty of ice cream from Weckerly's to help cool you down!
Aug. 19, 8–11 p.m.
Although the summer is coming to an end, it's not too late to let loose and dance the night away. This event will take place at the Bell Tower with a DJ and lots of glow sticks. There's no better way to meet some fellow Owls and spend your Friday night!
Aug. 19, 11 a.m.
Convocation is an annual tradition that marks the official beginning of your academic journey. Each school will meet starting at 9:30 or 10 a.m. followed by a ceremony held in the Liacouras Center at 11 a.m. Convocation will introduce you to several people you'll want to meet, like Temple President Jason Wingard and other Temple leaders.
TempleFest 2022
TempleFest is the student involvement fair, where student organizations and clubs come together to recruit new members. These organizations set up tables and members are available to talk to you so you can be sure to find the org that's right for you. 
Aug. 20, 6–10 p.m.
TUPalooza is the first event of the year hosted by the Main Campus Program Board, and you won't want to miss it. Actually, it's so big there's no way you can miss it. The Bell Tower and surrounding areas turn into a campus carnival! The event will include 13th Street ziplining, wall climbing, carnival games, food and lots of prizes! Make sure to follow @TempleMCPB on Instagram for all up-to-date information on this event, and others.
Foundations of Study Abroad
Aug. 22, noon–12:45 p.m. (Virtual)
Aug. 23, 3:30–4:15 p.m. (In person, in Tuttleman Learning Center 200)
Interested in studying abroad during your time at Temple? Foundations of Study Abroad is the place to start. You can learn about the different programs Temple offers and how you can fit study abroad into your academic schedule and still graduate in four years. Make sure you register in advance for the time that's best for you.
Information sessions are held over several dates and times, both in-person and online—visit Education Abroad and Overseas Campuses to learn more and register.
Aug. 24, 7 p.m.
For the first time ever, Temple brings Aux Cord Wars Live to Welcome Week. The event is a head-to-head music game show and will be held at the Temple Performing Arts Center. Two participants will face off playing music back and forth from a genre selected by the audience. The audience will then get to decide on who played better music. You don't want to miss this event. Plus, winners will receive cash prizes.
Sep. 10, 9 a.m.–5 p.m. (Day one)
Sep. 11, 9 a.m.–5 p.m. (Day two)
Collegefest is Campus Philly's annual "Welcome to Philly!" celebration for new and returning students. After attending Collegefest students will have access to 25+ museums, activities and events all around the city, including the Philadelphia Museum of Art, Barnes Foundation, Museum of the American Revolution and so many more for FREE!! Don't miss this great opportunity—students can sign up here.
Check out the calendar of Weeks of Welcome events.
                                                                                                                                                                                                                                                                                                   -Matthew Aquino