President Wingard discusses campus safety with Temple Family Council and Temple University Police Department
The group convened at Founder's Garden to discuss community policing, campus safety, news media coverage, the importance of communication, officer morale and key topics.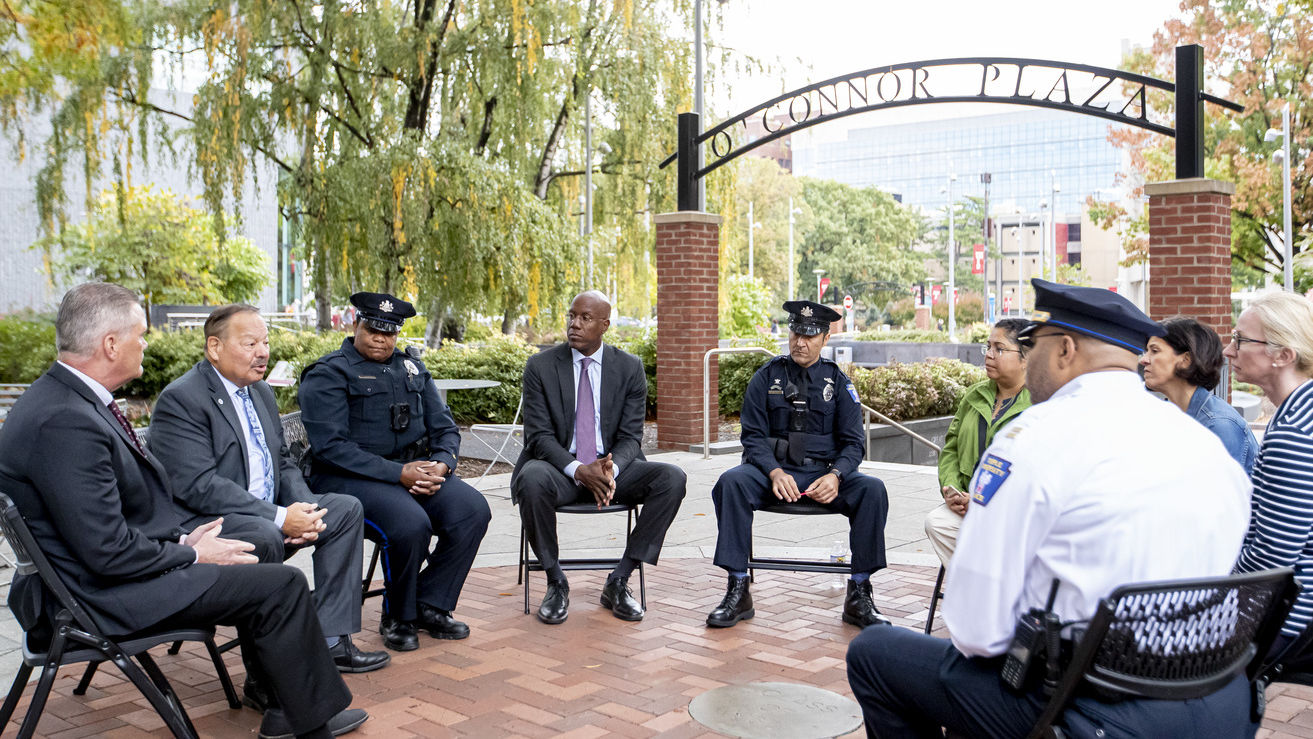 Are students safe at Temple University? How is gun violence affecting Philadelphia and the nation?
These were just some of the questions that could be heard coming from Temple University's "learn-in" at Founder's Garden on Friday, Oct. 14.
As gun violence continues to negatively impact the nation and region, Temple has pursued short-term and long-term solutions to combat the epidemic. The university has implemented several new campus safety enhancements, including the launch of the RAVE Temple Guardian app, the revamp of the Flight shuttle service and the expansion of the Walking Escort Service. The university has also continued to support programs that create educational opportunities, economic development and research regarding substance use disorders, trauma and violence reduction.
Sometimes, in addition to rolling out services like these, the best thing to do is offer a listening ear with the aim of learning. That is precisely what President Jason Wingard did last week in meeting with leadership and police officers from the Temple University Police Department and parents from the Temple Family Council, who discussed safety in and around campus. The meeting was designed to be "a learn-in," as President Wingard and parents sought to hear directly from Temple police officers and gain their valuable perspective and insight into the challenges facing Philadelphia and the nation.
Vice President for Public Safety Jennifer Griffin, Captain Ed Woltemate, Captain Enoch McCoy, and Temple University police officers Nasir Imrani and Rebecca Key-Gaskins attended the discussion. In addition, Martha Dixon and Amy Sweeney attended on behalf of the Temple Family Council. Board of Trustees member Nelson Diaz was also present.
"I've been here for 50 years, and I just love this area," Diaz, a retired judge, said to begin the discussion. "We have some of the best police officers that I have ever seen, and I am very proud of the work that you all do here. I feel safe here, and that's because of you."
"I am so personally proud of the work that our police department does day in and day out," President Wingard added. "This is the second-largest college police force in the country, but they are undoubtedly the hardest-working force and most committed to our community."
The group discussed various topics during the conversation, touching on everything from community policing, campus safety and news media coverage to the importance of communication and officer morale.
For parents like Dixon and Sweeney, communication and transparency are key. They recognized what their children signed up for when they decided to attend a university in a densely populated metropolitan area like Temple. They know the opportunities that come from going to school in the city, but they also know the risks that come with that, too.
"I am so personally proud of the work that our police department does day in and day out. This is the second-largest college police force in the country, but they are undoubtedly the hardest-working force and most committed to our community."
-- President Jason Wingard
"I think that is why it is so important to communicate," Sweeney said. "Parents see a lot of what is put out there on social media, and it's upsetting. It's upsetting to me, too, because I know a lot of it is not reality. There is a perception and there is a reality, but communication can help emphasize the reality."
News media coverage also plays a role in altering perception.
"It's always glamorized, and that's deflating," said Officer Imrani. "A lot of the crimes that occur near here really do not happen on campus. If a crime happens at 19th and Cecil B. Moore, there is a perception that it happens here at Temple, but that's really not true. And that perception is hard to battle, especially when parents get their firsthand information from the news media."
Since starting as vice president for public safety on Aug. 22, Griffin has publicly said that one of her goals is to improve communication from her department. She has disseminated multiple universitywide safety messages in her month-plus on the job. In addition, she hosted a virtual roundtable with parents via Zoom on Monday, Oct. 17, met with several student-led groups, and is in the process of increasing and enhancing public safety's social media presence and proactive communication.
As the conversation continued, President Wingard pointedly asked the two parent participants, "Do your children feel safe here?"
"I feel safe. My girls feel safe. That's not to say that something won't happen, but that's life. I think Temple is dealing with it really well, and I appreciate everything you're doing," Dixon said.
Under the best of circumstances, the job of a police officer is immensely challenging. That is magnified, given the challenges of the current environment.
The vital role that Temple University police officers play in helping to keep faculty, staff, students and the North Philadelphia community safe cannot be overstated. A clear theme that emerged during the chat was a deep appreciation for the Temple University Police Department and its hard work.
The president concluded the discussion by asking the police officers and captains if Temple's campus is safe?
"I absolutely do believe that campus is safe," Captain Woltemate said. "You can look at students and see if they feel scared. I never see that."
"I personally believe this campus is safe," Captain McCoy added. "I've been here for 25 years, and I have been part of this community for my entire life. Together with the other agencies that we work with, we always give our best effort to keep this community safe."
While challenges do exist, the Temple University Police Department enjoys serving the Temple community. The discussion also made it clear that they're always eager to connect directly with students to see how they can best serve them. 
"We like to hear from them because we can't tell the story if we don't have the answer," Officer Key-Gaskins said. "I have been here for 20 years, and I have seen a lot of positive changes in recent months. Our morale is on the way up. Recruitment is improving, we're getting more officers and we have an open door policy now with leadership. That really helps with morale."