Temple hosts event with award-winning Philadelphia-based author Carmen Maria Machado
This moderated conversation was part of the university's Hispanic Heritage Month celebrations.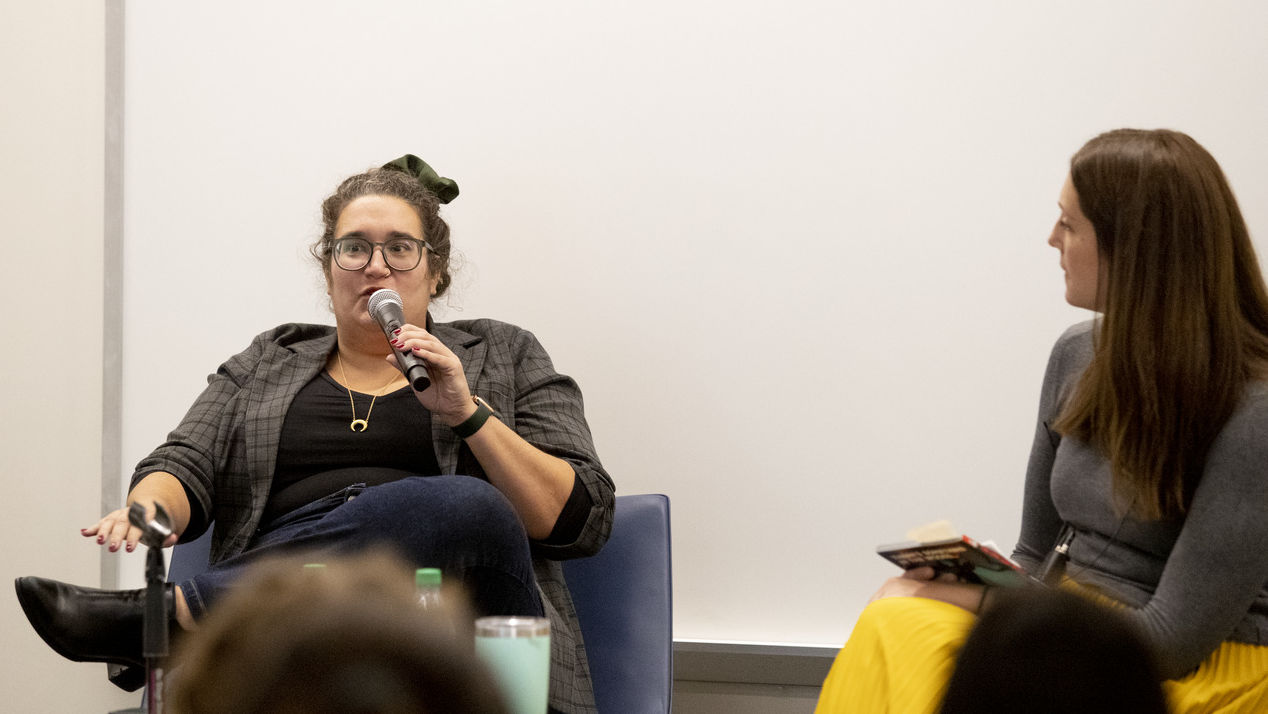 As part of Temple's Hispanic Heritage Month celebrations, the university invited Philadelphia-based author Carmen Maria Machado for a moderated conversation with Liz Moore, associate professor of creative writing and New York Times bestselling author of Long Bright River.
Machado, known for exploring feminism and queerness in her work that blends science fiction, fantasy and horror, has written the bestselling memoir In the Dream House, the graphic novel The Low, Low Woods, and the award-winning short story collection Her Body and Other Parties. She's also an essayist and critic who has been frequently featured in publications including The New Yorker, The Paris Review and NPR Books. Additionally, Machado has won the Bard Fiction Prize, the Lambda Literary Award for Lesbian Fiction, the Lambda Literary Award for LGBTQ Nonfiction, the Brooklyn Public Library Literature Prize, the Shirley Jackson Award and the National Book Critics Circle's John Leonard Prize.
After opening the event in Charles Library with a reading from a new short story, Machado discussed the evolution of her writing life. Her love of reading and writing began at an early age when she recreated Shel Silverstein's poems, including the illustrations. She continued her passion by writing for her high school's literary magazine and then taking creative writing classes in college despite majoring in photography.
Machado's professional writing career didn't take shape until she decided to pursue an MFA at the encouragement of a former professor. She applied to many programs and ultimately studied at the University of Iowa's Writers' Workshop, where she figured out how and what she wanted to write. She also highlighted the importance of having a writing community. "Writing is solitary, so it's really nice to see people's faces and connect with others who have shared experiences," she noted. 
Moore and students asked Machado thoughtful questions about her writing process for her graphic novel The Low, Low Woods and how it differs from screenwriting (a TV anthology of Her Body and Other Parties is in development at FX). "Thinking in that visual way of the graphic novel made me feel like I could try writing for the screen, which is very different than writing prose," said Machado. "It's about letting my work take a new shape. It has the same energy of what I wrote even if it's structured differently."
Students also inquired about the use of second person in In The Dream House, the inclusion of lesbian sex throughout her fiction, and the impact of her cultural identity on her work. Machado spoke about the criticism she received from women for In the Dream House as well. "The anxiety I had writing this book and thinking about how my community would perceive it was profound," she said. "It kept me up many nights. I think any person belonging to any marginalized group knows what it's like when you speak about things that are real, things that are happening to us."
Following the conversation, students had the opportunity to get their books signed by Machado. The event was co-sponsored by Temple University Libraries; the College of Liberal Arts; the Intellectual Heritage Program; the gender, sexuality and women's studies program; and Temple University Press.