A Temple professor is using sports analytics to study robotic teamwork
Assistant Professor of Mechanical Engineering Philip Dames received a five-year, $557,678 grant from the National Science Foundation to fund a research project on how robots can work together as a team.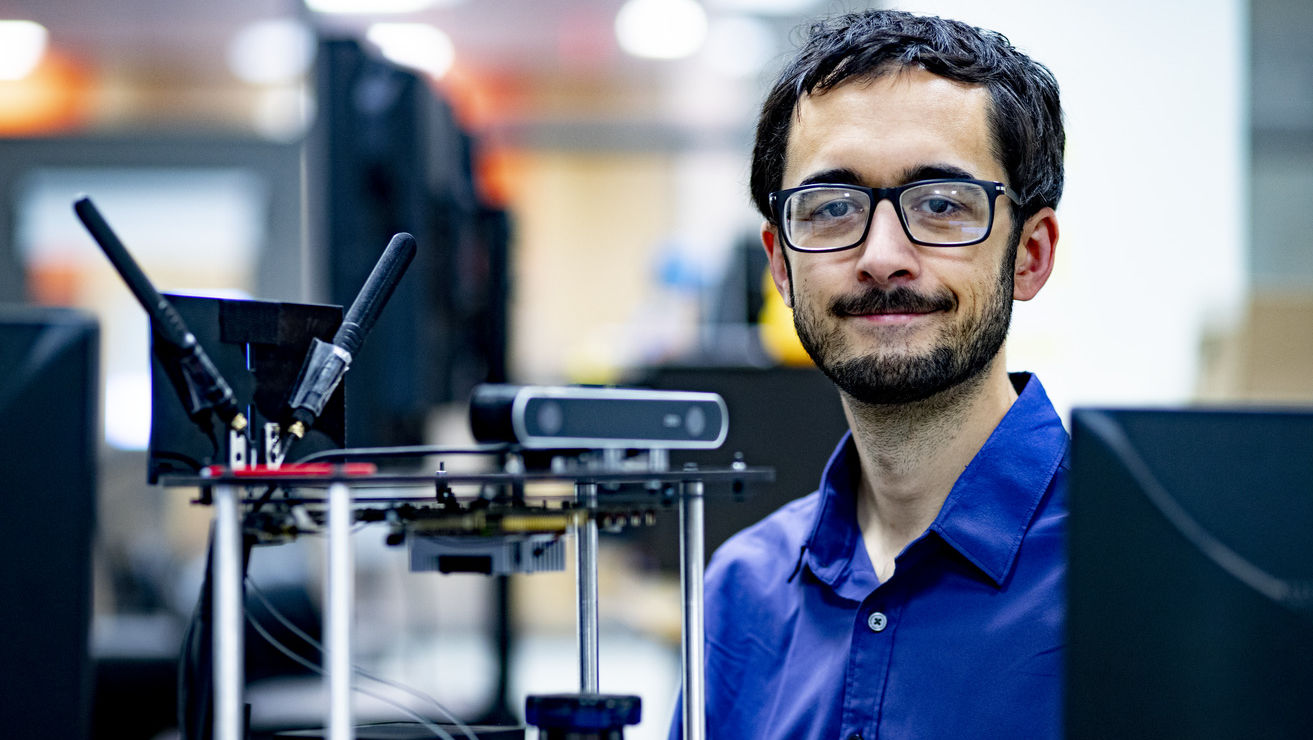 Imagine a future where teams of robots are carefully crafted, like championship-winning sports teams, to perform complex tasks with maximum success and efficiency. This is the future that Assistant Professor of Mechanical Engineering Philip Dames is working toward with his latest research on how robots can best work together as a team.
The research was made possible after Dames received a National Science Foundation (NSF) Faculty Early Career Development award in the amount of $557,678 this past spring. He received the award, which will fund his research for the next five years, after demonstrating to the NSF that his work studying robot team coordination can make positive contributions to the field of robotics and have broader societal impacts.
Dames is studying what he calls multirobot, multitarget tracking problems. Practical examples of these kinds of problems include infrastructure inspection, in which the targets the robots are tracking are areas of damage or wear, and environmental monitoring, in which robots might track endangered species of animals within a certain space. Dames says robot teams are not yet capable of working on such complex problems, but he believes that his work and other similar research will lay the groundwork for future robots to solve more advanced problems through teamwork. 
Philadelphia is a growing hub for the robotics industry, and what I want to do is learn from those companies what they're looking for in graduates and try to figure out how we can integrate those skills into the curriculum here at Temple.
-- Philip Dames, assistant professor of mechanical engineering
Dames' research is unique because it is loosely inspired by sports analytics strategies that measure the contributions of individual players to a team's success. As someone with a passion for data, Dames has grown increasingly interested in sports analytics as the field has grown in recent years. He also bounced ideas off a friend who works in sports analytics for a local professional sports team as he was designing his research.
"In sports the goal is to assemble a roster of players that will maximize your chance of winning games," Dames said. "In our research, the game is a scenario: the robots need to locate and track the targets. We want to assemble a team of robots that's going to do that the best by understanding how well each robot contributes to the team's success."
Dames plans on spending roughly the first half of the research period in the simulation and data gathering stage, which means he's not conducting any studies using real robots yet. Instead, he and his team of graduate student research assistants are running tens of thousands of computer simulations of robot teams completing simple tasks.
"Essentially, you can think of each robot as a dot that can see things inside of some ball around it, and then you have other dots which represent the targets you want to find," Dames said. "I can program target locations and behaviors. I can program robot behaviors, and then I can run the simulation and see if they find everything and how quickly they do so."
Running tens of thousands of simplified simulations allows Dames to benchmark the performances of existing search strategies and use trends in the data to design more successful strategies. That information can be used to guide future simulations that are less simplistic and, eventually, trials that use actual robots.
"The more data we can get on the types of behaviors the robots display and the more tweaks we can make to the parameters of the robots and targets, the more we can look for interesting trends in the data," Dames said.
Dames is hopeful that he can test some of his findings using physical robots by the end of the research period. He also hopes his work will help more Temple graduates land jobs in the region's growing field of robotics.
"Philadelphia is a growing hub for the robotics industry, and what I want to do is learn from those companies what they're looking for in graduates and try to figure out how we can integrate those skills into the curriculum here at Temple," he said. "I'd like for this work to help get more students who are ready to do robotics research work in the lab, and also prepare more students to work in the industry at some of the local companies that are starting up right now."