Behind the music: Grammy-nominated Fox alum finds success as an audio engineer and producer
Temple University alum Ben Thomas has worked as an audio engineer on Grammy-nominated and -winning projects.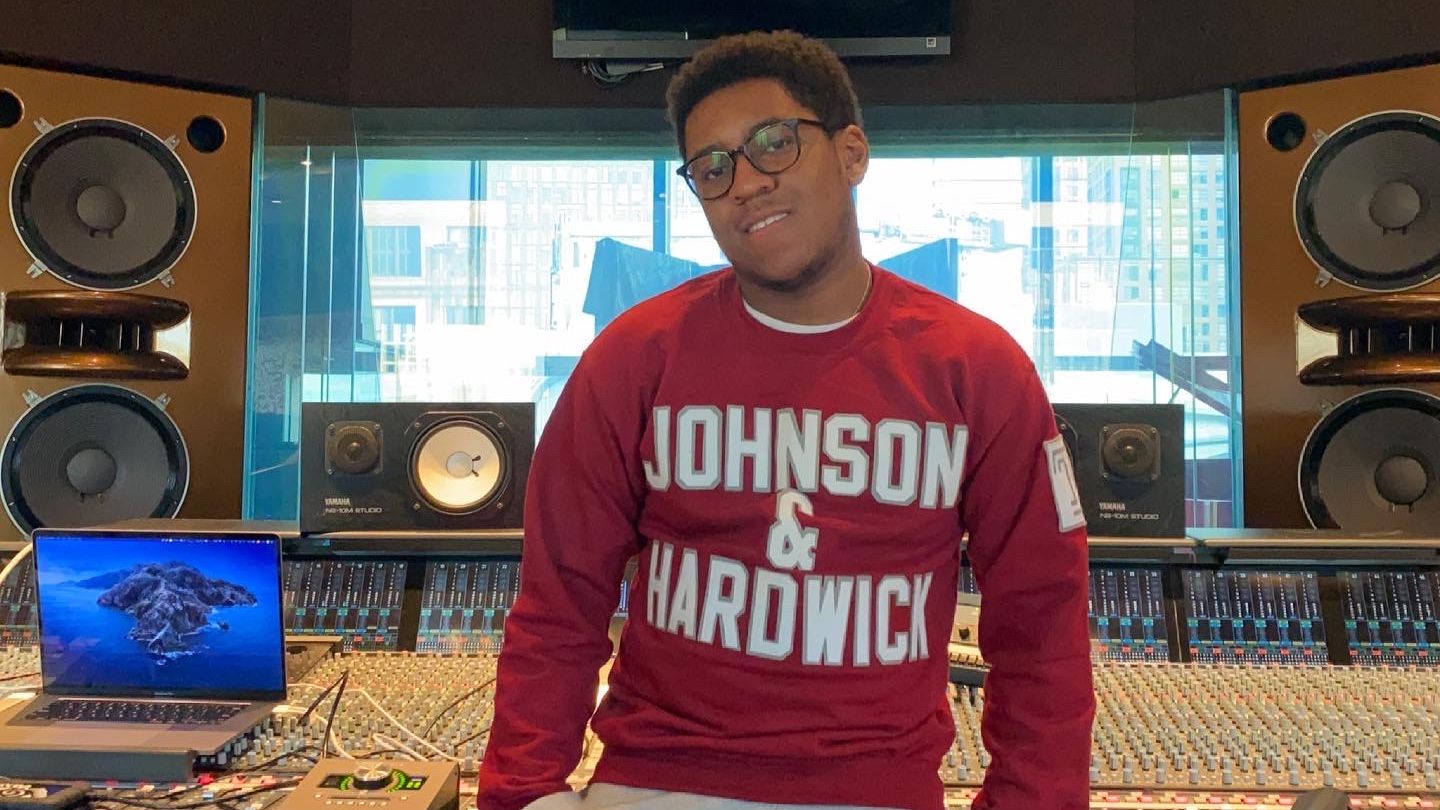 Upon graduating from Temple, Ben Thomas, FOX '18, declared a lofty goal: to win a Grammy. He was so committed to this aspiration that he even turned down a job offer at Deloitte to pursue music full time as an audio engineer, producer and mixer.
Betting on himself paid off. In 2021, he received his first individual Grammy nomination for Album of the Year for his contribution to Justin Bieber's album Justice, recording the song "There She Go." 
"I was at lunch in New York with my good friend (music producer) Charlie Heat when I saw my nomination," said Thomas. "I was shocked. I called my mother, and we were very excited."
He also worked on Ingrid Andress' debut album Lady Like, which was nominated for Best Country Album, and he took part in the production of Jazmine Sullivan's Grammy-winning album Heaux Tales. 
He's again invited to the 2023 Grammy Awards on Sunday, Feb. 5, for his work on a song from Pusha T's It's Almost Dry, which is nominated for Best Rap Album.
Additionally, Thomas has worked on projects nominated for the BET Awards, Soul Train Awards, NAACP Image Awards and American Music Awards and has contributed on Platinum- and Gold-certified records as well as four Billboard No. 1 albums. He has even done a track with former President Barack Obama and collaborated with fellow Temple alum Kalen Allen, TFM '18, on music for The Ellen Show. Over the past few years, his main gig has been engineering for Lil Uzi Vert, including his latest single "Just Wanna Rock," which has recently gone Platinum.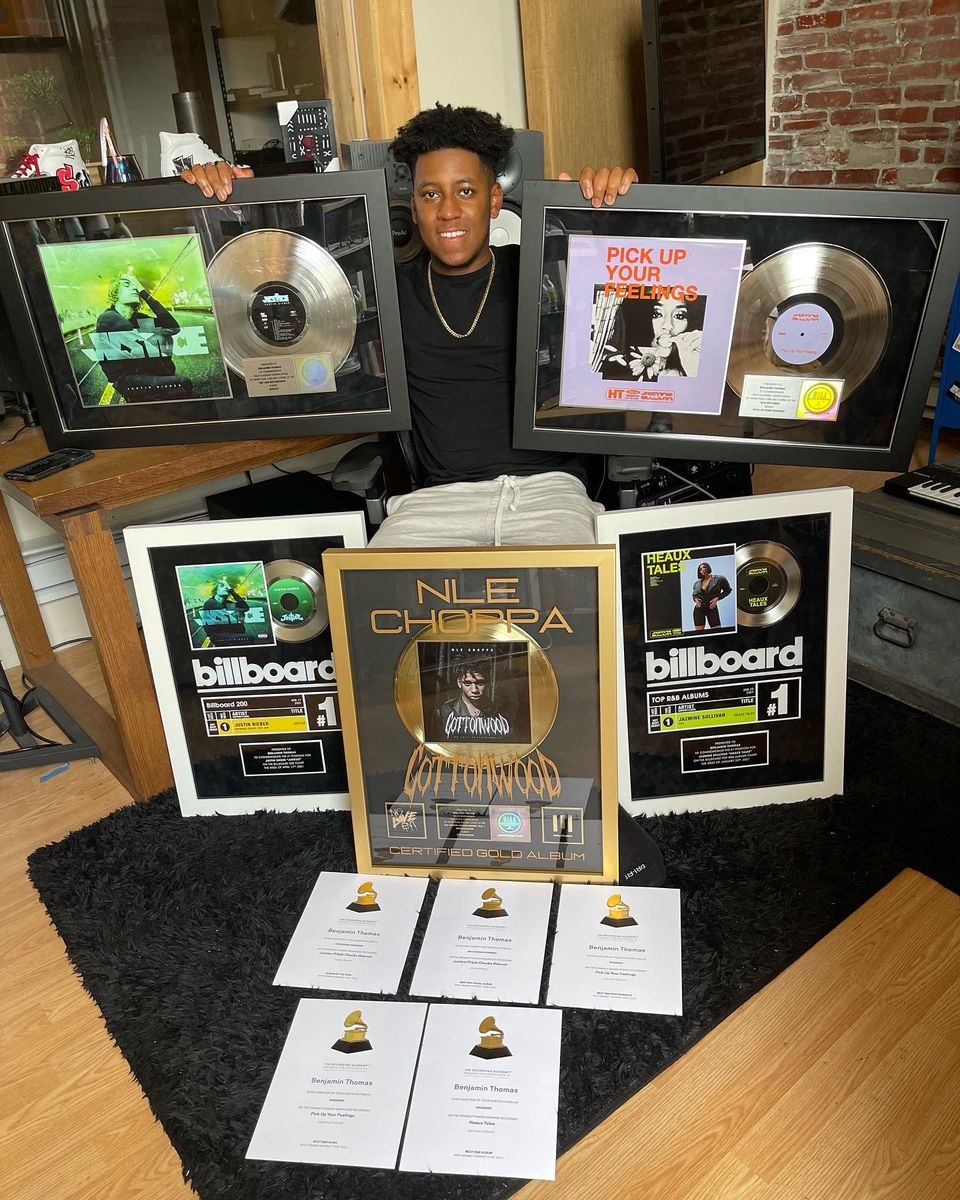 Thomas has contributed on projects that have been nominated for various music awards and certified Gold and Platinum. (Courtesy of Ben Thomas)
Thomas also owns and operates After5 Studios, which specializes in single vocalists, duets, rappers, acoustic singer-songwriters and podcasters, in Philadelphia's Kensington neighborhood, as is also co-owner of independent record label and management company nicethingsMUSIC. 
He developed his business acumen at Temple as an entrepreneurship and innovation management major. In addition to interning at financial firms such as Firstrust Bank, Thomas served as lead audio engineer at RECPhilly and Studio Breed, one of the largest recording studios in Philadelphia, and was a campus ambassador for GrammyU, the college division of the National Academy of Recording Arts and Science, the organization responsible for the Grammy Awards.
At Temple and beyond, Thomas has worked with big names—Post Malone, Bryson Tiller, Future, Ty Dolla Sign, Lauryn Hill, Meek Mill and Chloe Bailey, among many others—but his favorite experience is making music with friends. One of his best friends is West Philadelphia native Chill Moody, who Thomas has recently worked with on songs from independent artists around the city to be played at Eagles' home games.
But it's not just the music that matters to Thomas. He likes to give back to his loved ones and community. In addition to providing for his family, he was able to employ friends during the pandemic at After5 Studios. He'd also like the studio to eventually offer a free summer camp for kids to learn music production.
Thomas supports his alma mater too. Each semester, Temple students intern at After5 Studios. He also speaks in the Hip Hop and Black Culture class, taught by Associate Professor of Africology and African American Studies and Director of the Center for Anti-Racism Timothy Welbeck, a close mentor of Thomas. "I want to inspire others and help people I care about," said Thomas. "The accolades come, and that's beautiful, but it's not about that for me."
Originally from New York, Thomas moved to Philadelphia while in high school and feels grateful that he chose to remain in the city and attend Temple. "Anytime I mention I went to Temple it's met with smiles and warm stories," he said. 
"I had incredible opportunities staying in Philadelphia. It was the best career decision I made because it allowed me to get mentorship and opportunities that I don't think I would have been able to get at other places."