Alumni best friend duo creates first-ever tech-integrated Gamrpod
Temple alumni and former soccer teammates have banded together to offer a tech-integrated and soundproof micro studio for gaming, livestreaming and content creation.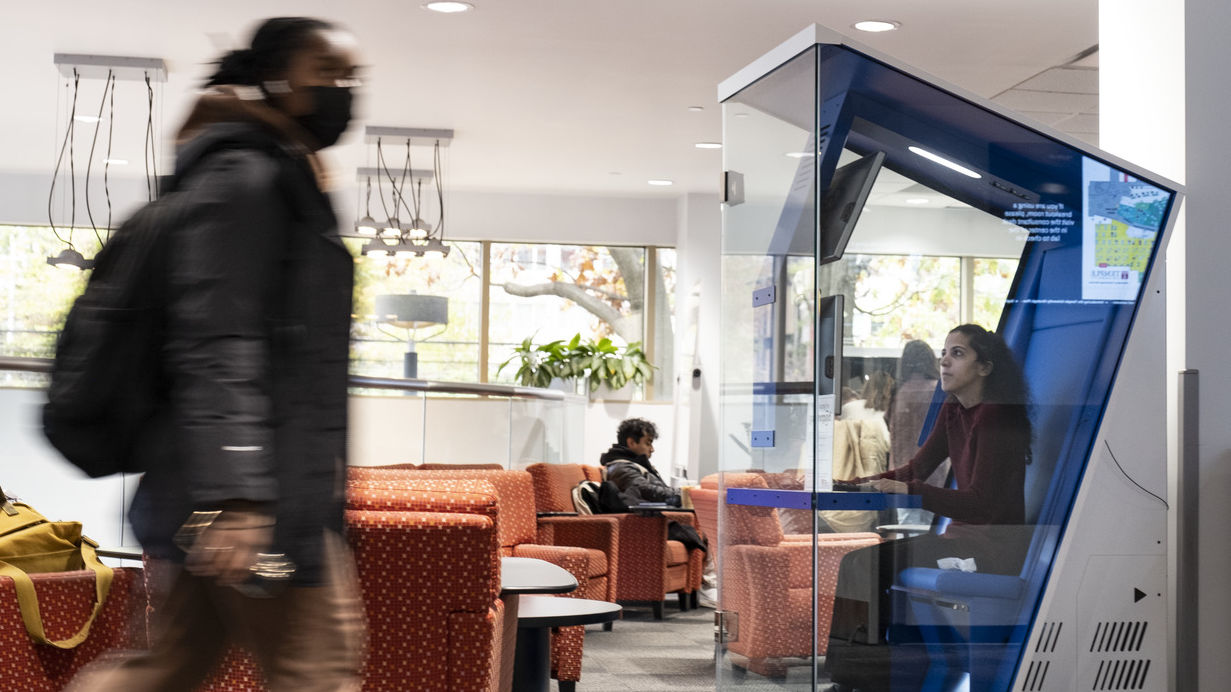 Before Dalton Carroll, KLN '14, and Sam Speaker, FOX '15, teamed up to found Gamrpod—a startup that has created the first-ever soundproof, tech-integrated micro studio for content creation—they teamed up on the soccer field. Serendipitously matched as roommates in the 1940 Residence Hall their first year, Carroll and Speaker became fast friends and continued to room and play soccer together throughout their time at Temple.
After graduation, their friendship grew into a business partnership when Speaker called Carroll with a proposition. Speaker became aware of the high costs of equipment for livestreaming video games and noticed a problem with soundproofing in office spaces. His observations sparked an idea: create soundproof tech-integrated units for gaming, livestreaming and other content creation, such as podcasts and video projects, for open-floor spaces. 
"Coming from a background of not having the resources and money for gaming equipment, I was fully on board," said Carroll, chief communications officer of Gamrpod. "We knew we could make content creation accessible to everyone and give them the foundation to start a career."
Carroll and Speaker recruited Peter Jannelli, Carroll's childhood friend and another former Division I soccer player, to join their venture. They built a prototype in Carroll's garage that was installed at TAP ESports Center in Philadelphia. Shortly after deployment of its first prototype, COVID-19 hit, and the team had to regroup. 
"In hindsight, it was a great thing to happen to us because we were able to readjust our road map and redefine what we wanted to make Gamrpod into," said Carroll, who majored in media studies and production at Temple and grew up in Delaware County, Pennsylvania.
After seeing a strong response at the TAP ESports Center, esports facilities have become a staple for Gamrpod. Many of these gaming centers host competitions and tournaments, and broadcasters even use Gamrpod units for live events. The startup collaborated with AT&T for a tailgate event with TimTheTatman, a popular livestreamer on YouTube. 
"There's no one else in this space doing what we're doing," said Carroll. "At this point, we're well-known in the gaming industry. We're looking to break into the office space."
Originally imagined for just gaming, the micro studio is expanding into other spaces and industries, including higher education. Gamrpod's latest V2 models are in Temple's TECH Center for students and faculty to use. A notable feature of the V2 unit is the blue screen, which allows users to key out the background. This component helps students use the micro studio to create professional class projects and headshots. The unit's soundproofing allows students to produce podcasts and other recordings and even study, and professors can use the unit to run online classes. There's also dual ventilation in the units, located where the user sits and where the PC is placed.
"Working with Temple is a major accomplishment because of our background at the university and because we have our units in one of the biggest tech centers in the United States," said Carroll. 
Carroll credits the courses he took at Temple for his success. "The marketing classes were so crucial, as were the media studies and production courses, in understanding how people think and the way that masses perceive a product."
He also attributes his success to working with close friends who share similar passions and goals. "We have specific roles that complement one another very well. After playing soccer together, we have a good understanding and connection. We know what motivates and angers one another. We can work as a team. It's a perfect concoction for a startup. Temple played such a big role in uniting us and giving us that foundation."