Temple mathematicians part of key study on AI-powered cruise control
Temple researchers tested the impact of an AI-powered cruise control system on fuel efficiency and traffic during a recent study on a sensor-filled stretch of Interstate 24 in Nashville.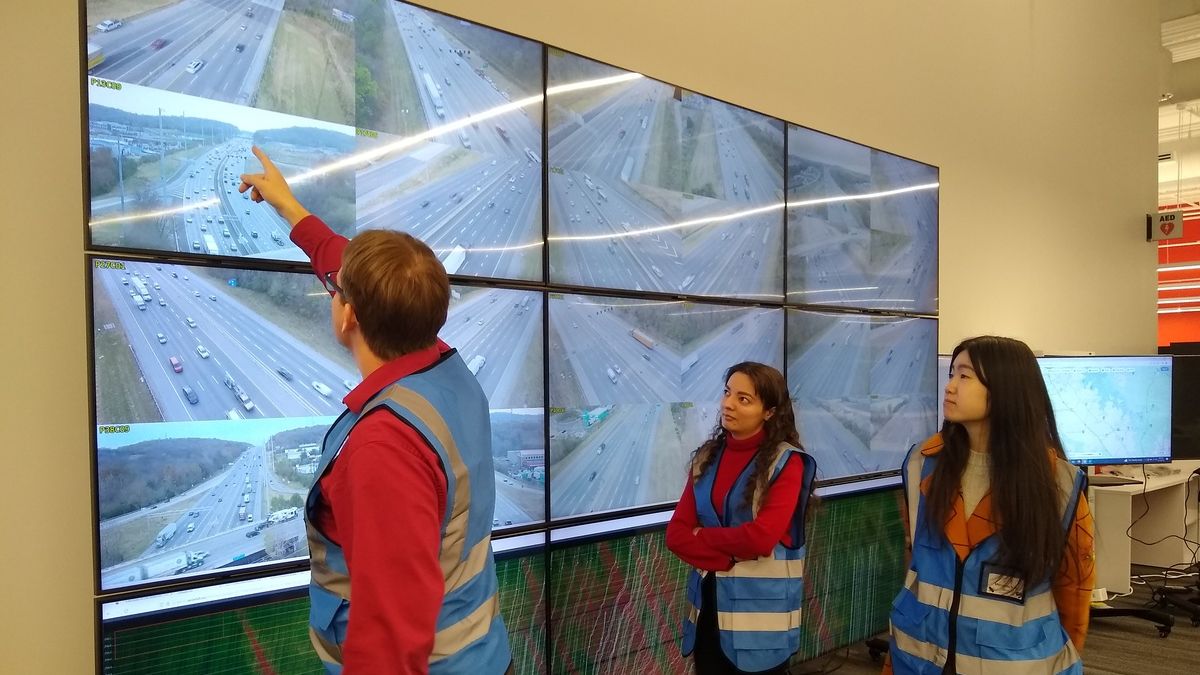 Temple University mathematicians are playing a key role in the world's largest-ever test to determine if cars equipped with artificial intelligence (AI) technology can help maximize fuel efficiency and mitigate traffic jams. 
During morning rush hour traffic over five days in mid-November 2022, the CIRCLES Consortium, a collaboration involving university researchers, automakers and the Tennessee Department of Transportation (TDOT), collected 3,800 hours of vehicle driving data. The test was conducted on a four-mile stretch of Interstate 24 near Nashville, Tennessee, which has been fitted with about 300 ultra-high-definition, pole-mounted cameras to digitally track every vehicle's behavior. 
The test studied the impact of 100 vehicles with AI-enhanced adaptive cruise control (ACC) systems on traffic flow to demonstrate that vehicles with automation capabilities, if properly supervised and controlled, can make traffic flow smoother on real highways and also reduce fuel consumption and fuel costs,  greenhouse gas emissions, and air pollution and offer protection for both vehicles and drivers. 
The study expands on earlier findings that demonstrated that just one well-controlled automated vehicle could modify the driving behavior of 20 other cars and smooth human-caused traffic waves, reducing fuel consumption 40%.
The vehicles used in the study have a stock ACC system, equipped with sensors and the capability to slow down the vehicle automatically if the vehicle ahead is slower than the set speed. Researchers replaced the stock ACC logic with trained AI solutions to fuse external big-picture traffic density information with the sensor information provided from the vehicle sensors. 
Although it will take several months to sift through the many billions of data points that were collected, Benjamin Seibold, Temple professor of mathematics, said, "this new data set will lead to so many new insights into how we drive and how this affects the flow of traffic."
Seibold, an applied and computational mathematician and director of Temple's Center for Computational Mathematics and Modeling, has a long record of researching the theoretical dynamics of traffic waves. Assisting Seibold on the project are Mengsha Yao, a postdoctoral researcher, and Nour Khoudari, a mathematics PhD student. Usually mathematics graduate students do office-based theoretical or computational research, but this project gave them the opportunity to work with more than 50 researchers and 150 drivers on-site at Interstate 24. 

"It has given me the opportunity to collaborate with people and conduct experiments that are happening in real life," says Khoudari, a native of Lebanon who has worked on the project for three years. Expecting to earn her doctorate next summer, she is now applying for postdoctoral positions. "However," she adds, "I now know many industry collaborators and, career-wise, that's always a plus."

The CIRCLES Consortium research is supported by the National Science Foundation and the U.S. Departments of Transportation and Energy. Besides Temple, the CIRCLES Consortium includes researchers from Vanderbilt University, the University of California, Berkeley and Rutgers University–Camden; General Motors, Nissan North America and Toyota; and TDOT. The cross-disciplinary collaboration involves experts from a number of fields, including civil engineering, transportation, robotics, mathematics and artificial intelligence. 
- Bruce E. Beans