Provost Mandel meets with Honors students
This was the provost's first in-person dialogue with Honors students.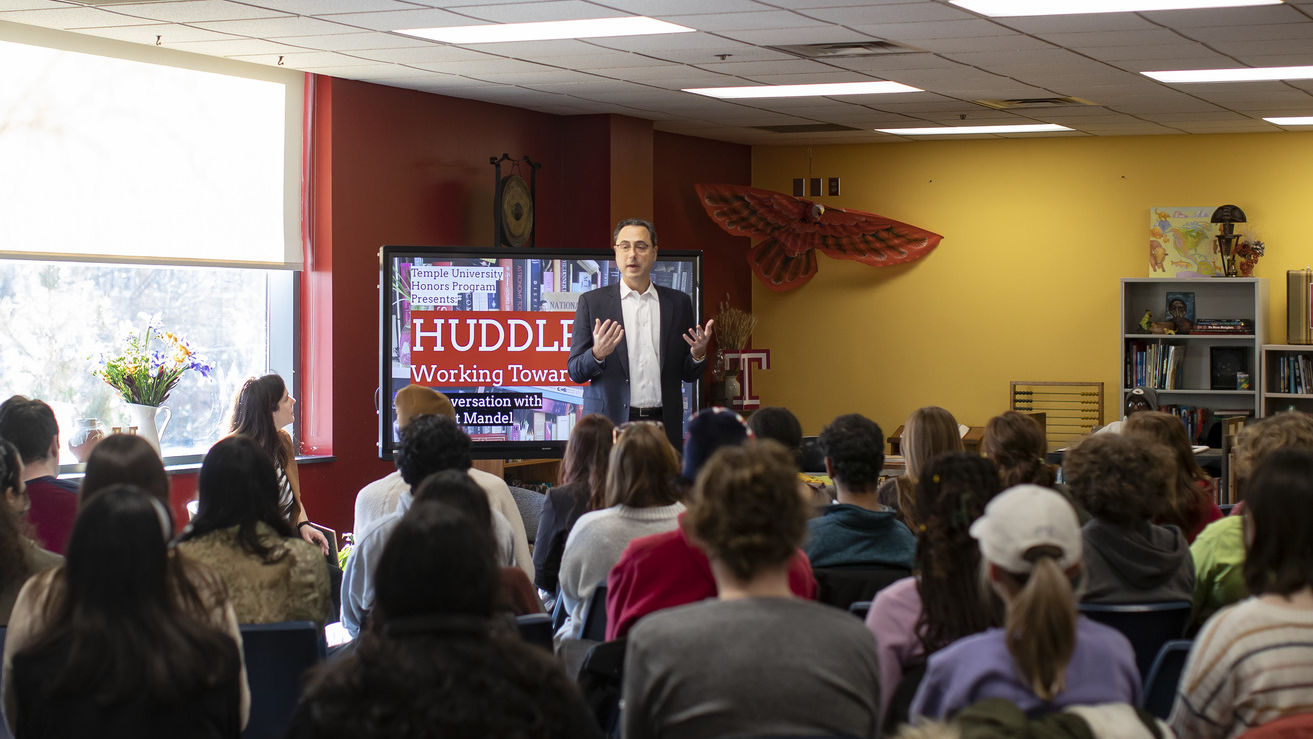 Temple University Provost Gregory N. Mandel recently paid a visit to the university's Honors Program to connect with students about their experiences with the program.
Temple's Honors Program gives students opportunities for unique courses, enriching activities, holistic advising and a supportive community. On Feb. 3, Provost Mandel met with these students in the Tuttleman Hall Honors Lounge to give them a chance to ask questions on a range of topics.
Before the students began asking questions, though, the provost shared a bit about himself. The conversation kicked off with a question from Honors Program Director Amanda Neuber, which she explained was a popular one among Honors students: "How did you get your job, and what does a provost do?" 
Mandel explained that his career was not something he planned out from the time he was in college. "I think it's very hard to know what you're going to want to do in 10 years, in 20 years, in 30 years, but you may be developing a sense of what you want to do in the next three or five years," he said, and so his advice to undergraduates was to explore opportunities that align with what matters most to you.
As for his career, Mandel said he majored in physics and astronomy in college and went on to work on the Hubble Space Telescope before enrolling in law school. Though he noted that this transition sounds like "quite a shift," he described how his interest in law began when he was an undergraduate, and how there is plenty of interdisciplinary crossover between the legal and scientific fields in their analytical processes.
He also said law helped him feel a bit more grounded, in that he was able to work with people. While considering another career shift, he was led to academia, and realized that being a law professor was "the greatest job in the world," because educating and graduating students that are well-trained legal teachers, researchers and practitioners can have a positive impact on society. He never expected to get involved with administration until he was asked to be interim dean of the law school, and he eventually became dean, and then provost.
In his job as provost, Mandel ensures academic excellence at all 17 schools and colleges at Temple, and he oversees many of the administrative offices, which represent academic affairs, diversity, equity and inclusion; faculty and student affairs; global engagement; information technology; and research, among others.
He has also launched universitywide initiatives to create a campus culture that better supports mental health and wellness for students, faculty and staff. Through new structures that support the Temple community, which include a new division of mental health and well-being, to increases in resources and supports, like a $1 million annual increase to support mental health services for Temple students, these initiatives aim to improve care and education.
The students' questions ranged from enrollment to community matters, particularly ways to incentivize course cross-listing and bringing Temple's quality education to our surrounding communities.
Electrical and computer engineering major Lloyd Yoo said that he felt the dialogue was productive and looks forward to more conversations like this in the future. He also hopes more time can be given to a variety of issues, such as budgeting. "I hope we can continue doing this sort of thing on a more regular basis just so that we, the students, can have better conversations with Temple as a whole, with the people who affect the university as a whole," he said.
Overall, Mandel drew many parallels between his own professional experience and the paths that many honors students are already taking. He emphasized the importance of engaging in interdisciplinary education, practice or research. These intersections often lead to greater impacts that can positively shape outcomes for communities and solve global challenges, something Temple Honors has always prided itself on. 

- Lindsay Hargrave