Main Campus hosts anniversary event to celebrate 40 years of Temple Japan
Members of the university community gathered to reflect on the past, present and future of the Japan campus. To commemorate Temple Japan's 40th anniversary, Main Campus held an event to recognize Temple's critical role in global engagement and the importance of Temple Japan.
A crowd of students, faculty and staff gathered in the Chapel of the Four Chaplains in the Temple Performing Arts Center to celebrate Temple University, Japan Campus' (TUJ) 40th anniversary. In his address to the crowd, TUJ Dean Matthew Wilson captured the branch campus' resilient history with a Japanese proverb: "Nana korobi, ya oki"—fall down seven times, get up eight.
In the four decades since its opening in Tokyo, TUJ has risen above many challenges, including a global economic collapse, the Fukushima nuclear disaster and, more recently, COVID-19. 
Thanks to the dedication, determination and support of Temple's administration, faculty and students, TUJ is thriving. After considerable pressure to recognize foreign universities, Japan modified its education law in 2005, and the Japanese Ministry of Education designated TUJ as the country's first officially recognized foreign university that year.
In fall 2022, undergraduate enrollment topped 1,800, eclipsing the size of many liberal arts institutions in the U.S. In the last two and a half years, the undergraduate student body has grown by nearly 50%, marking record enrollment over the past six consecutive semesters. Applications continue to boom, especially since COVID-19-related border restrictions have eased in Japan. TUJ's student population comprises individuals from the U.S., Japan and nearly 70 different countries including Ukraine, with a new scholarship program for nine evacuees. The faculty are just as diverse and their expertise is regularly cited in major media outlets.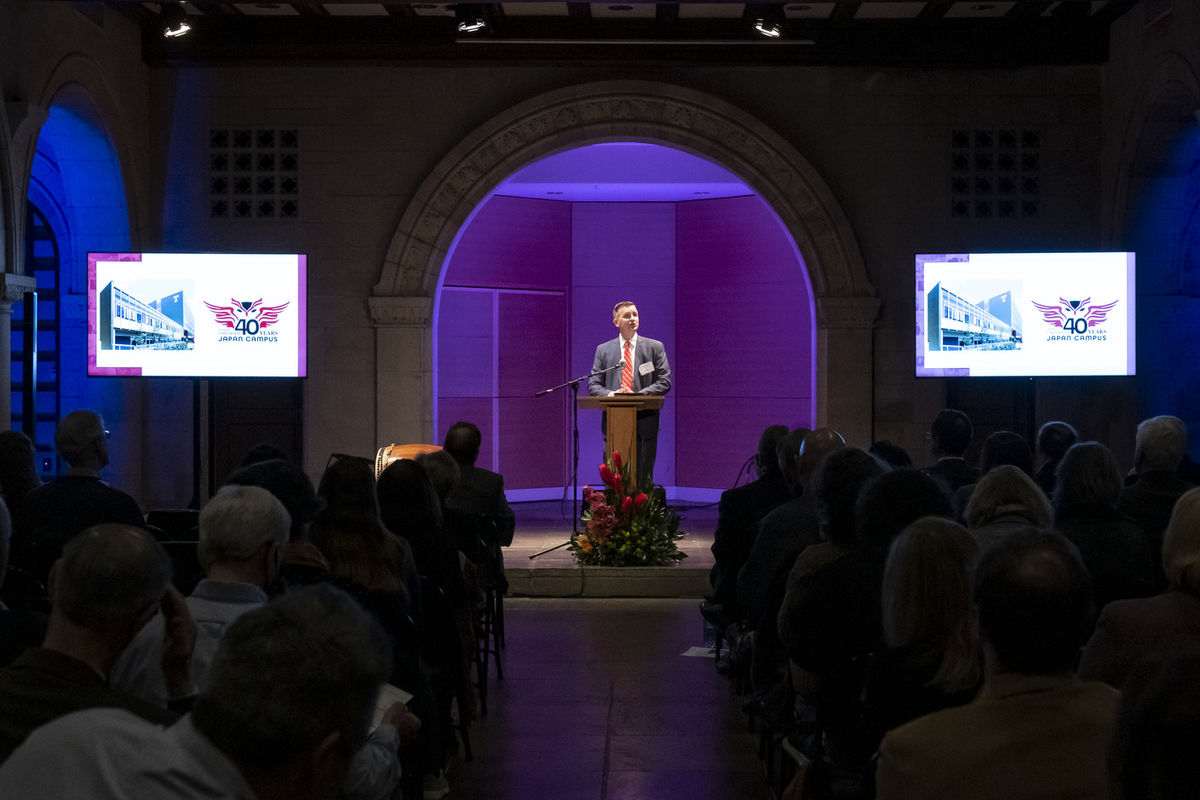 Temple Japan Dean Matthew Wilson spoke to the crowd gathered in the Temple Performing Arts Center. (Photography by Joseph V. Labolito)
TUJ initially started with a small presence in 1982. It was designed to teach intensive English language skills to precollege Japanese students in preparation for university in English-language countries. Now, the institution has grown into an international powerhouse. Students study in English using the same curriculum as Main Campus while developing skills that enable them to land jobs around the world.
This semester, over 150 short-term study abroad students from Main Campus and other American universities joined the TUJ students who spend their entire college career in Tokyo, which is nearly 1,700 undergraduate and 250 graduate students at the Japan campus.
"TUJ offers a distinctive international experience that makes us the destination of choice," said Wilson, who studied at the branch campus as a graduate law student in 1997. "We place students first and target institutional excellence. We help students become global-ready leaders and advocate and influence with the intent of making Japan, Philadelphia and the world a greater place."
Its heightened recognition and contributions to international education have drawn the attention of various dignitaries, which has only further propelled TUJ forward. Over the past couple years, then-Education Minister of Japan Koichi Hagiuda and U.S. Ambassador Rahm Emanuel visited campus, and Digital Minister of Japan Taro Kono spoke at TUJ's 2022 Commencement. TUJ also receives regular outreach from Japanese universities about credit exchanges and other collaborations and recently signed official collaboration agreements with Setagaya Ward of Tokyo and Yamanashi Prefecture. 
"Who would have thought that two decades ago we could barely get another Japanese university to come to the table?" Dean Wilson said in jest. "But now many of them are eager to come to the table because they realize what a great education Temple provides. The government has figured us out too."
The future is bright for TUJ. The U.S. Embassy has commissioned TUJ's graduate TESOL program to conduct English training to Japanese primary and secondary school teachers. In addition, starting in the fall of 2023, faculty members from Main Campus will be able to join the TUJ campus community for up to a year as part of Temple's visiting faculty program. This move is part of the educational value priority in Temple's strategic plan and offers faculty the opportunity to gain cross-border experience, develop meaningful connections with a multicultural student body and forge professional relationships. 
TUJ's 40th anniversary was also celebrated on its Tokyo campus with various events such as a Diamond Dinner and Spirit Week featuring a film screening, panel discussions, dance and music performances, and cultural festivities. The branch campus also held its inaugural Distinguished Alumni Awards, which included an evening cruise around Tokyo Bay and honored six accomplished TUJ graduates: an ambassador to Japan, a university president, an international lawyer and three CEOs—in fashion, transportation and finance.
"I think we can all agree that it was an audacious leap of faith to start a campus 40 years ago, 7,000 miles away in a place where we didn't have a deep history and where we essentially knew nobody," said Adelaide Ferguson, who occupied various roles throughout her 20-year career at Temple and emceed the event on Main Campus. "But I think the proof is in the pudding that this is a success. Here we are, and that is a cause for celebration."