From Temple's campus to Capital One: Computer science senior headed to Capital One after graduation
Ben Rittenhouse credits internship opportunities for getting his foot in the door at Capital One.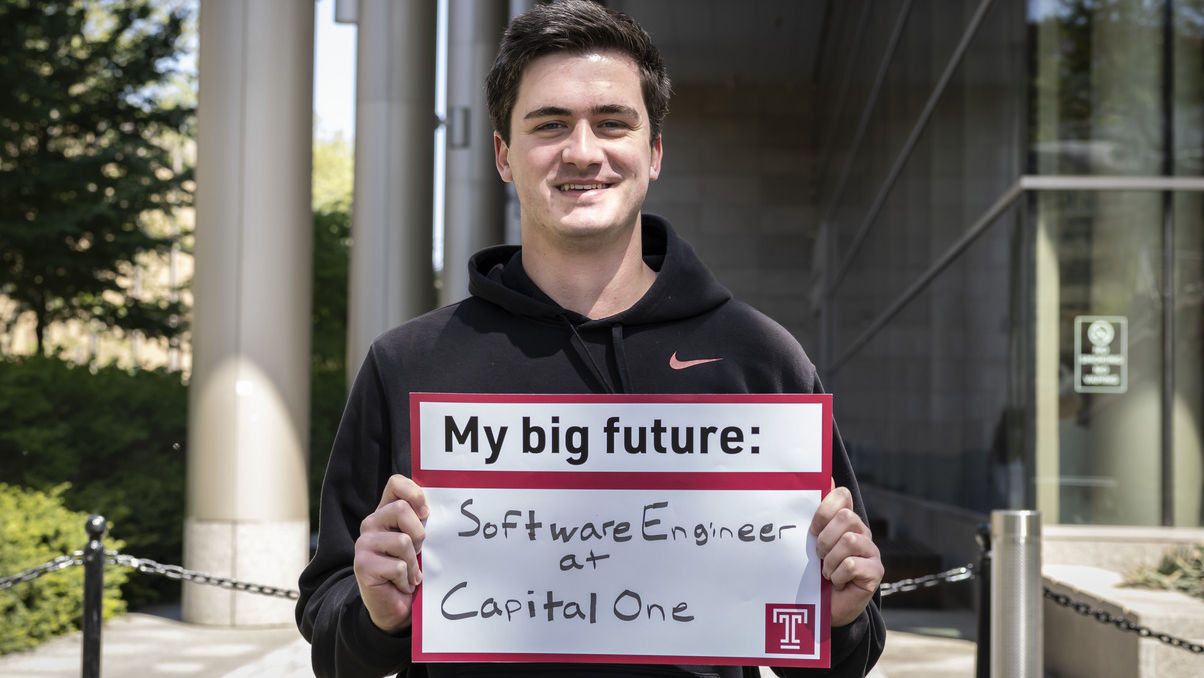 Name: Ben Rittenhouse
Degree: BS, computer science
College: College of Science and Technology
Hometown: Oreland, PA
Graduation year: 2023
Big Future: Associate software engineer for Capital One.
Why Temple: As someone who grew up in the Philadelphia suburbs, Ben Rittenhouse, CST '23, was drawn to the fact that while Temple was close to home, it was just far enough to feel foreign and exciting because of its city-based location. After visiting campus several times as a high school student, Ben fell in love with Main Campus' walkability and its city-within-a-city vibe. He was also drawn to the diversity in programs offered at Temple, and he felt that Temple would equip him with a solid backup plan if he decided that computer science wasn't for him.
Standout internships: Ben landed internships with the Federal Reserve Bank of Philadelphia and Lincoln Financial Group during his time at Temple. Those opportunities were pivotal for Ben because they introduced him to the corporate world and gave him a better understanding of what professional life looks like. The internships also introduced Ben to the finance and banking sectors, and he credits the skills he picked up with helping him get his foot in the door at Capital One.
Philly life: There are two reasons that Ben has a particular fondness for Philadelphia: sports and food. To him, there is nothing like the convenience of catching the Broad Street Line to watch a weekday afternoon Phillies game. And the food options are, as Ben describes, "endless." In particular, he has found a lot of great Mexican restaurants around the city. He's also a big cheesesteak guy, and he's backing Dalessandro's in the great Philly cheesesteak debate.
Temple Made moment: Ben's transformational moment came when he opened the email announcing he landed his internship with Lincoln Financial Group. He had invested countless hours preparing for the opportunity at job fairs, resume workshops and mock interviews. When he finally opened that confirmation email, he knew all of his hard work had paid off, and the rest was history.
Hootable: "I give a lot of credit to Temple's professional development. When it came time as an upperclassman to get serious about applying for jobs and internships, it struck me that I've already been prepared for this. It was a lot less nerve-wracking. It was just a matter of applying myself."