Ready for takeoff: Industrial and systems engineering senior headed to Boeing after graduation
Morgan Schafer, Class of 2023, landed her new job as an industrial engineer in Seattle after completing an internship remotely with Boeing Global Services in her junior year.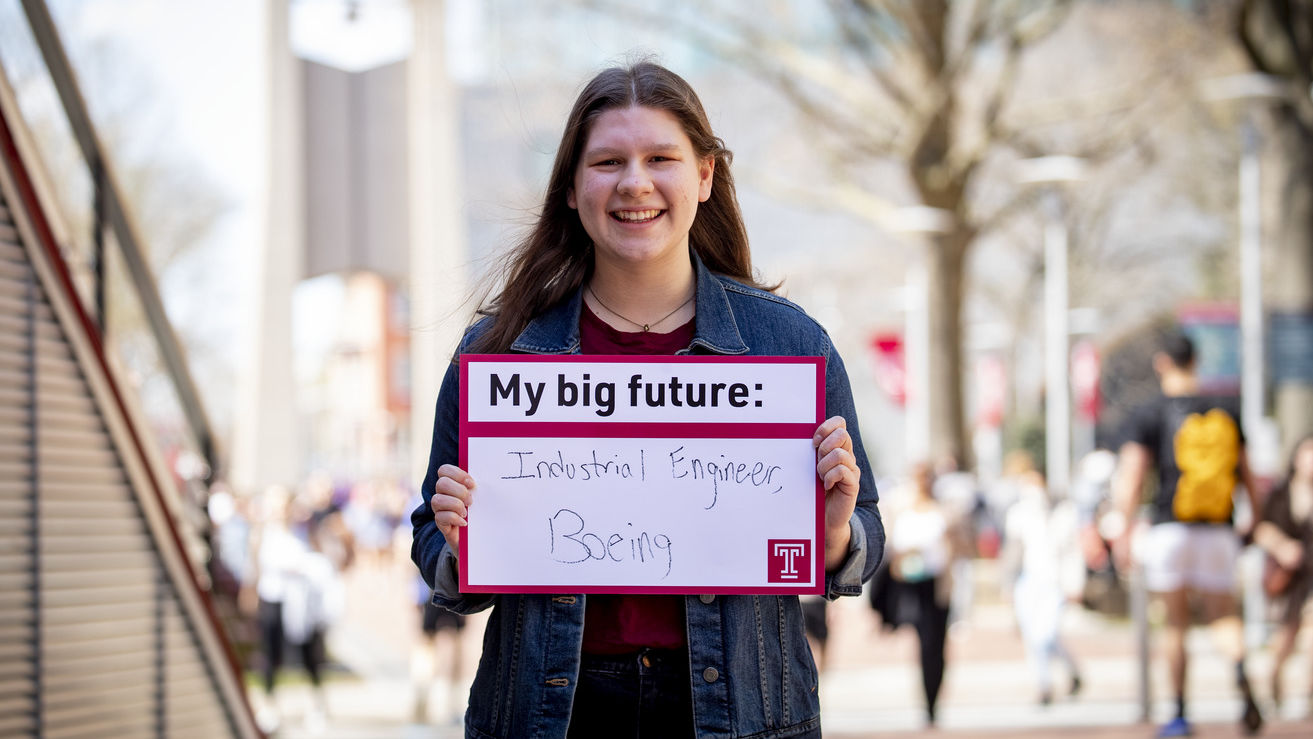 Name: Morgan Schafer
Degree: BS, industrial and systems engineering
College: College of Engineering
Hometown: York, Pennsylvania
Graduation year: 2023
Big future: Industrial engineer for Boeing Commercial Airplanes in Seattle.
Why Temple: After growing up in a rural area, Morgan knew she wanted to go to a city school and was excited to live in an urban, diverse place. When she saw that her older sister was having a positive experience at Temple, she knew that it was the right fit for her too. Once Morgan was offered a scholarship, her decision became a no-brainer. Now, with graduation around the corner, she feels honored to be part of Temple's second graduating class of industrial and systems engineering students and is eager to play a role in developing the foundations of its alumni network. She wants to spread the word about the program.
Favorite class: Morgan fondly recalls a simulation class in which she used an online modeling software to simulate and optimize the operations of a soccer stadium as part of a student competition for her final project. She received various data including concessions, seating and security check so that her team could find efficiencies to improve the process. It was a hands-on experience she valued and was proud to learn how to use the complicated software and external resources.
Best professor: Julie Drzymalski, director of the industrial and systems engineering program and professor of instruction in engineering, technology and management, has been an influential mentor for Morgan, especially as a woman in engineering. By taking several of her classes, Morgan has learned from Drzymalski's real-world experience in the industry and appreciated her professor's willingness to listen whenever Morgan had questions or concerns. Morgan says that Drzymalski is an approachable professor who genuinely cares about students' learning.
Philly life: Morgan loves the convenient transportation system in Philadelphia, often hopping on the subway to explore the city's vibrant neighborhoods. She was able to attend her first-ever concert in the city during her first year and enjoys hanging out at parks like Rittenhouse Square and going to craft fairs with her friends. In Morgan's eyes, another perk of Philadelphia is the food, which she says is much more eclectic compared with her hometown. She loves trying food from different cultures. Her Philadelphia experience has made her want to continue living in a city.
Temple Made moment: In addition to switching from mechanical to industrial and systems engineering in her freshman year, Morgan made another transformational move when she became a peer advisor and leader for the College of Science and Technology. This role required her to learn a variety of skills from interviewing and problem-solving to conflict resolution and team collaboration. This experience helped her build her confidence as a professional and also helped her expand her network.
Hootable: "At Temple I have learned more about the importance of questioning the world around me and being confident in my voice and opinions. Being surrounded by my fellow Owls has encouraged me to get more involved in the world around me and to want to make a difference. We've been taught more about thinking critically and that we have the power to help change the world around us, so we need to use it."