Capturing reality through the lens: Temple senior finds her calling in documentary filmmaking
Laine Immell, Class of 2023, developed her documentary filmmaking style with help from industry-leading professors at the School of Theater, Film and Media Arts. Now she's ready to tell groundbreaking stories through documentaries and video journalism.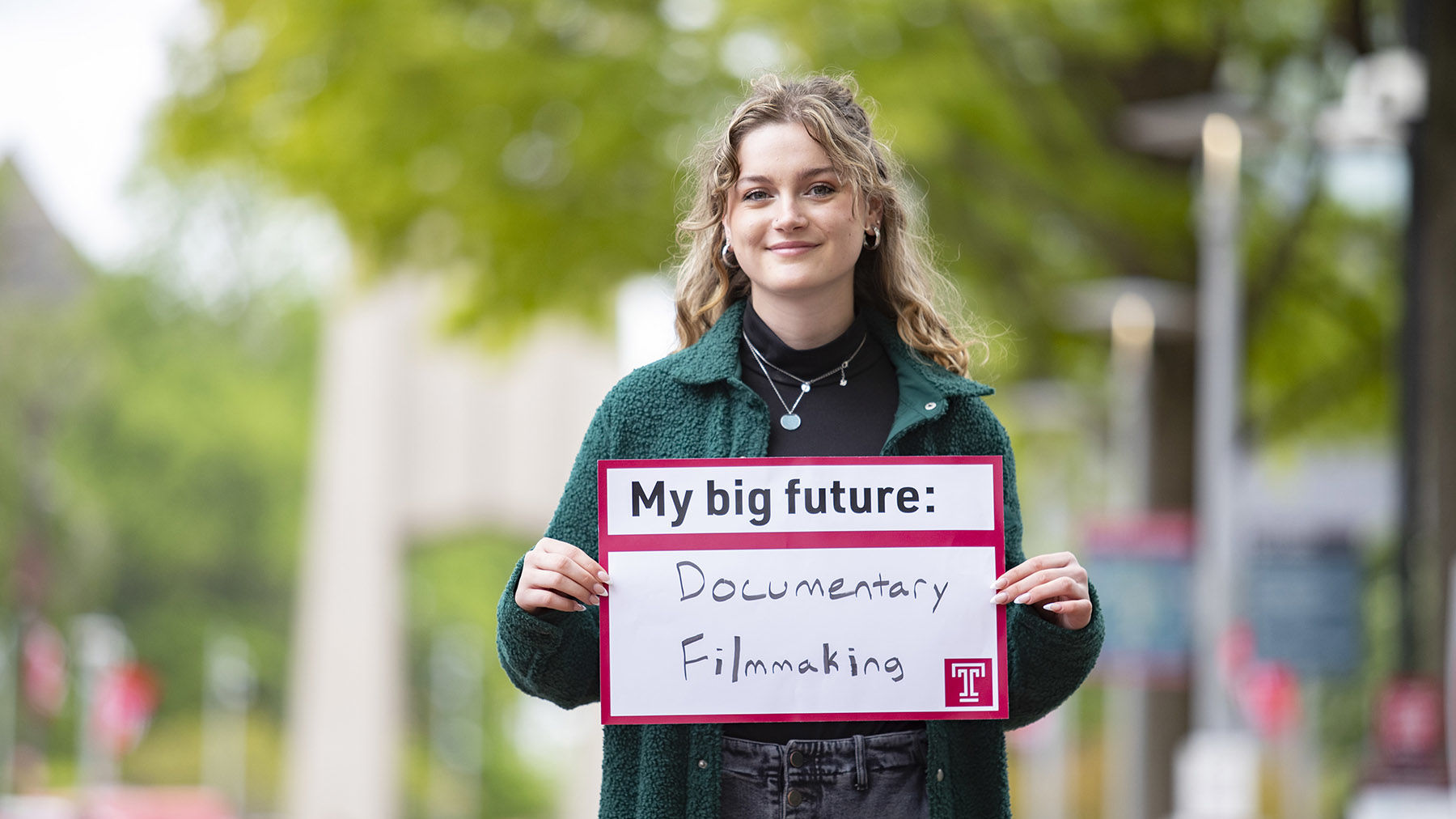 Name: Laine Immell
Degree: BFA, film and media arts
College: School of Theater, Film and Media Arts
Hometown: Cincinnati, Ohio
Graduation year: 2023
Big Future: Producing documentaries and video journalism. 
Why Temple: Laine spent her childhood living abroad, and she has never been afraid of branching out and experiencing new things. So when it came to her college search, she knew she wanted a college experience that would allow her to continue exploring. For Laine this meant attending a school in a big city. She fell in love with Temple's Main Campus after one visit because she felt the location could give her the best of both worlds: a tight-knit campus community located in the heart of a diverse city where there are always so many things to do. When she learned that the School of Theater, Film and Media Arts also offers renowned film programs, an absolute "must have" for any of the schools Laine considered, her college decision was made.
Favorite professors: Laine gives a lot of credit to her professors for equipping her with a passion for documentary filmmaking and the skills to bring her ideas to life. One of those professors is Rea Tajiri, an award-winning filmmaker and artist whose newest film Wisdom Gone Wild recently screened at film festivals around the world. Tajiri has helped pioneer a new age of documentary filmmaking at Temple, and Laine says Tajiri's support and guidance was crucial to her development. Laine also credits another award-winning professor, Elisabeth Subrin, with introducing her to the work of many talented women and nonbinary filmmakers making waves in the industry today, which was a major source of inspiration and motivation for Laine. 
Philly life: Laine has become a big fan of Philly's food scene during her time at Temple. As a self-described foodie, she loves to try out new restaurants and cuisines, and has yet to run out of delectable options to try in the city after four years. Laine especially likes the fusion sushi and Mexican spots around the city, and she recommends Fishtown's Loco Pez to fellow taco lovers. 
Temple Made moment: Laine came to Temple expecting to concentrate in narrative, or feature, filmmaking, but that all changed during her junior year after she completed her first documentary project. She produced a short film about her relationship with her siblings and their childhood experiences becoming a part of American culture. The filmmaking process was deeply intimate and emotional. After seeing how much her peers and professors connected with her filmmaking style, Laine realized her true calling is documentary filmmaking. 
Hootable: "I remember the elation I felt after I turned in my first documentary project. I said to myself, this is what I was trying to feel with narrative film. It was a different path that I didn't expect to go down, but I'm so glad I discovered this about myself at Temple. Now I'm a super passionate documentary filmmaker who just completed her thesis, and it feels awesome."