Inside the mind: Temple senior takes the next step toward his dream career in psychology
Cameron Barham will use his passion for psychology to counsel people struggling with addiction at Allentown Residential.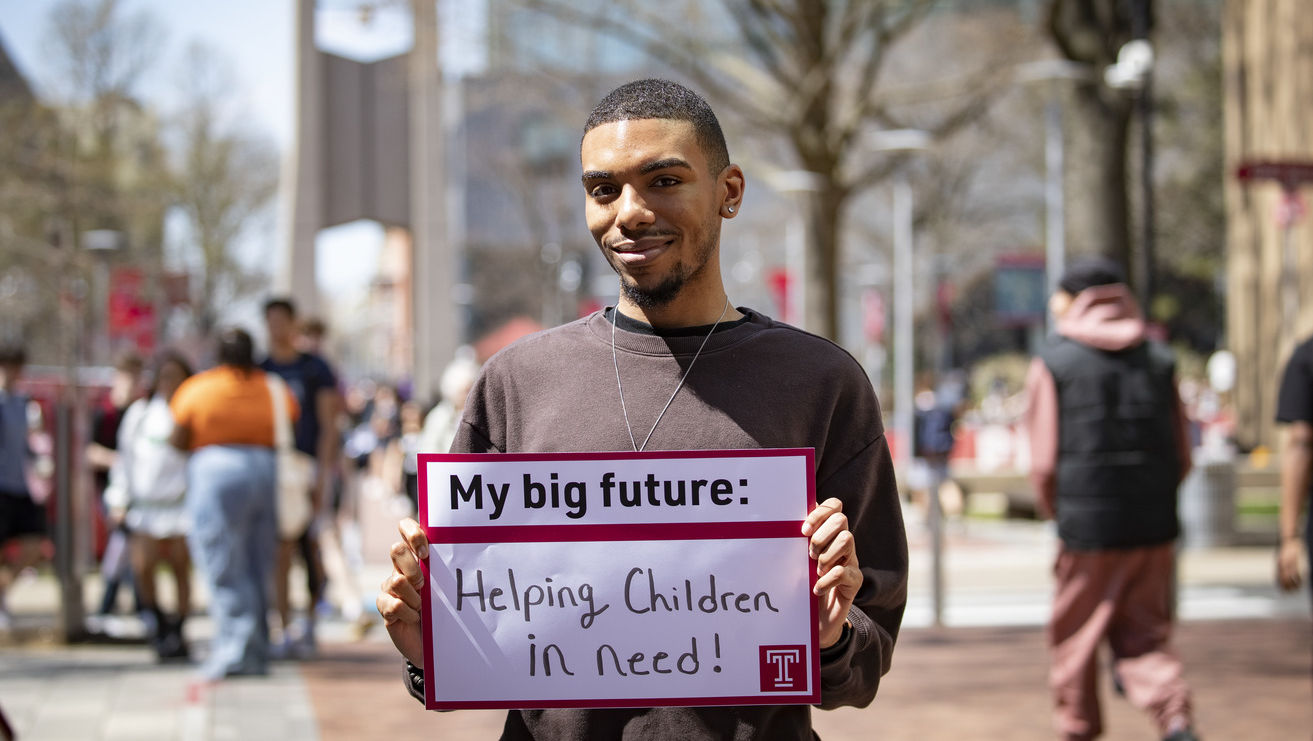 Name: Cameron Barham
Degree: BA, Psychology with a criminal justice minor
College: College of Liberal Arts
Hometown: Allentown, Pennsylvania
Graduation year: 2023

Big Future: A counselor at Allentown Residential, a drug and alcohol rehabilitation facility. He is also attending Chestnut Hill College in the fall to obtain a master's degree in counseling with a concentration in child and adolescent therapy and trauma studies.  
Why Temple: After visiting Temple University as a high school senior years ago, Cameron Barham, CLA '23, was immediately drawn to the campus' diversity and inclusiveness, as well as its city within a city atmosphere. He felt that Temple would allow him to grow personally and professionally and provide the support he would need to achieve his dreams.
Standout internships: Cameron landed a marketing research internship in 2022 at the European Institute of Innovation for Sustainability while studying abroad in Italy. The internship allowed him to apply his knowledge of psychology to the field of marketing through the institute's fashion sustainability project. The opportunity was an eye-opening experience for Cameron because it showed him there were unique and endless ways to apply his degree in the real world including advertising, business and marketing, pathways he had never considered before.  
Philly life: As an Allentown native, Cameron quickly came to love the hustle and bustle of Philadelphia. There is so much life always pulsing around him when he steps foot onto the city's sidewalks, and he relishes the feeling because it's a stark contrast to his hometown.  And, of course, the city's food scene has a special place in Cameron's heart. He loves trying out different cuisines at Center City restaurants with his friends and family.
Temple Made moment: Cameron's most significant moment at Temple occurred when he switched his major from bioengineering to psychology after his first year. After taking engineering classes and learning about the role of a bioengineer, Cameron realized that he couldn't spend his career focused on lab work. He needed a career where he was able to be more hands-on in addressing social issues and decided to major in psychology and minor in criminal justice.  
Hootable: "My Temple classes have been pillars for me. They helped pave my way by not only giving me more insight into my career field, but also helping me have a clearer sense of the specific populations I would like to work with. My professors also provided the support I needed to excel in my coursework and connected me with internships that helped launch me into my career after graduation."