Temple Made for Temple Med: Biochemistry senior headed to medical school after graduation
Biochemistry major Nisarg Patel credits one of his Temple professors for getting him one step closer to becoming a physician.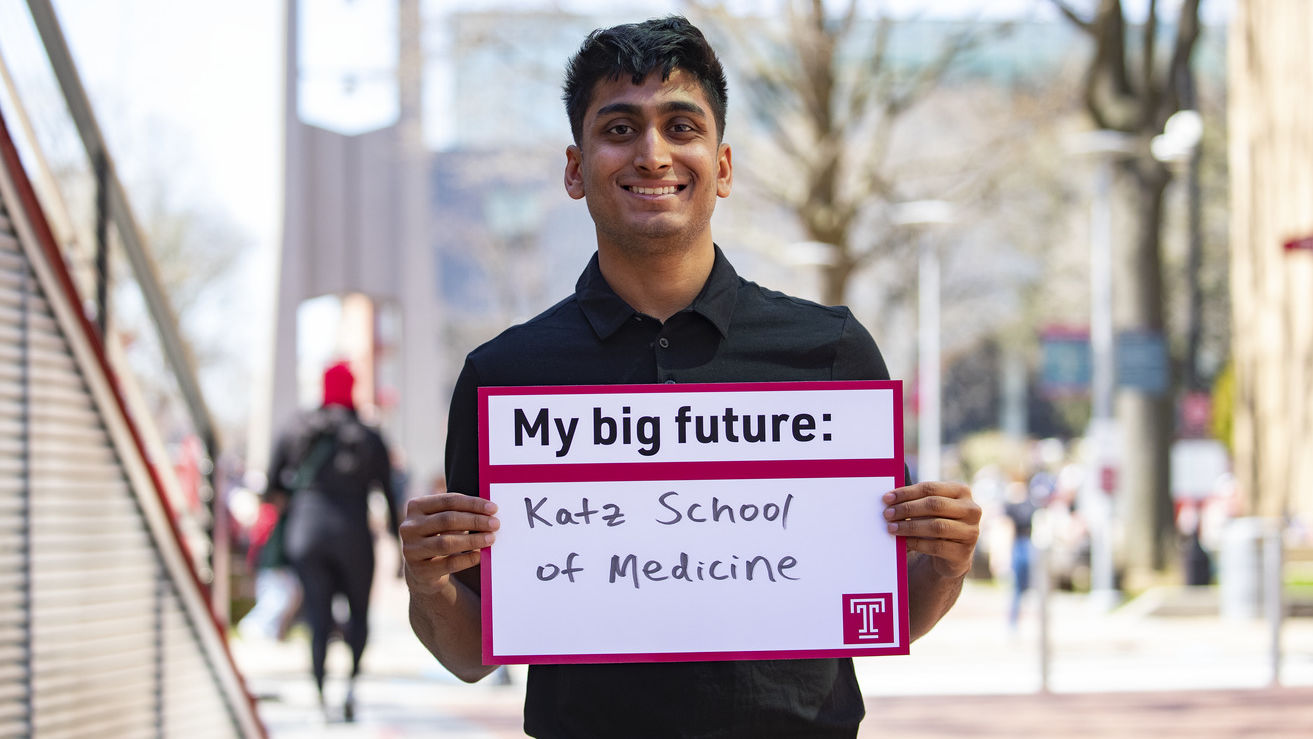 Name: Nisarg Patel 
Degree: BS, Biochemistry 
College: College of Science and Technology 
Hometown: Bensalem, Pennsylvania 
Graduation Year: 2023
Big Future: First-year medical student at the Lewis Katz School of Medicine, and from there a physician.  
Why Temple: Growing up in Bucks County meant that Nisarg Patel, CST '23, frequently heard about Temple University's reputation as a top research institution. When he finally visited Temple's Main Campus as a high school senior, he felt a connection to it that had eluded him during visits to other Pennsylvania state schools. His connection to the campus stemmed from its vibrant atmosphere and location in the heart of Philadelphia. He was also drawn to the university's academic resources, which he felt were unmatched by other state schools, and would give him the support he needed to achieve his dream of becoming a doctor.  
Favorite professor: Nisarg's favorite professor at Temple was Vladimira Wilent, an associate professor of instruction in chemistry in the College of Science and Technology. She taught in a way that went beyond textbook learning and engaged students in hands-on activities in the biochemistry industry. His favorite class under Wilent was Research Techniques and Biochemistry (CHEM 4496), a capstone course required for biochemistry majors where he learned laboratory techniques like western blotting, chromatography and electron microscopy. He also gained hands-on experience with analytical techniques like electrophoresis and filtration within the class. At the end of the course, he wrote a paper about his research on the impact of pesticides on humans.  He was able to link his classroom experience with the real world by understanding what happens on a molecular level and then comparing it to a prominent disease affecting millions of patients each year. This opened his eyes to the impact that biochemistry has in medicine.  
Philly life: Nisarg loves the pride and passion of Philadelphia sports fans that runs deep throughout the city. He was thrilled to experience the excitement of fans pouring into the streets after the Eagles clinched their place in this year's Super Bowl and when the Phillies made it to the World Series last November. Aside from its sports pride, he also loves the city because of its food scene. He described Sampan, a Pan-Asian restaurant, as a "must-try spot" in the city. He also enjoys the annual tradition of Center City Sips, a citywide social event where over 60 restaurants offer happy hours in food and drinks for the entire summer.    
Temple Made moment: After observing the many health disparities in Philadelphia, Nisarg was inspired to play an active role in addressing this issue. He felt with the increasing rate of health disparities in Philadelphia it was valuable to teach CPR to others because it is a skill that can save countless lives. Nisarg taught CPR on Temple's campus, where he trained over 150 undergraduate students. Throughout Philadelphia, he also taught hospital staff, medical workers, graduate students and anyone in the public who signed up for his classes. In addition, he was part of a volunteer organization, Medic Zero, that teaches CPR for free to communities between Philadelphia and Central Jersey.  
Hootable: "Temple created an atmosphere for me to succeed and gave me the steppingstones I needed to make a positive change in the world around me. It was four of the most important years in my life. Being a Temple student has a significant impact on who you end up being after graduation. Now, I am Temple Made for saving lives."