A new dean named for the College of Public Health and School of Social Work
Jennifer Ibrahim to take the helm as dean after serving in an interim capacity since last summer.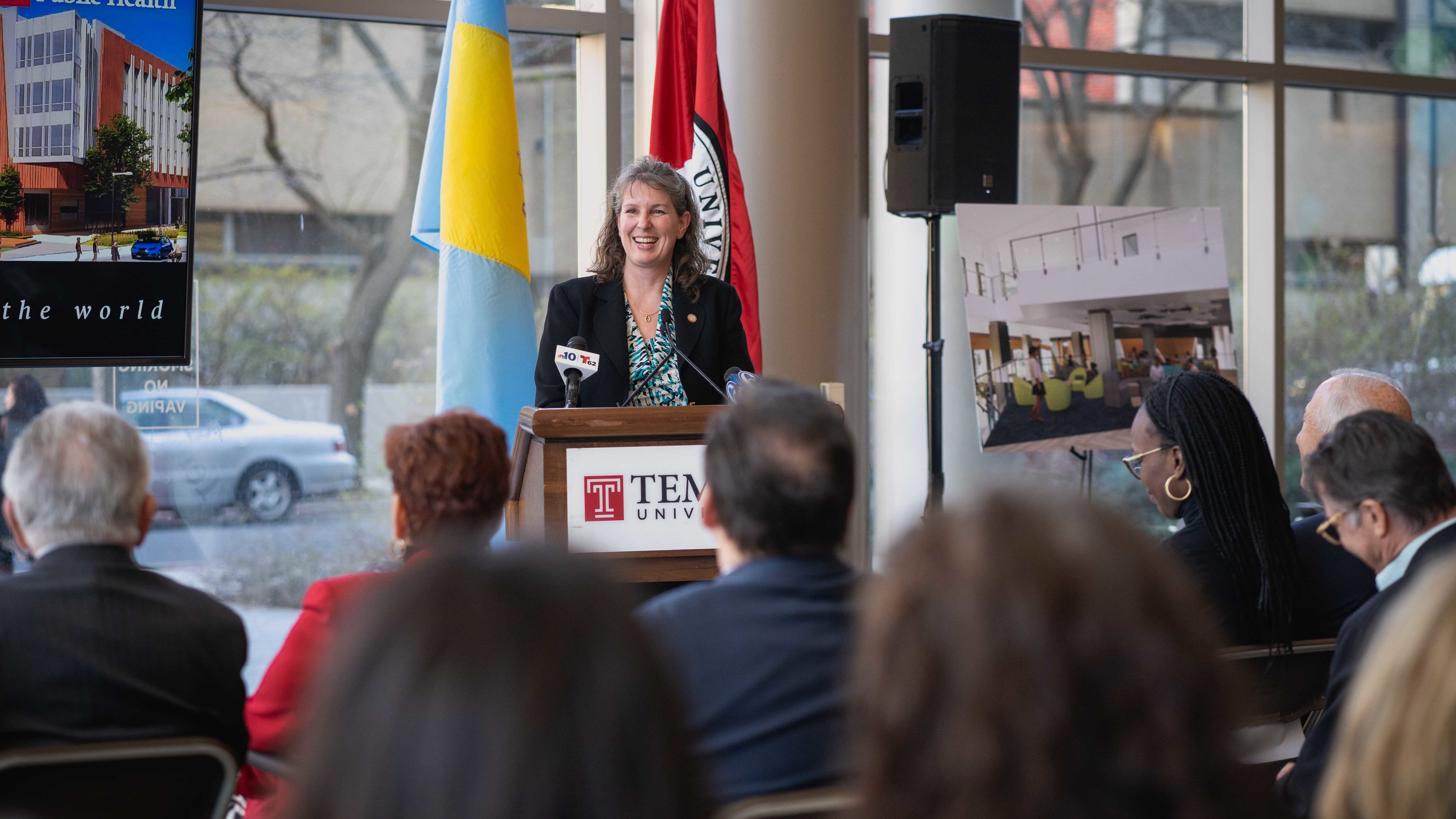 Jennifer Ibrahim is the new dean of the College of Public Health and School of Social Work, following a national search. She will assume her duties on Aug. 1, Temple University Provost Gregory N. Mandel announced Thursday. 
"I am thrilled to announce the appointment of Jenn Ibrahim as dean. She has prioritized Temple's mission of providing an excellent and accessible education for our students through her robust expertise, visionary leadership and steadfast commitment to public health," Mandel said. "This is an incredibly important and transformative time for the college and school. Jenn's dedication to teaching, research and practice will be instrumental in advancing the priorities of the university." 
Ibrahim has served as interim dean for the past year. Previously, she was associate dean for academic affairs overseeing academics, advising and enrollment, managing more than 50 academic degree programs across 20 areas of study, including clinical programs, population-focused programs and research-centered programs. Ibrahim is a tenured professor in the Department of Health Services Administration and Policy with a secondary appointment at the Beasley School of Law.  
Ibrahim came to Temple in 2005, drawn by its mission of providing access to quality education for first-generation and underrepresented students. Her dedication to the Temple community has earned her multiple service recognitions since becoming a faculty member, including the Great Teacher Award, the College of Health Professions Teaching Innovation Award and an Outstanding Faculty Service Award.
"I am honored to lead the College of Public Health and School of Social Work into the next chapter as we look ahead to a new building, new collaborations, and innovations in research and education," Ibrahim said. "The college's reputation continues to strengthen locally and nationwide, jumping 14 spots from 50 to 36 last year in U.S. News and World Report. We will continue to engage our community to chart a path forward and address their needs."
Her commitment is demonstrated by service within the college, the university and the community to advance Temple's mission. She created the college's Teaching Excellence Committee to promote pedagogy and teaching scholarship and create a space for teaching-focused faculty to share best practices. 
"Temple provides amazing opportunities for personal and professional growth and development," Ibrahim said. "I want to work with our faculty and staff to build a culture where each person feels valued and able to contribute to the larger mission and vision of the college with their individual talents and skills."
As a researcher, Ibrahim has collaborated on 20 grants totaling more than $20 million. The dean also has collaborated extensively with Scott Burris in the Beasley School of Law and the Center for Public Health Law Research to better evaluate laws and their impact on individual behaviors and health.
Before arriving at Temple, she was an American Legacy Foundation Postdoctoral Fellow at the Center for Tobacco Control Research and Education at the University of California, San Francisco. Ibrahim earned her PhD in health services and policy analysis at the School of Public Health at the University of California, Berkeley, where her dissertation focused on state Medicaid coverage for tobacco dependence treatments. At Berkeley, she also received her master of arts degree from the Department of Political Science. She received her MPH from the School of Public Health at the University of Massachusetts, and a BS in biology and pre-medical studies at Boston College.
Recently, she earned an MEd in higher education and a graduate certificate in diversity leadership from the College of Education and Human Development here at Temple.
"We will work diligently to empower our students, faculty and staff, fostering an environment that encourages collaboration, critical thinking, compassion, and a strong commitment to improving the lives of people and communities," Ibrahim said. "I am excited about the path ahead and look forward to contributing to our shared vision for a healthier, more equitable future."
- Deirdre C. Hopkins