Temple Culinary Services announces enhancements and changes ahead of fall semester
Grubhub Ultimate will be introduced at retail dining locations to help optimize convenience, while Panera Bread will join the university's portfolio of on-campus eateries. All-you-care-to-eat dining will now be headquartered in the Esposito Dining Center in Johnson and Hardwick Residence Hall.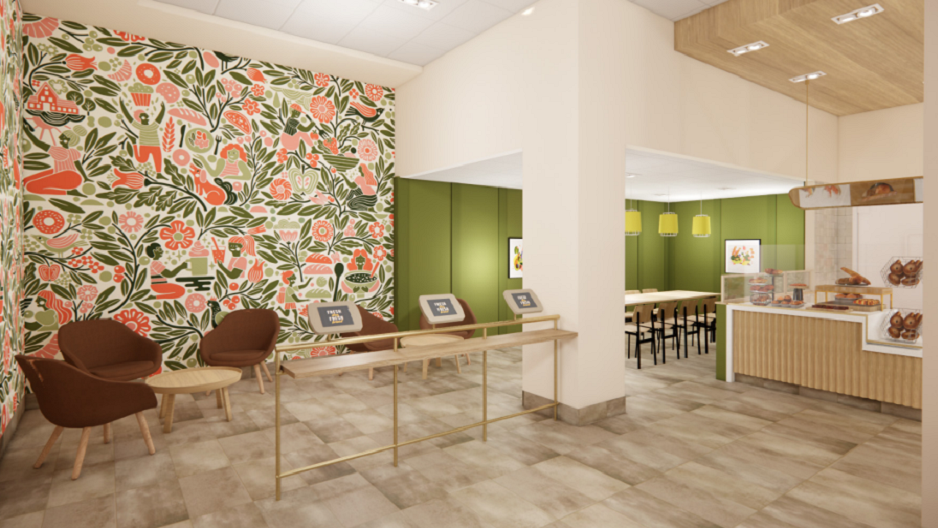 When nearly 4,000 new, first-year students and thousands more returning Owls make their way to Temple University next week, they will arrive to see an updated campus dining experience that has been optimized for convenience. They will also be able to enjoy a number of new campus dining options as well. 
Chief among those changes and additions is the introduction of Grubhub Ultimate at several on-campus eateries. The university will also welcome its first Panera Bread, which will open in Pearson and McGonigle Halls, replacing Così. 
"From a convenience standpoint, Grubhub Ultimate is really a game changer for Temple Culinary Services. It is going to help improve both wait times and services at eateries all across campus," said Michael Scales, associate vice president for business services. "We are also really excited to finally have Panera Bread here at Temple. The restaurant will offer customizable combos for under a meal swipe during all meal periods. Students will also be able to purchase à la carte items, including pastries, coffee and espresso beverages, using meal equivalency throughout the day. A number of students, faculty and staff members have already shared their excitement about this addition."   
The Grubhub Ultimate program, which integrates all restaurant ordering channels into one system, will initially launch in the Howard Gittis Student Center and be available at BurgerFi, Chick-fil-A, Saladworks, Twisted Taco, Which Wich, Wing Stop and Zen. Students will be able to order from 1–5 self-service kiosks, and 1–2 point of sale stations will also be available for cash transactions. Each concept will feature a GrubHub TV to display order status and wait times, and orders can also conveniently be placed through the GrubHub Mobile app. 
"With this new mobile ordering option, students can avoid long waits and just quickly stop to pick up food as they move from one class to the next," Scales said. "This GrubHub Mobile service will be active for all Howard Gittis Student Center concepts at the beginning of the semester, except for Chick-fil-A and Panera Bread, which are both scheduled to launch in October. It will also be available this fall at Freshëns Fresh Food Studio and Panda Express in the Morgan Hall Food Court, Jamba in the Aramark STAR Complex, Local Restaurant Row featuring Juiced by B in the TECH Center, Stella's Café in Charles Library, Zaydee's Kosher Delicatessen in Hillel and Starbucks at the Health Sciences Center." 
As the university continues to reimagine the campus dining experience, it is also evaluating its all-you-care-to-eat options. Currently, 60% of meal plan activity is used at retail locations like those present in the Student Center and on the first floor of Morgan Hall. 
For that reason, the all-you-care-to-eat dining hall on the second floor of Morgan Hall will close, with Temple's residential dining program being headquartered in the Esposito Dining Center in Johnson and Hardwick Residence Hall. The Esposito Dining Center will feature a more comprehensive and robust all-you-care-to-eat offering that will also cater to diverse dietary needs. Highlights include 
increased vegan and vegetarian options 
an expanded allergen solutions station 
action stations to include daily carved protein 
made-to-order sauté and dessert stations 
enhanced health and wellness programming 
themed restaurant nights focusing on student favorites such as wings, sushi/poke and ramen 
"Currently, we do not reach capacity at either residential dining hall, which played a key role in this decision," Scales said. "The Esposito Dining Center can accommodate current and projected usage during the busiest hour on the busiest day of both locations. The expanded offerings at Esposito will provide students with more all-you-care-to-eat options, and our new retail additions help enhance an area where we're seeing more and more student interest. It is our hope that these changes satisfy the tastes of just about every student on campus. We have diligently worked to make sure there is something for everyone." 
Moving forward, Temple's Office of Business Services will collaborate with other campus partners to assess and evaluate how the Morgan Hall second floor residential dining space will be used in the future.  
Other campus dining changes that will be in place this fall and in the near future include 
Freshëns Fresh Food Studio on the first floor of Morgan Hall will now offer breakfast options including sandwiches, wraps, açai bowls, smoothies and drip coffee from 8 a.m. to 10 a.m. 
Bento Sushi will be closed. An enhanced lineup of sushi will be available at Zen in the Howard Gittis Student Center Food Court. 
Local Restaurant Row, a retail restaurant rotation featuring a different local vendor each semester, will replace Java City in the TECH Center. Juiced by B—a local, minority woman-owned business—will remain in the space throughout the fall and offer fresh-pressed juices, smoothies, sandwiches/wraps, salads and açai bowls. 
The university will continue to feature a lineup of products from local, small businesses in partnership with the Artisan Exchange at Diamond General Express locations at Annenberg Hall and Science Education and Research Center (SERC). 
The university's catering team will reveal a recently expanded array of options to include new signature and seasonal menu items and event enhancements such as custom floral arrangements and décor. 
Owl City Pizza will replace the Starbucks in Morgan Hall. The new concept will feature pizza and grill options such as hamburgers, fries, meatball sandwiches, etc. The location is slated to open this spring. 
Meal equivalency for the new academic year will increase to $7.05 for breakfast (from open to 11 a.m.) and to $9.75 for lunch and dinner (from 11 a.m. to close).