E.J. Warner: Growing up with an NFL father and seeing the benefits of the offseason
E.J. Warner, the Owls' quarterback, broke multiple school records during his first season at Temple. He spoke about his optimism for the football program going into next year.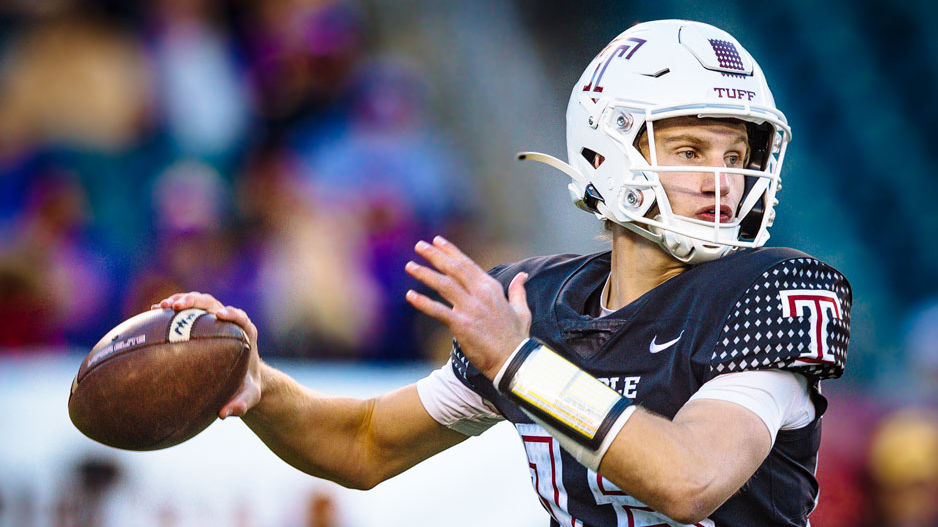 As the Temple Owls prepare to begin the 2023 season, there are a number of reasons for excitement. For some, there are precisely 527 reasons. 
The number 527 refers to the total yards that then first-year quarterback E.J. Warner threw for in last year's season finale. It represents a program record and indicates why many fans are convinced that the Owls have found a long-term answer at quarterback in Warner, who is set to begin his second season under center. 
The Owls' quarterback is looking to build from a year where he broke multiple school records. In addition to becoming the first Temple player to throw for 500 yards in a game, his 268 total completions in a single season are the most in the school's history.  
Warner said his focus this offseason has been to build muscle, so he can sustain harder hits, extend plays and make more big plays during the fall 2023 season, which kicks off Sept. 2 against Akron at Lincoln Financial Field.  
"I work my hardest to improve my game every day and work with others to help them get better," he said. "I was 18 last year playing against physically stronger 20-year-olds in college, so now I had time this offseason to be on a meal plan and lift weights to get faster and stronger."
"I am hopeful that I can help lead this program and the guys around here to elevate our games and lives on and off the field and translate that into wins," he added. 
In completing 45 of 63 pass attempts for the record 527 yards and five touchdowns in last year's season finale against East Carolina, Warner happened to catch the attention of one of football's greatest signal-callers: his father, NFL Hall of Famer Kurt Warner. 
"Nothing like being trolled and humbled by your kids…[I] got this screenshot (with no words) from @elijah13warner after he throws for 527 on Saturday," Kurt Warner tweeted on his X (formerly Twitter) account about his son's record-setting game. E.J. had texted his father a screenshot from a Google search that read: Kurt Warner had his most passing yards in a game against the 49ers on November 25, 2007, with 484 yards. 
"Anytime I can get one up on him, I love to do it, but he knows it's all in good fun because he made it way further than I ever have," Warner said about his father, who played 12 years in the NFL. "I want to achieve what he ended up doing."  
Since retiring from playing football, his father became an analyst on the NFL Network and runs a YouTube channel, QB Confidential, where he provides in-depth game film analysis of mostly NFL quarterbacks. Kurt Warner expressed that he was so proud of his son that he did a complete game film analysis of E.J.'s record-setting day against East Carolina on YouTube.  
"It allows a viewer at home to learn about the game from a quarterback's perspective, like the attention to details of decision-making and reading defensive coverages," E.J. said about QB Confidential. "My dad has emphasized the importance of learning the details in a game that has made me a better player. 
"I always have had conversations with him about the X's and O's of football. We both have a passion for the sport," E.J. Warner said about his relationship with his father. "When games are on television, we text replays of different plays to each other and analyze them. He has been in many different game situations, so his perspective has helped me learn a lot. I am grateful to have his support."  
Warner's daily offseason schedule consisted of various activities and responsibilities. He would wake up at 6 a.m. to do weight training sessions before going to class. Afterward, he would participate in passing drills with teammates three times a week and study game film for two to three hours a day.  
"I am building more chemistry with my teammates so we can get closer and better as an overall unit," he said. "When I got home, I would study for classes. Then I would watch more football and talk to my dad about different game situations that I can improve." 
Warner grew up in a household with six siblings in Phoenix. While most of the public attention is on the father-son relationship between Warner and his dad, he said he is just as close with his mother, Brenda. 
"She's not overly into football, but she has grounded me to be strong and push through difficult situations in life," he said. "To not get too much into football and remember to be a good student, have fun, maintain a balanced life and go after what you want."  
Due to the high-profile nature of his NFL father, Warner has faced heightened expectations ever since he attended high school at Brophy College Prep. He also had to battle through adversity before stepping foot on Temple's campus as he suffered a broken right fibula during his junior year of high school, which forced him to miss the entire season. He ultimately lost scholarship offers due to the injury and his size as a 6-foot signal-caller.  
Despite the setbacks, he returned from his injury to pass for 2,742 yards and 26 touchdowns with eight interceptions in his senior season. "No matter what I went through, I kept believing in myself," he said. "I had faith through it all and just kept working hard."  
He then received a scholarship offer from Temple.  
"Seeing the new coaching staff that Temple brought in and Coach Drayton's vision to take the program to the next level is something I want to be a part of. They were honest and good to me throughout the recruiting process," he said. "I want to help build the program." 
After last season, Warner reflected on how he adapted to playing at the FBS (Football Bowl Subdivision) level and what he learned in his first year. 
"I became more poised and more comfortable adjusting to the speed of games at the college football level," he said. "I learned from the coaching staff and my dad that you don't have to be the superhero on every play. Take what the defense gives you and trust in your team to make plays."  
E.J. is studying communications at Klein College of Media and Communications and is interested in a broadcasting analyst role after his football career.  
"I love football, and I want to be involved in the sport for as long as I can," he said.