After nearly 40 years, including 20 here at Temple, Larry Dougherty calls it a career
The longtime senior associate athletics director for strategic communications in Temple Athletics will officially retire after a 38-year career on Thursday, Aug. 31.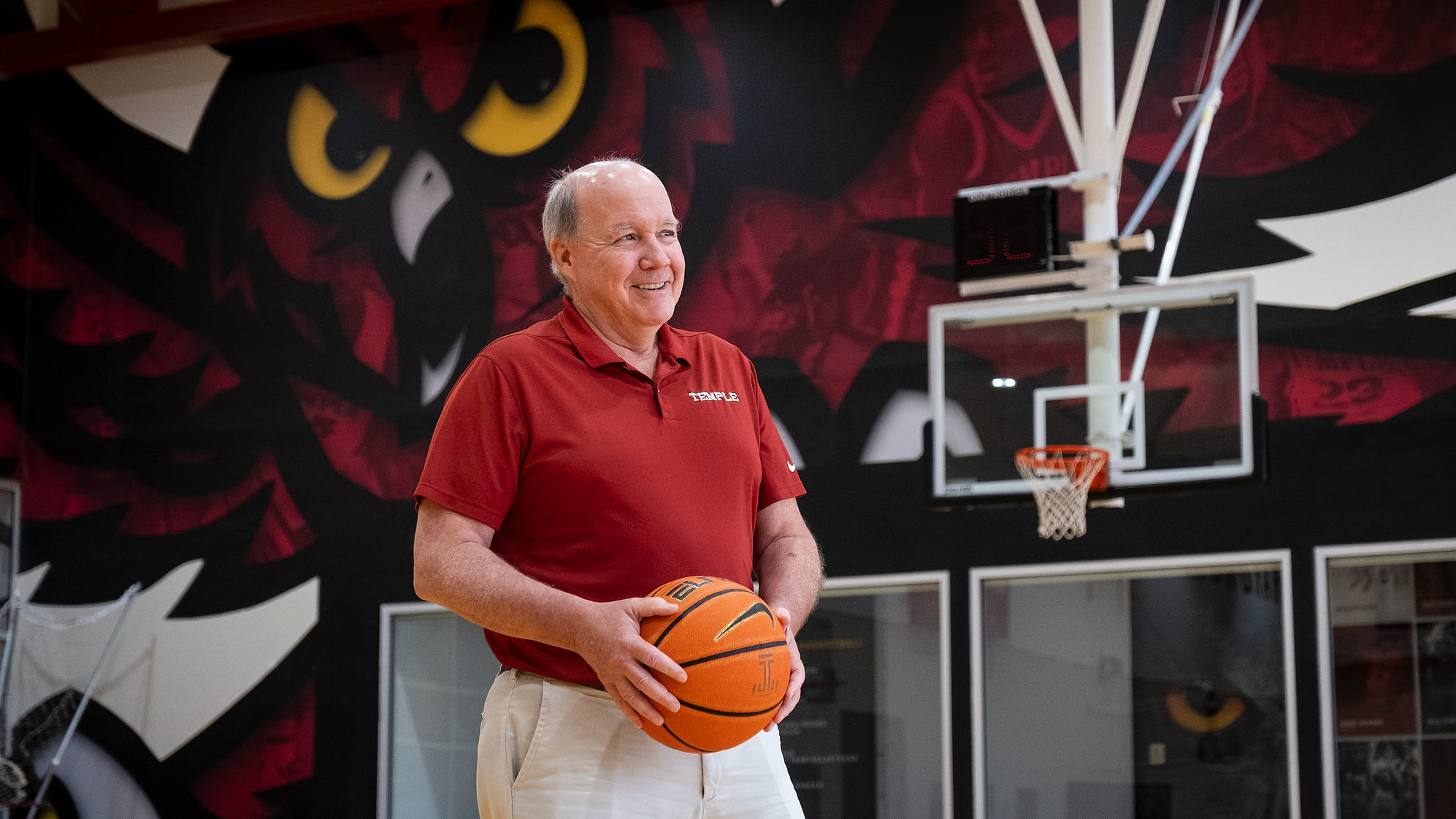 It is late afternoon on Tuesday, Aug. 29, and Larry Dougherty exits the elevator to the third floor of Temple University's Pearson Hall.  
Only days earlier, the longtime senior associate athletics director for strategic communications announced that he would be retiring at the end of the month. As Dougherty makes his way to the men's basketball practice court, it is clear that the news of his departure is still a bit raw for some of his colleagues. 
"Legend! Legend!" two assistant coaches for the men's basketball team yell in unison upon his arrival. For a man who has spent his entire career covering legendary moments in collegiate athletics, it seems apropos that Dougherty now finds himself on the other side of the narrative. 
On Thursday, Aug. 31, Dougherty will officially call it a career after spending the last 20 years at Temple, including the last 12 in his current position. Prior to that, he spent 15 years in the media relations office at Saint Joseph's University (SJU), the last eight as the school's assistant athletic director for media relations. Prior to SJU, he served as the sports information director at Nicholls State University for one year and as the information director of the East Coast Conference for two years. 
"We are forever grateful for Larry Dougherty's career at Temple," said Arthur Johnson, vice president and director of athletics. "When he informed me of his decision earlier this week, I was surprised. Larry is an accomplished professional who has impacted countless lives over his outstanding career. I know he is looking forward to spending more time with his family." 
"It doesn't feel like work when you're enjoying what you do," Dougherty said as he reflected back on his 38-year career. "You're out there, and you're part of this team. Wins and losses matter to you because you're part of the team. I still feel that even now." 
For the last several years, Dougherty has started most of his days the same way. Call it words of wisdom or call it eternal optimism, but each day, he posts an inspirational quote to his LinkedIn profile. 
"Sometimes your joy is the source of your smile, but sometimes your smile can be the source of your joy," and, "Strive not to be a success, but rather to be of value," are two recent examples. After he announced his retirement, he appropriately shared, "Time is the coin of life. Only you can determine how it will be spent." 
For Dougherty, the messages set the tone for the work day. 
"I think I started that five or six years ago," he recalled. "I said, 'You know what, let's start my day in a good way.' Sometimes we dwell on the negatives. I want to be positive." 
They are also indicative of larger themes that have come to define Dougherty throughout his career. He is the quintessential old-school public relations pro. At his core, he is people person, and he values relationships. 
"It's still people, this business is still about being a people person," Dougherty said. "It has changed so much, but you have to pick up the phone still. It's so easy to just pitch stories through emails or texts, but if you have a conversation, you have a better chance of at least being listened to." 
When Dougherty arrived at Temple in 2003, he spent the first three years working closely with Naismith Memorial Basketball Hall of Fame Coach John Chaney. They developed an immediate bond and stayed close until Chaney's passing in January 2021. 
Dougherty was the first individual at Temple to talk with Chaney's family following the coach's passing. He was also tasked with crafting the obituary for the Temple legend. 
"That was probably the hardest thing that I ever had to do in my career, was write the obituary for John Chaney after he passed away," Dougherty said. 
In reflecting on his career, Dougherty said he has a number of great memories. His time spent with Chaney remains near and dear to his heart, and he loved watching the fencing program achieve unprecedented success under Coach Nikki Franke. He also will never forget when ESPN Gameday hosted its broadcast on campus, and he relishes the feeling of making a bowl game after 30 straight losing seasons. 
True to form, however, his favorite memories go beyond any single game, championship or broadcast. 
"You watch the student-athletes grow throughout their careers and then you might see them five or six years later, and you're just as close to them then as you were when they were athletes," Dougherty said. "The student media here has also been amazing. Seeing young men and women grow from Temple and then seeing them go out and have success is just great. That is really what I will remember. It's not about an event, it's more about the people."