Posted
September 12, 2023
Temple's Fly in 4 soars into its 10th year
The Fly in 4 program, designed to help students to stay on course to graduate in four years, is celebrating its 10th anniversary this academic year.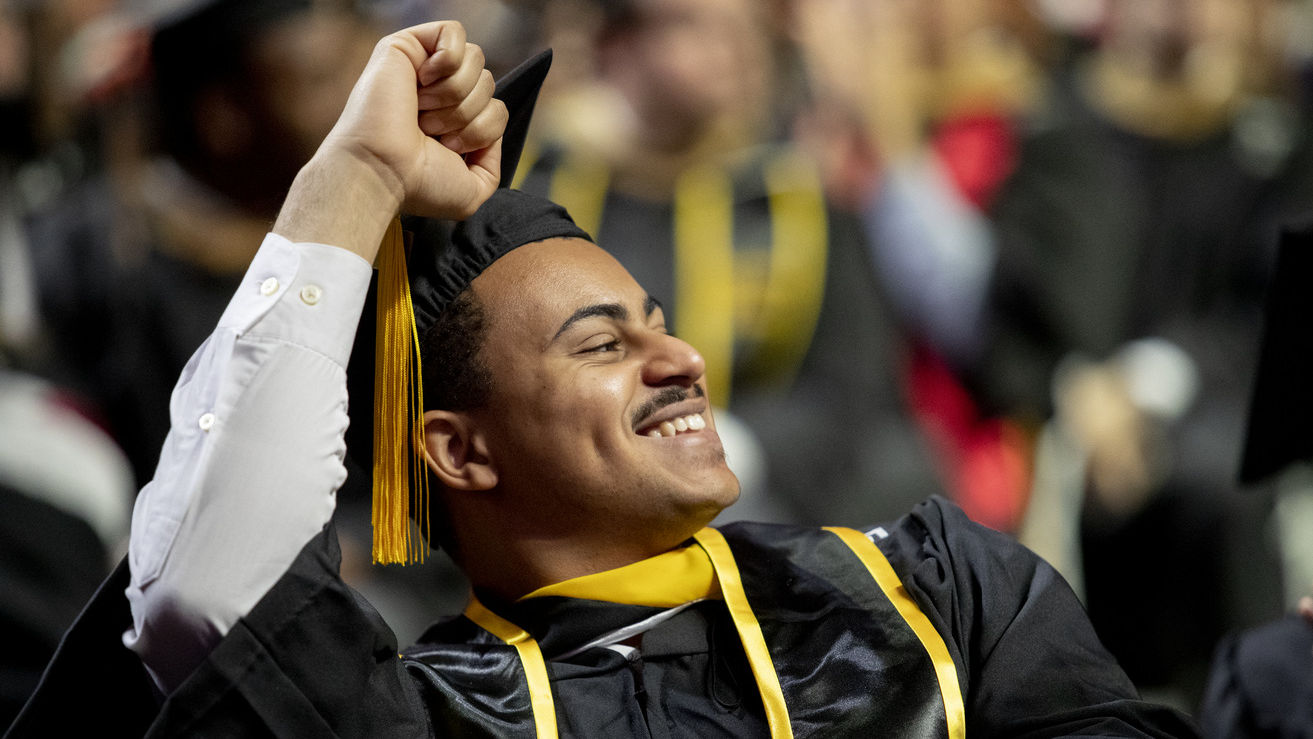 When Rashmi Thapa came to Temple as an international student from Nepal, she felt unfamiliar with the American college system. So when she learned about the university's Fly in 4 program she thought it could help steer her academically.  
"I was very new to everything, so Fly in 4 allowed my experience to be structured and easy to navigate," said Thapa, an actuarial science major in the Class of 2025. "It made advisors very accessible and learning about registration easy, so I was able to get into classes and find the best fit. The program has ensured I'm on the right track every semester. I was even able to add a minor in entrepreneurship because I knew I had space in my four years to do that." 
Fly in 4 helps ensure that students will graduate in four years if they follow all program requirements. Upon entering Temple, students can opt into the agreement online through TUportal. They will then see a visual dashboard reminding them of each checkpoint to meet as part of the agreement, including consulting with an academic advisor each semester, registering for classes during priority registration, taking 30 credits each year and selecting courses they need. The university provides a four-year academic plan for each program. Fly in 4 is free and prevents students from accruing the extra costs of exceeding four years of school. And if students follow all the requirements but can't graduate in four years because classes are unavailable, Temple will pay for the remaining courses.
Since its inception, more than 40,000 students have opted into Fly in 4, with 90% of first-year students enrolling. Its success has been proven: Those who sign up for Fly in 4 are more likely to stay at Temple, earn a higher GPA, complete more credits and graduate in four years.
Thapa now serves as a Fly in 4 ambassador, a new program launched to promote the initiative. "I'm sure people have seen Fly in 4 but don't really know what it is, so they don't join it," she said. "As an ambassador I can help students understand the program and let them see the benefits."
Fellow ambassador Madelin Madamba, Class of 2024, has been spreading the word. "I believe in the program a lot and have talked casually with my friends about it, so I wanted the opportunity to do it on a larger scale," said Madamba, a theater major from Shippensburg, Pennsylvania. "I even helped my brother sign up for it last year."
This ambassador initiative begins as Fly in 4 reaches a milestone. Members of the Class of 2027 will be the 10th class to enter the program and the 10th to graduate under it. To celebrate this anniversary, there was a giveaway at Convocation, furthering encouraging first-year students to opt in.
"When we started it, our aim was to send a clear message to our students that one way to make college affordable is to earn a degree in four years."
-- Jodi Levine Laufgraben, vice provost for academic affairs, assessment and institutional research
The ambassadors have also been working across campus organizations to get new students to sign up by the Sept. 15 deadline and will be highlighting their own experience with the program on social media. "We know in the marketing world that companies are using ambassadors," said Jodi Levine Laufgraben, vice provost for academic affairs, assessment and institutional research. "Who better than students to share their stories and success with Fly in 4?"
In 2014, Levine Laufgraben led the team that built and implemented Fly in 4—a collaboration of admissions, Orientation, and schools and college advising centers. "When we started it, our aim was to send a clear message to our students that one way to make college affordable is to earn a degree in four years," she said. "We wanted to promote the behaviors that lead to student success, which are meeting regularly with advisors, earning at least 30 credits and registering early for classes. It's a partnership between Temple and its students. Temple is committed to access, affordability and student success, and to have an initiative like this really demonstrates that commitment."
The program has been instrumental in helping biochemistry and Spanish double major Jordan Howe stay on track. "Thanks to Fly in 4, I've been able to successfully pursue two majors and have the time to add a 4+1 in bioinformatics as well as do research and a sport," said Howe, Class of 2024, from Belleville, Illinois. "As an ambassador, I want to help other people be able to take on multiple things too because if you plan accordingly, you can do more than you think."
"When I was entering college, it was a priority for me to complete my degree in four years," said Cristen Barnett, CLA '20, EDU '21, who is now a research associate in the Office of Academic Affairs, Assessment and Institutional Research and the Office of the Provost. "I knew being on my own for my first year of college was going to be challenging, but Fly in 4 made all the difference. In each meeting with my advisor we reviewed the specific courses I was going to take the next semester and how those would apply to my degree." 
According to senior and Fly in 4 ambassador Justice Dyer, agreeing to Fly in 4 is a no-brainer. "It feels like you'd be cheating yourself if you didn't sign up for it," said Dyer, an advertising major from Harrisburg, Pennsylvania. "When there is a chance for you to have help through a resource like Fly in 4, you should take it."
Parents have expressed similar sentiments. "At New Student Orientation, a father raised his hand and said why wouldn't a student do this," shared Levine Laufgraben. "My thoughts exactly! Opting into Fly in 4 and committing to graduate in four years is something we encourage all new students to do when they start Temple."