Posted
September 14, 2023
Temple's Spain program celebrates 20th anniversary by expanding course offerings
Temple University's Spain program launched a new fall semester for business, computer science, economics, engineering and English literature students. The program also celebrates its 20th anniversary early in the spring semester of 2024.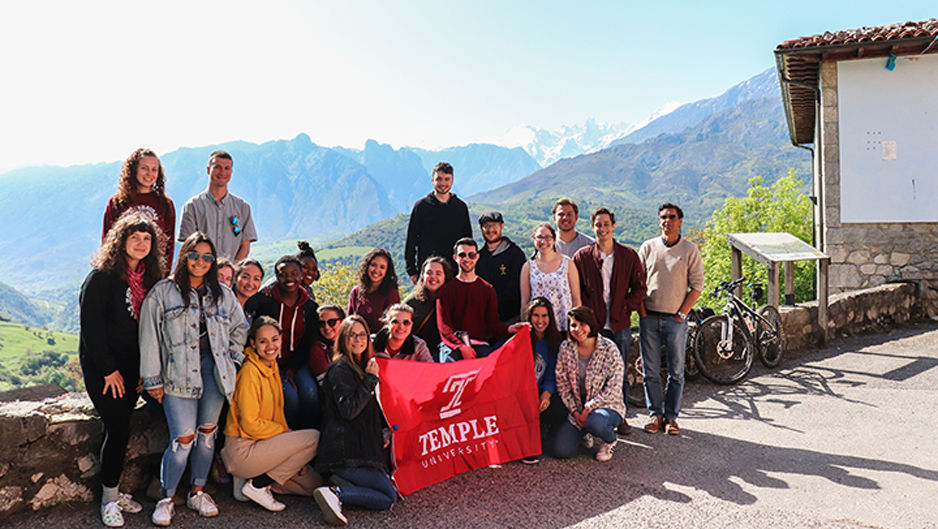 For 20 years, the Temple in Spain program has offered students the opportunity to study the Spanish language at the University of Oviedo during the spring and summer terms. While there, they stay with host families, soaking up the medieval architecture and the rich history and culture of the city. Now the program has expanded by offering Temple students the ability to attend courses in the fall semester with the option to choose either program-arranged apartments or program-arranged homestay. The fall semester program is for business, computer science, economics, engineering and English literature students with courses taught in English. 
The Temple courses are taught by faculty of the University of Oviedo and by Jaime Durán, director of the Temple in Spain program and associate professor of instruction in the Department of Spanish and Portuguese in Temple's College of Liberal Arts. 
"This fall program opens up the possibility for studying abroad in Spain to STEM students who weren't able to in the past because they could only fulfill their major requirements within their home institution," Durán said. "But now our program offers these very same class requirements to students in Spain, and no Spanish background is required." 
Mathematics and Spanish major Nora Melican, Class of 2026, is one of the first students participating in the new program this fall. She was excited to hear that the program now offers her majors' required courses at the University of Oviedo for the fall semester. 
"When I first applied to Temple, I thought their Spain program was really cool because you could take courses in Spain while being immersed in its culture and language," she said.  
"And now that the program is offered in the fall, it fits in better with my majors and it gives me a lot more flexibility with trying to pick courses applicable to my degree," Melican added.   
Founded in 1574, the University of Oviedo is one of the top universities in Spain. It offers courses in 38 departments with more than 21,000 students and an estimated 800 international students. About 35–60 Temple students attend the program each year.   
In addition to the new fall classes offered in English, the program also provides an immersive Spanish course for credit in an accelerated format that participants can take upon arrival.  
"The learning process when immersed into the real language is dramatically faster. In other words, something that may take a long time to learn in a classroom setting is put into practice here within the first five days," Durán said. "This helps ensure students won't face as many obstacles when communicating with locals."  
During Orientation, students visited the Royal Palace of Madrid, towns like Segovia and other nearby cities before they met with their host families in northern Oviedo.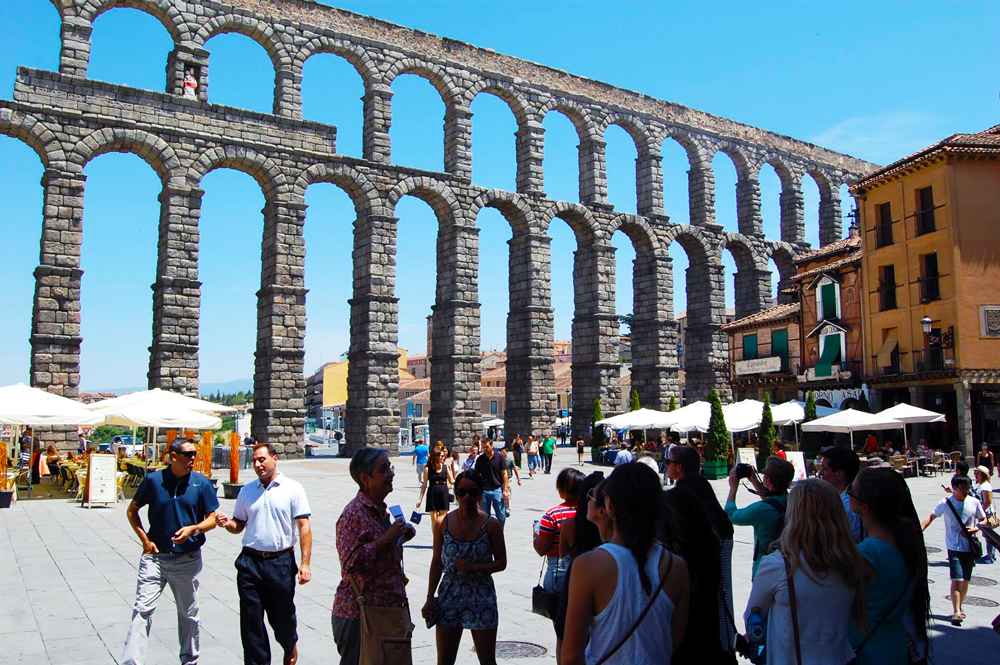 The Aqueduct of Segovia is a Roman aqueduct in Segovia, Spain. Its above-ground portion consists of 167 arches and is one of the best-preserved Roman aqueduct bridges that remains a prominent symbol of Segovia. (Photography courtesy of the Temple in Spain program) 
Oviedo is not a popular tourist area because the expanse of surrounding mountains make it difficult to reach. Durán said this makes the program even more beneficial to students. "It's a small town in the mountains near the sea that has a very picturesque dramatic scenery known as 'Spain's natural paradise,'" he said. "Students gain exposure to a local environment through immersion, so it just adds to the authenticity of the experience."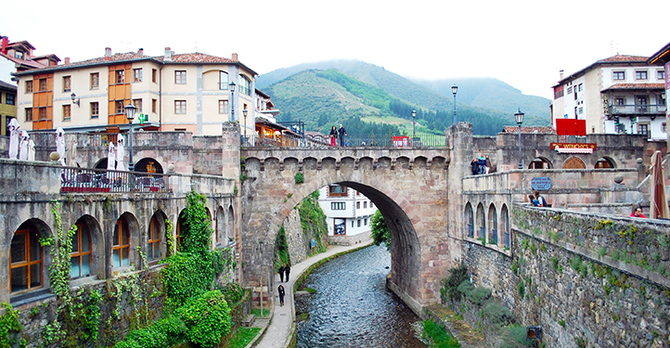 The Temple in Spain program is based at the University of Oviedo in the province of Asturias, a region of ocean, mountains and Roman ruins in northwest Spain. (Photography courtesy of Temple in Spain program) 
On a walk through the town, students can enjoy an array of architectural styles. Everything from Pre-Romanesque to Gothic to Baroque is present. Each cohort of students goes out to dinner as a group to experience different Spanish cuisines at least once a month. The Oviedo campus also offers easy access to nearby beaches and cities like Gijon and Aviles. 
The University of Oviedo offers group hikes through hiking trails and mountains. Students can take cable cars up to the mountains and gaze from the sky at the most historic parts of Oviedo. Outdoor activities like canoeing and attending sports events are also available. At the end of the program, the students visit the Picos de Europa, which is the highest height closest to the sea in Europe.  
"It's the perfect location for campers, hikers, surfers, mountain lovers and people interested in other outdoor activities to combine academics and personal growth," he added. "The options of activities are pretty much endless."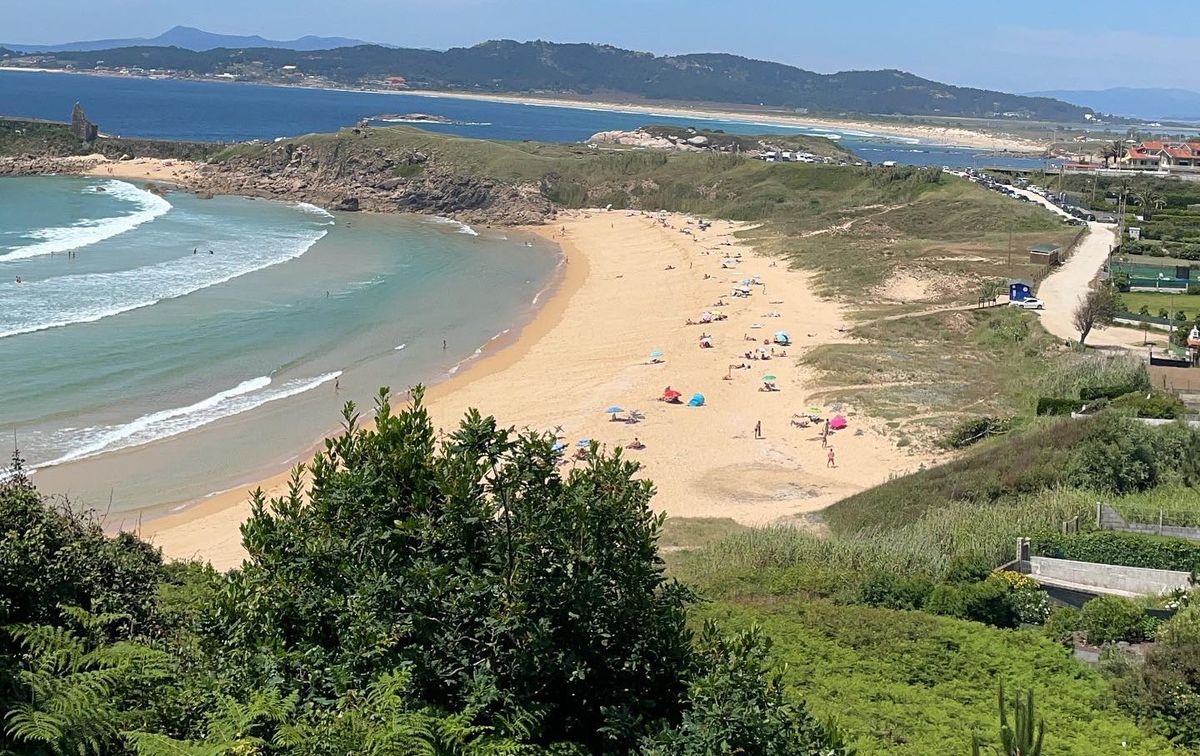 Oviedo is the capital of Asturias and offers access to nearby cities, mountains and beaches. (Photography courtesy of Jaime Durán) 
The future is bright for Temple in Spain, and Durán said the best possible scenario is that the program becomes Temple's third major study abroad destination along with Temple Rome and Temple Japan. 
"Close to a thousand Temple students have come through our program. Many students from our program travel back to Oviedo and become Fulbright scholars," he said. "My hope for the future is to keep providing experiences that will stay with our students forever. I would love to see the fall program expand as much as the spring program already has."   
Temple in Spain's 20th anniversary will be celebrated as a joint venture between the Education Abroad and Overseas Campuses Office and the College of Liberal Arts early in the spring semester of 2024. 
Visit Temple's study abroad website to learn more about how to get involved in the Temple in Spain program.