Posted
September 22, 2023
Remembering President JoAnne A. Epps
The Temple University president is remembered for her brilliance, warmth and integrity. Her legacy will live on and continue to guide the university moving forward.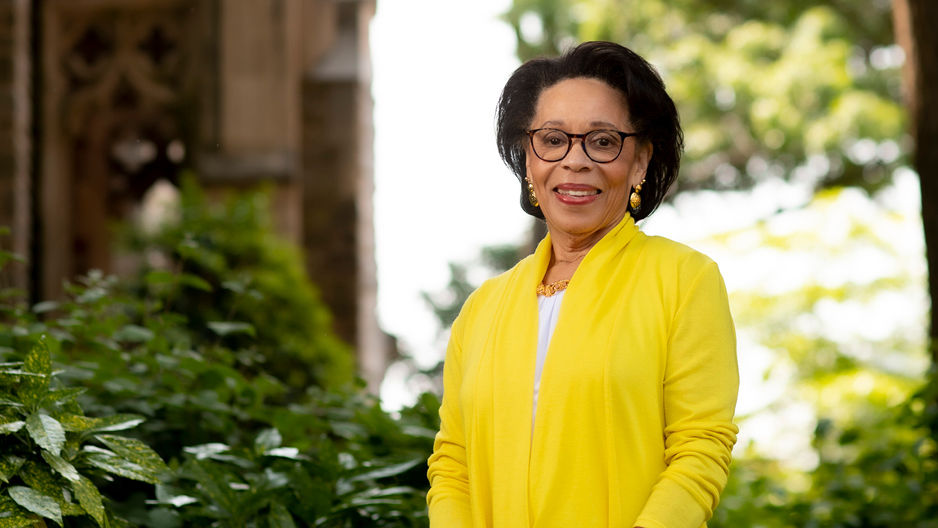 For the last 20-plus years, when Temple University President JoAnne A. Epps strolled across campus, her colleagues Marylouise "Weegie" Esten and Donna Lamborne often joined her. One blanketed the president's left, the other walked on her right. 
The close bond between the three women was evident, and Epps often affectionately referred to the two as her sisters. 
Their bond was also indicative of exactly how Epps viewed this institution. Temple was her family, and for nearly 40 years, she treated it as just that. She reveled in its successes, championing Temple on its very best days. She did not run when things became difficult, displaying an unwavering commitment during the most turbulent of times. She was a brilliant, kind and thoughtful leader who represented the very best parts of Temple. 
Tragically, the president unexpectedly passed away on Tuesday, Sept. 19, after becoming ill while attending a memorial service at Temple for Charles L. Blockson, curator of the Blockson Collection. She was 72. 
"To know JoAnne is to be her friend," said Provost Gregory Mandel when describing his longtime colleague and mentor. Mandel, like Epps a former Temple Law School dean, worked with her both at the Law School and in central administration. 
"I have had the blessing of her friendship since I joined the Temple Law School faculty in 2007. We've worked together closely in several capacities over the years, and she was an extraordinary leader, mentor and confidant." 
Epps' commitment to Temple's mission of access was central to her identity, and she helped pave the way for many students to pursue higher education. When a student would potentially stumble, she was here to help them get back on track. 
Epps' rise at Temple has been well-documented. She became familiar with the university as a child when her mother, Ellen Epps, worked as a secretary at the school. Then, when she was 16, she started working as a cashier at the Temple bookstore. 
She was first introduced to the profession of law through her favorite TV show, Perry Mason. Epps aspired to become a legal secretary like the show's character Della Street, but she reconsidered that idea following a conversation with a dean at Trinity College after her sophomore year. The dean suggested that she would make a good lawyer, and the idea resonated with Epps. In 1973, she earned a BA from Trinity and would go on to earn a JD from Yale Law School in 1976. 
After initially joining Temple in 1985 as a faculty member in the Law School, she then served as the school's associate dean for academic affairs from 1989 to 2008. She served as dean of the Law School from 2008 to 2016 before becoming provost, a positon that she held until August of 2021. Then, on April 11, 2023, she was named the university's 13th president. 
"She had this amazing ability to calm troubled waters," said Ken Kaiser, chief operating officer and senior vice president. "She was able to bring us all together, and that is what she did during her brief but impactful time as president. Temple is in a better place today thanks to her leadership, and we will continue to honor her as we move forward."  
While Epps was a strong, confident leader throughout her time at Temple, she also possessed a level of humility that is not always common in leaders who rise to her level. She trusted people to do their jobs, and she empowered them do just that. When she said she wanted advice, she also really wanted it. 
"She was a woman with intellect, integrity, good instincts and good judgment," said Esten, vice president and chief of staff. "She was also a person of great humility. She knew her strengths and recognized her limitations. She trusted and inspired those who worked with her to live up to her example." 
Epps was also a gifted grammarian, and she loved words. As described by Esten, her writing was "an interesting mix of grammatical formality and real, authentic language." She attended monthly meetings of the "Badass Book Club," reflecting her sense of humor. Sometimes they would discuss the book, and they would often drink wine. Either way, it was always a good time.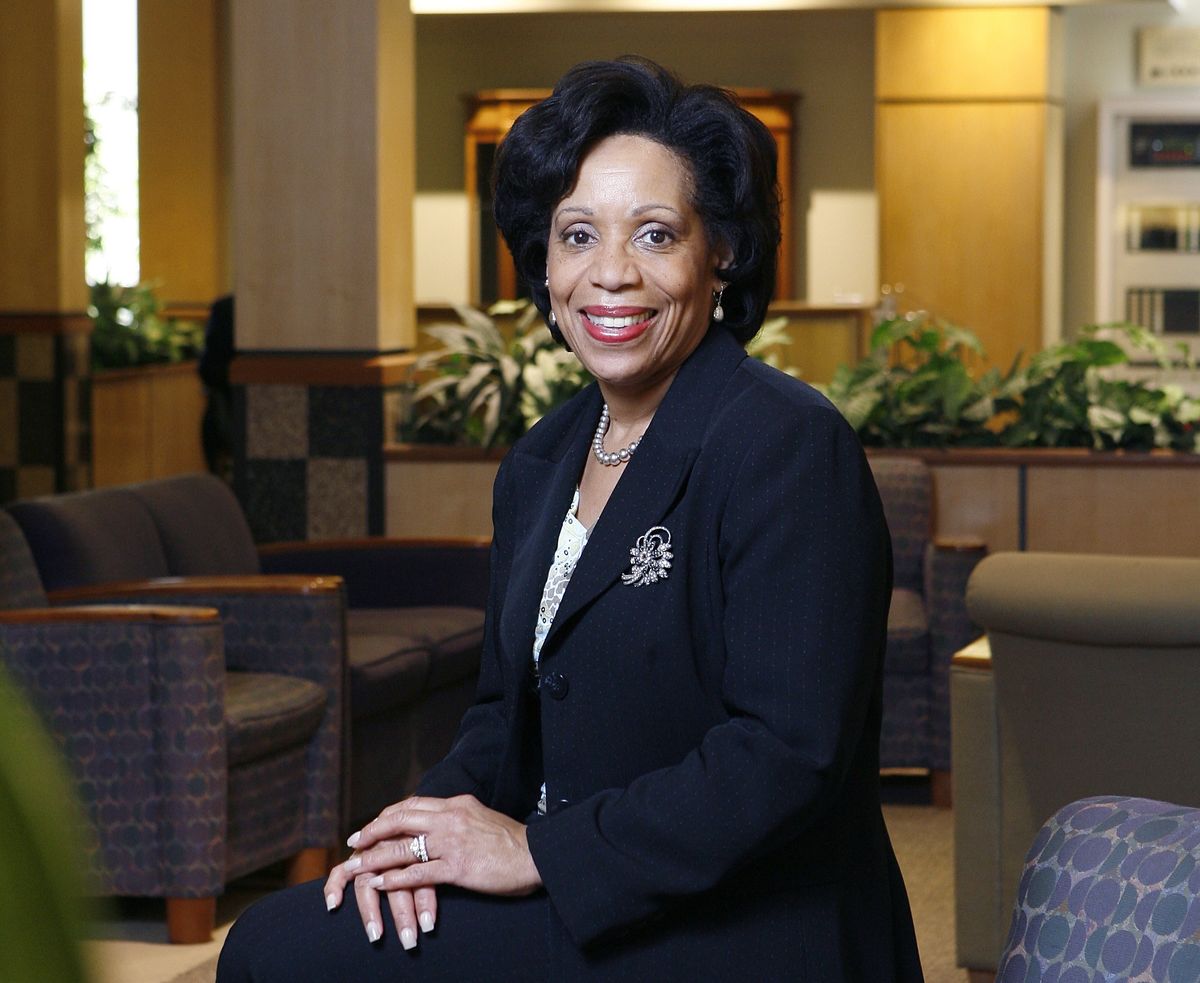 Epps pictured shortly after she was named dean of the Beasley School of Law in 2008. (Photo by Joseph V. Labolito)
Among her top achievements at Temple is the rise of the Law School. Under her leadership, the school rose in national rankings, approaching the U.S. News and World Report Top 50. She expanded the school's experiential offerings and significantly enhanced its business and transactional law curriculum, all while retaining its status as a national leader in trial advocacy.  
While dean at the school, Epps furthered the university's commitment to social justice and created the Stephen and Sandra Sheller Center for Social Justice. 
"When JoAnne hired me as a law professor, it was clear to me from my very first days that she was a phenomenal leader. The faculty loved and trusted her, and she earned that trust by being forward thinking and always being willing to hear a counter argument," said Rachel Rebouché, current dean of the Law School. "She helped build our international and national reputation while maintaining Temple Law's mission of providing an accessible, and excellent, legal education. In recent days, I have spoken to so many graduates and lawyers who credit JoAnne with helping them find their success. Her impact is truly profound, truly deep. 
"In these last few years, since I became interim dean and then dean, she was so generous with advice and support," added Rebouché. "I've always thought of her as a mentor, but I really came to realize the depth of her mentorshop as a dean. She was always dedicated to the success of the law school, and I am committed to carrrying forward her legacy."  
Some of Epps' other achievements were less glamorous but no less significant. 
In 2018, when the university dealt with issues related to data falsification, it was then-provost Epps who was leading the charge to ensure that Temple did everything necessary to rectify the situation. Her integrity was a constant, and she was always willing to suffer any consequences that may result from simply doing the right thing. The establishment of the Data Verification Unit, which manages the data verification function for the university, speaks to her overall commitment to both transparency and integrity. 
While her impact at Temple has been undeniable, her overall impact on the legal profession has been equally profound. 
Before coming to the university, Epps was a deputy city attorney in Los Angeles and an assistant U.S. attorney in Philadelphia. For more than three decades, she also served the city of Philadelphia in various capacities.  
From 2015 to 2017, she was the inaugural chair of Philadelphia's Police Oversight Board, formed in response to a Justice Department report about Philadelphia police shootings. From 2011 to 2019, she served as a court-appointed monitor of Philadelphia's stop-and-frisk procedures. She has been a member of the Board of Directors of the Defender Association of Philadelphia since 1991, and from 1999 to 2006 served as board president. In 2001, Epps was appointed by Philadelphia Mayor John Street to serve as chair of the Mayor's Task Force on Police Discipline. 
She was a member of the Pennsylvania Judicial Independence Commission, the Philadelphia Bar Association's Committee to Promote Fairness in the Judiciary, the Pennsylvania Commission for Justice Initiatives, the Advisory Council for the Pennsylvania Prison Society and the Advisory Board of the Public Interest Law Center. She became an officer of the Pennsylvania Women's Forum in 2010 and, in 2013, became its president. She served as a board member of the Committee of Seventy and as a member of the Salvation Army of Greater Philadelphia Advisory Board. For these and other significant contributions to the commonwealth, in 2012, Pennsylvania Governor Tom Corbett named Epps a Distinguished Daughter of Pennsylvania. 
She was a member of the city of Philadelphia's Board of Ethics from 2014 to 2020 and had begun a new five-year term in September 2020. Beginning in February 2018, she became a member of the Board of Trustees for the Pennsylvania Real Estate Investment Trust (PREIT), and in August 2021, she was named a member of the Board of Directors for Gaming and Leisure Properties Inc. She remained engaged with all three of the aforementioned organizations up until the day she passed away.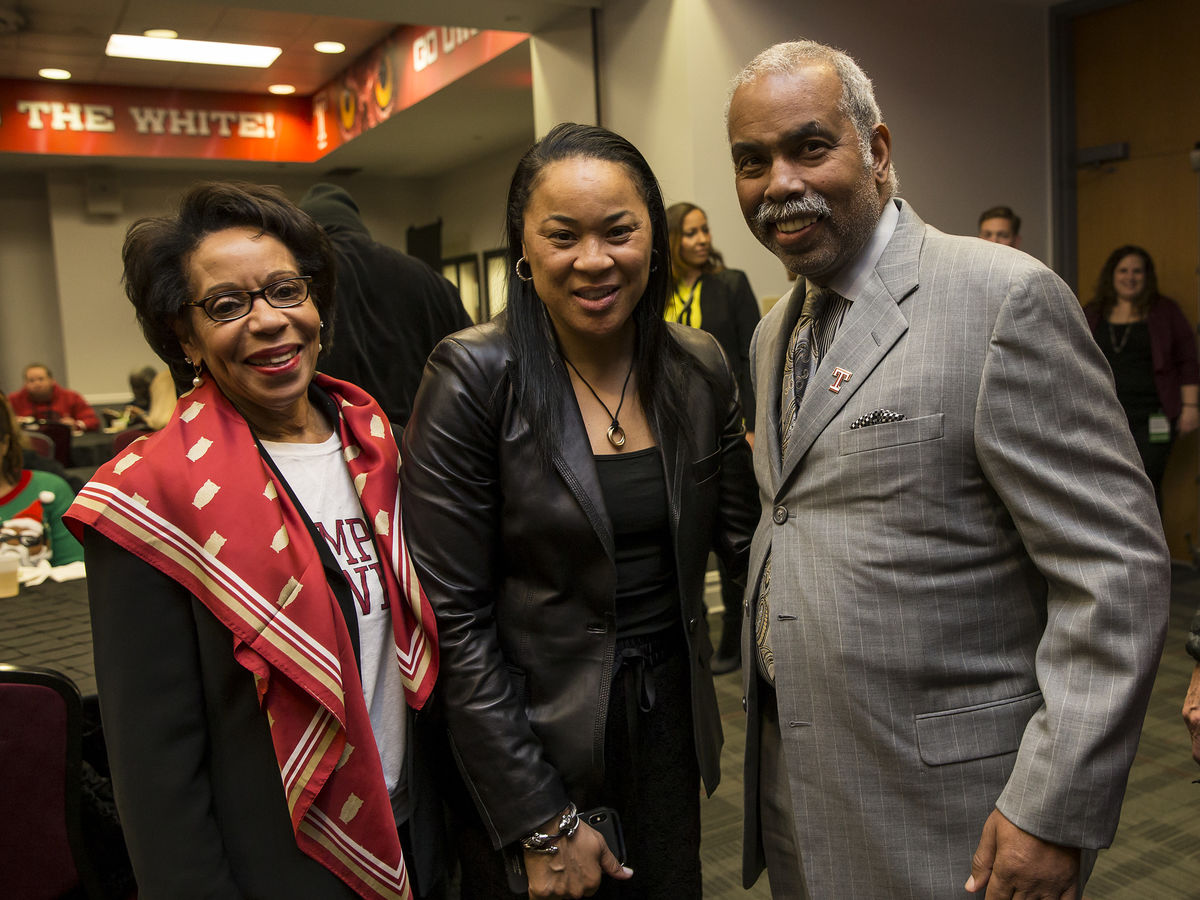 Epps and her husband, L. Harrison Jay, are pictured with Hall of Fame basketball player and coach Dawn Staley at a 2017 event. (Photo by Joseph V. Labolito)
While Temple and the law profession were near and dear to Epps' heart, her greatest love was her husband, L. Harrison Jay. 
Jay still remembers one of their first interactions. At a social gathering, he spotted her from across the room. He was in awe of both her beauty and presence and knew he needed to approach her and strike up a conversation. 
"I asked her, 'What do you do?'" Jay recalled. "She said, 'I'm an assistant U.S. attorney.' I said, 'What do they do?' She said, 'I send out target letters.' I said, 'What's a target letter?' and she said, 'It tells people not to make any plans for the summer.'" 
The two were married in 1986 and for nearly 40 years, they supported one another and grew and prospered together.  
The legacy of Epps is one that is still being written. Her spirit lives on, and it is reflected through the entire Temple community. Epps, her beliefs and her values will continue to serve as Temple's North Star and guide this institution moving forward. 
To help further honor her, the university has created two memorial funds. The JoAnne A. Epps Beasley School of Law Scholarship will be awarded to an incoming or current law student with demonstrated financial need who exemplifies the values Epps embodied: service, integrity and leadership. 
The JoAnne A. Epps Undergraduate Scholarship will be awarded to incoming or current students with demonstrated financial need with a preference for students who have shown a commitment to their community through service, leadership and social justice work or aspire to pursue careers that benefit the public good. More information on both funds is available here.