Leaving comfort zone, Grubb hits new milestones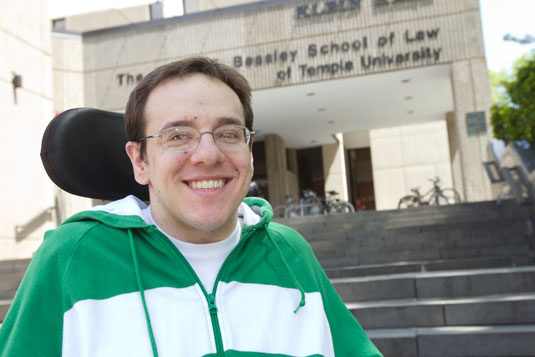 Ryan S. Brandenberg / Temple University
For all students, graduation represents one of life's most significant milestones. But for Beasley School of Law graduate Brian Grubb, it is just the latest in a series of transitions that have tested his inner strength and forced him to push beyond his comfort zone on the road to independence.
While pursuing his bachelor's degree at Temple, Grubb was forced to leave the university twice. The first time, in 2001, skipped classes and poor grades forced his return to his home in Wernersville, Pa. After fortifying himself at a community college, he returned to Temple years later prepared to succeed.
But a second interruption required more of Grubb than he would have ever imagined.
Grubb sustained a spinal cord injury after falling out of his loft bed onto a hardwood floor in his off-campus apartment.
The accident broke his C4 vertebrae and left him quadriplegic. He spent the next year and a half undergoing surgeries and rehabilitation, eventually graduating from the watchful eyes of doctors and nurses at his hospital bedside to the comfort and support of his parents at home.
"I got very comfortable there; my parents did everything for me. I was scared to death to move back to school and be on my own, but I believe you have to get out of your comfort zones to really experience life," said Grubb.
So it was with excitement and anxiety that Grubb returned to Temple in the fall of 2007. His first day back was one he will always remember.
"At the end of that day, after finding the wheelchair-accessible entrances, going to two classes, figuring out where to sit and talking with my professors, I remember returning to my dorm that night and thinking, 'I can definitely do this.' I always knew I could do it mentally but there are a million little hurdles to physically navigating each day, and I wasn't sure I could do it," he said.
Grubb would eventually establish a new comfort zone at Temple and go on to earn his bachelor's degree in communications in 2008.
As graduation approached, however, he was not sure what he wanted to do next. He shared his uncertainty with his doctor one day during an exam, and was surprised when he suggested Grubb consider law school.
"I was so caught off guard," said Grubb. "Even though I'd always been interested in the law, I had never thought about pursuing it."
The more he thought about it, the more the idea appealed to him. While undergoing therapy at Magee Rehabilitation, Grubb noticed that several of the facility's major benefactors were lawyers, and that some had spinal cord injuries themselves. He'd also been told by several people that he had the temperament to be a lawyer.
He applied to Temple's Beasley School of Law and was "blown away" when he was accepted. Three years later, as he prepares to take the bar exam, he recognizes the practical nature of his law education and feels ready for real world practice. Grubb has cast a wide net in searching for his first job, but hopes eventually to use his degree to advocate for and assist people facing circumstances similar to his own.
"When people ask me what kind of lawyer I want to be, I joke, 'the employed kind.' I still want to advocate and assist those with spinal cord injuries, but I might have to do that on the side at first," he said.
Grubb is grateful for his time at Temple and the immense support he received. He worked closely with the staff at Disability Resources and Services to establish his life on campus and says he didn't meet a single person at the university who wasn't extremely helpful.
"College is your time to get one foot out into the real world. It's a place where people can feel completely free but still have a support system underneath them," said Grubb. "You're outside of the cave but not completely alone. I wouldn't trade my college experience for anything."