Temple trains Community Ambassadors to facilitate research, build trust among neighbors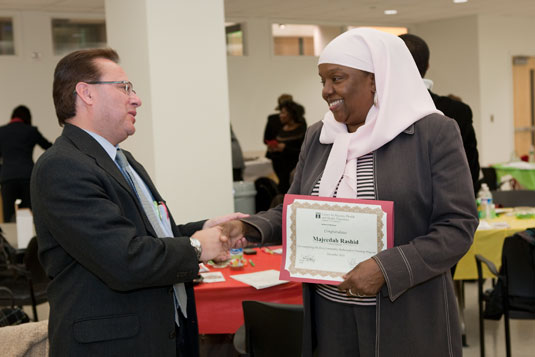 Joseph V. Labolito / Temple University
Researchers at large medical centers are constantly looking for better and more effective treatments for some of the most prevalent national and global health concerns. But a problem arises when the people who live in the shadows of those medical centers can't acces the treatments or, worse, feel as though their unique health concerns are being ignored.
Temple's medical school is working to change that, by partnering with several trusted neighbors — called community ambassadors — in the area surrounding Temple to help facilitate education and research within the community. On Dec. 7, the first group of these Community ambassadors completed training at the Center for Minority Health and Health Disparities (CMHHD) on community-based research practices.
Community ambassadors act as a valuable link between researchers and neighbors. With their specialized training, they are able to educate community members about research processes and protocols, and at the same time provide researchers with information on which health priorities and procedures are most important to their neighbors. Several of the community ambassadors have also gone through training on Institutional Review Board (IRB) policies.
"Upon completion of IRB training, the community ambassadors will receive certification in Human Subjects Protection, which gives them the ability to participate in research with human subjects," said Ellen Tedaldi, professor of medicine and co-director of the community engagement core at CMHHD. "So, a community ambassador could be a research assistant or associate, or even a principal investigator, depending on the project and level of expertise needed."
This certification is part of the Collaborative Institutional Training Initiative, which enables certification across institutions with the same curriculum, so a Community Ambassador with IRB training could do research at other sites as well.
Majeedah Rashid, the chief operating officer of the Nicetown Community Development Corporation, said that she became an ambassador in part to dispel her own pre-conceived notions about the research process.
"I had some funny ideas about what goes on," she said. "I had no idea about the level of protection that is in place for people who participate in clinical trials until I took the IRB training — that gave me a lot of information about the history of the research process, patient confidentiality and guidelines for participation."
The first step in this unique collaboration has been building trust with the community. After speaking with several ambassadors and determining that a key concern was the lack of minority youth interested in health and the sciences, the center hosted Youth Health Day in July. The event was designed to raise interest in health careers and offer tips for healthy living.
"Events like the Youth Health Day show the community that the medical school is listening to us," said Rashid. "The need to include and inspire more African Americans and Latinos to be interested in the health sciences is something that's been a priority in our communities for years."
Beth Galinsky, director of corporate and foundation relations and government liaison at the medical school, said that this community-based research process can foster an open-door policy between the medical school and its neighbors.
"We want researchers to work with the community to learn what their needs are and what our research priorities should be, and in turn, researchers can share their knowledge of the research process with the community," she said.
And that's exactly what Rashid has been doing. Throughout her participation in the community ambassadors program, she has been sharing her knowledge with fellow community leaders at their neighborhood Block Captain Committee meetings.
"I call it training for trainers," she said. "By sharing what I've learned with other block captains, they can take that information back to the neighbors on their respective blocks. It's important to know that it's not just a one-sided benefit for researchers; it can benefit everyone."