Ryan Gosling, Ryan Howard, cake: Nine ways to ring in the new semester
<p><em><span id="docs-internal-guid-7f9852fa-c71c-85b0-0fa0-1cbe03487de1">As much as we loved last school year, we are def ready for another that's bigger and better. Because you know what they say… When one door closes, another opens with Ryan Gosling, Ryan Howard and cake. Literally no one has ever said that. But it IS a new school year and you CAN see the Gos (or his movie), Howard (&amp; the rest of the Phillies) and eat cake (a big one) thanks to the cool stuff going on in the weeks ahead. Just read this roundup of ways to ring in the semester.</span></em></p>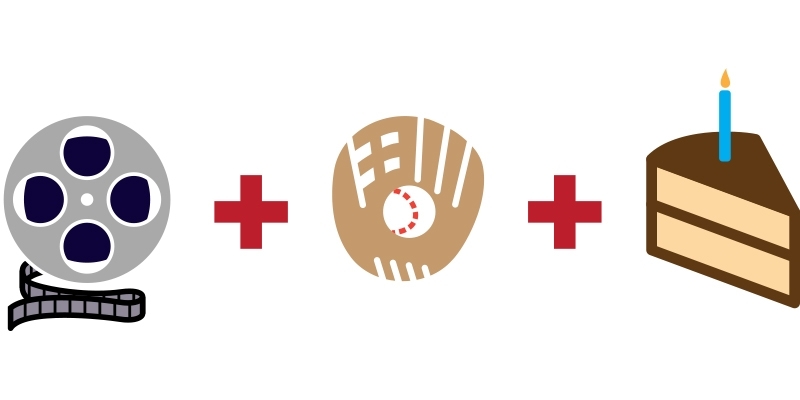 1. Defend Yourself.
Self-defense skills are kinda like cooking skills—a lot of us have put off, um, actually learning them. So when better to pick up some life-protecting tricks than when they're FREE? At the Self Defense Class, offered by the Temple Women's Network and ROAR for Good (founded by a Temple alumna!), you'll learn basic self-defense moves and have the chance to win an "Athena" safety device. Why you should come: for your safety, and 'cause what else is going up down on a  Tuesday? Register before.
Tuesday, Aug. 30, 6:30–8:30 p.m., 200A, Howard Gittis Student Center
2. Cherry on.
To say we're extremely excited for the impending football season would be a HUGE understatement. After finishing 10-4 last year, school spirit was at an all-time high—it's not every year a team ends a 39-game winless streak against a rival. The first chance you'll get to cheer on our Owls is at this Thursday's Cherry On Pep Rally (you'll also be cheering for the free food and T-shirts). Then cheer them on again under the Friday night lights during the home opener against Army Knights.
Pep Rally: Thursday, Sept. 1, 3:30 p.m., Bell Tower, 1210 Polett Walk
Game: Friday, Sept. 2, 7 p.m., Lincoln Financial Field
3. Dine with Ryan Gosling.
Hey girl, Noah—um, Ryan Gosling, will be on campus soon. OK, Ryan Gosling's *movie* will be on campus soon. For just $5, you can eat a meal and watch Ry Gos in The Nice Guys at The Reel during the second annual Dinner and a Movie Night. With or without the real-life Gos, it's bound to be a night of nice food, nice friends and Nice Guys. Tickets go on sale Thursday, Sept. 1, in The Reel Box Office.
Thursday, Sept. 8, 6 p.m. (movie begins at 7 p.m.), The Reel Cinema, Howard Gittis Student Center
4. Travel to Roma.
Ask any student about their time spent studying abroad (ifffffff you've got a few hours to spare, that is), and they'll tell you ALL about the most amazing experience of their life. And in addition to the lasting memories, art students from Temple Rome also bring their work back stateside and exhibit it at Tyler's annual Festa Di Roma. Tyler student or not, check out some awesome artwork and support your fellow Owls—and plan to make an afternoon of it since there's a good chance you'll be hightailing it to the study abroad office afterward.
Wednesday, Sept. 14, 4–5:30 p.m., Lobby, Tyler School of Art
5. Travel to the future.
Remember when we said to support your fellow Owls? Good, cause we're saying it again. Also happening this week is VentureFest, a showcase where you can check out some really cool student-run businesses on campus. Our entrepreneurial Owls are making custom nail polishes, serving up on-demand food truck delivery and doing so much more innovative stuff. Hear from the students behind the startups about what it takes to turn an idea into a business, network with like-minded collaborators and, as always, partake in some snacking.
Thursday, Sept. 15, 3 p.m.–5 p.m., Blackstone LaunchPad, Howard Gittis Student Center
6. Travel to the past.
Ok, ONE more chance to support your fellow Owls. The latest show from Temple Theaters is Crumbs from the Table of Joy, a smart, funny play set in the 1950s. If you're not all caught up on the '50s, why not learn a bit through a highly-praised, highly-entertaining performance? For $10 with your TUID, you can watch a tremendously talented cast (plus, you'll appear look like such a super smartie in your history class).
Wednesday, Sept. 21–Oct. 2, Randall Theater, 2020 N. 13th St., $10 with TUID
7. Cherry on again. (Part Deux)
Call us Kanye because we're comin' home again—well, our alumni are comin' home again. Homecoming 2016 is going to be loaded with tailgating, pep rallies and gathering with Owls of all ages. You're gonna wanna be in on all of the excitement as we prepare to take on the Charlotte 49ers, so check out the full schedule of events. Also, CAKE. As in, another TU Big Cake from Baker Dave.
Friday, Sept. 23–Sunday, Sept. 25
OFF CAMPUS
8. Get your free on.
Whether you're an incoming freshman, a transfer student or just a lover of freebies, be sure to check out Campus Philly's CollegeFest 2016 at Dilworth Park. Just a subway ride away, there will be live music, giveaways, games, and you can get a wristband that grants you FREE access to numerous museums and the Philly PHLASH Downtown Bus Loop for the day. That would mean meandering through exhibits at the Franklin Institute, getting spooked at Eastern State Penitentiary or, if your freebie-loving heart desires, both.
Saturday, Sept. 10, 10 a.m.–4 p.m., Dilworth Park, free admission
9. Connect with Philly.
Ever wonder what the Nutcracker, the Tin Man and Ryan Howard have in common? Wait, you haven't? Well we have—and we've figured it out! You can see all of them with the help of Philly Connections, which provides discounted tickets to awesome events around town. Going on sale this week: $10 tickets to the Sept. 15 Phillies v. Pirates game, available at The Reel's Box Office with your TUID. Also available are $10 tickets to the Philadelphia Zoo and the Camden Aquarium and more.
Phillies v. Pirates: Thursday, Sept. 15, 7:05 p.m., Citizens Bank Park
Tickets Available: Beginning Thursday, Sept. 1, Reel Box Office (Wed.–Fri., 12 p.m.–6 p.m.), $10 with TUID