The truck stops here: Burger Tank
They're not your mama's burgers. Or your mama's grilled cheeses, for that matter. (Unless your mama gives her sandwiches names like the Insane Burger, in which case we wanna be invited to dinner at your house.) But if you're looking for some comfort food before you head home for break, or are going through withdrawal when you return, hit up the Burger Tank for a hearty and delicious meal that's easy on the wallet. Just like your mama makes. Kinda.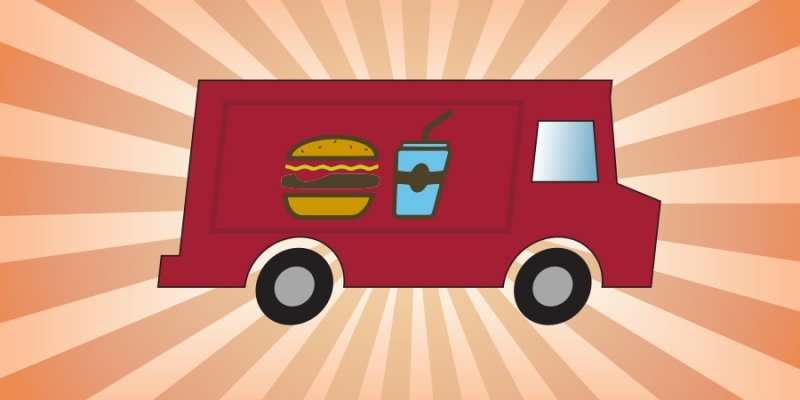 Spring break (aka second winter break) is almost here, and those of us heading homeward are looking forward to a week of home-cooked meals. But if you want comfort food now, and without the added price of a bus ticket, a filling spread can be found at the Burger Tank. These aren't your mama's burgers and grilled cheeses, but they're filling and delicious and easy on the wallet, just like a meal at home.
The Tank, fka Busz, isn't your typical Temple food truck. Many a spot on campus sells burgers, but the Tank's are made with locally sourced meat and grilled over a wood fire. It looks different, too—the army-green truck decorated with illustrations of burgers and tanks is hard to miss even among the many food trucks in front of Tyler. And don't go to the Tank expecting a thin patty topped with a slice of Kraft cheese. The menu features 15 speciality burgers with clever names like the Mocking Burger and the Texas Hold'Em, and inventive ingredient combinations to match.
The Rizzo is a garlicky fave made with provolone cheese, garlic aioli, fresh basil and roasted pepper. Ever eaten a burger topped with strawberry balsamic jam? We hadn't either before we tried and loved the Balsamic Jam Burger, which also features American cheese, spinach and roasted pepper. 
Spice fiends will enjoy the Pyro and Sriracha burgers, and for the picky eater there's the CYO (Create Your Own): Pick a base (100% sirloin beef or chicken) and load up on dressings and toppings of your choosing—classics like lettuce, tomato, mayo, and some seriously fancy fixin's (think pickled jalapeno, that strawberry balsamic jam we mentioned earlier and chipotle barbecue sauce).
Don't eat red meat? The menu includes salmon burgers and crab cakes, as well as a Portobello Burger for the vegetarians. Grilled-cheese connoisseurs will be thrilled with the Tank's gooey, grown-up version of this childhood favorite, which are served on your choice of white or multigrain bread. We recommend the Tomato Pesto, made with sundried-tomato pesto, provolone cheese, spinach and roasted pepper, or for a spicier option, the Pyro Melt, with pepper jack, chipotle sauce, spinach and jalapeno.
Your mom would want you to eat your vegetables, and the Tank obliges with hearty salads that are a meal in themselves. There are standards like the Caesar and Caprese and not-so-standards like the Epic Salad (romaine lettuce, grilled eggplant, cherry tomato, shredded parmesan and balsamic vinaigrette). 
Potatoes and onions are technically vegetables, right? If you don't feel like a salad (or even if you do), try a side of french fries, onion rings, tater tots or—best of all—an order of crisp and flavorful sweet potato fries, which go well with any Tank entree.
Just like at home, the Burger Tank portions are huge, and this food passes the two-days-later test; leftovers from the Tank taste just as good after a quick nuke in the microwave as they did the first time around.
We get it—your mom makes the best burger ever and there's nothing like your dad's grilled cheese, but if there were ever a sandwich to rival your home-cooked faves, you'll find it at the Tank.
_______________
Related stories: