What Black History Month means to Owls
History lives in the stories we tell, and we've got stories to tell. Charles L. Blockson created one of the world's largest centers of African and African American historical materials at Temple. Delores Andy was our city's first woman recreation commissioner and a professor here for 30 years. Cecil B. Moore dedicated his life to equality. There's no shortage of stories—that's why we wanted to find out what Black History Month means to you. We talked to five students and were totally blown away by what they had to say. If you read one thing today, this should be it.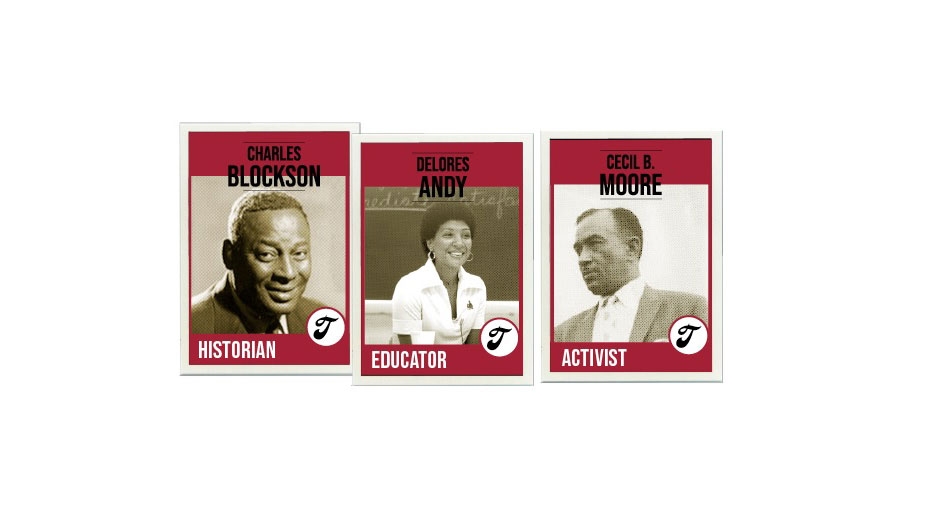 Name: Lisa Antoine
Major: Electrical Engineering, Class of 2019
Student Organization: National Society of Black Engineers Temple

Why is it important to have a month dedicated to black history?
Black history is beyond important—it brings to light the various achievements of people of African descent—they have shaped the world we live in today. American History is black history. World history is black history. This month brings awareness to those outside of our culture, enlightening others of how we have and are impacting the world we live in today.

What's something you wish you learned about black history in high school?
As a high school student studying American history, all I focused on was passing the exams. I didn't think about Mary Jackson (the first African American female engineer to work at NASA), Elbert Frank Cox (the first black person in the world to earn a PhD in mathematics) or James McCune Smith (the first African American to hold a medical degree). If my high school had channeled the importance of African American history within its courses, I—and other students—would have been aware of the possible goals we could achieve.

Professionally, who do you look up to?
I am rare and one of a kind in this field, which makes me work harder and push myself to outwork everyone else. With this being said, Mary Jackson is one of the few engineers I look up to. Her achievement as the first female African American aviation and mathematician engineer at NASA proves that the two strikes [being a woman and being black] against her were blessings. She reminds me to keep moving forward.
Name: Carmella Hall
Major: Gender, Sexuality and Women's Studies, Class of 2020
Student Organization: President, Queer People of Color (QPOC)

Why is it important to have a Queer People of Color club on campus?
Having a space for queer people of color is much different from a space for all queer people.  Sometimes in spaces voices aren't heard, people don't feel comfortable or they want to relate to others in different ways. QPOC gives students of color, who while queer, face challenges that their white, queer counterparts don't experience—and need their own space to talk about it.

What is your hope for the LGBTQIA+ community in terms of inclusion?
My hope is for more understanding and more work to be done to fight anti-blackness in queer communities. 
Name: Kayla Solomon
Major: Journalism, Class of 2018
Student Organization: Temple Association of Black Journalists

Being a part of a club dedicated to inclusion within journalism, how important is it to be taught about successful black journalists?
It is becoming more common to see black journalists on TV and writing for major publications, but it was not always that way. It took years for the media to diversify and have black and minority voices in the newsroom. Media outlets are realizing the benefits of having differing opinions and voices. The more inclusion there is, the more diverse headlines there will be.

Professionally, who do you look up to?
I look up to all those that paved the way for me to practice journalism, but one in particular that I truly admire is Oprah Winfrey. She was at the forefront of American television for decades, known for having exclusive interviews where she asked the tough questions that other journalists wouldn't dare ask. Her career is not only impressive, but it sets the precedent for what people should aim for when they enter the media world.

What was something you wish was taught about black history in high school?
I wish I learned more about the people behind the scenes that made major contributions. It's ridiculous that we had to wait until the movie Hidden Figures to learn that there were black women working at NASA during a time where the country was still heavily segregated.
Name: James Adams III
Major: Film and Media Arts, Class of 2019

Who do you look up to and how have they influenced your life and perspective?
I look up to my mother because not only is she the strongest black woman I know, but she has helped guide me as a black man in a world that can be troublesome for someone like me.

What's something you wish you learned about black history in high school?
I wished we were taught about dances, cultural engagement and just how overall beautiful we really are. Slavery did happen. However, our culture is so rich of happiness.
Name: Kaila Shields
Major: Film and Media Arts, Class of 2020
Student Organization: Mise-En-Femme Productions (feminist film club)

Why is it important to have a month dedicated to black history?
I think it is important to remember the people who made a difference in this world to fight for equality and justice. Unfortunately, many of those people were black people fighting for equality for all, and I think we have to honor their memory and their sacrifices because, without them, it may not have been possible for me to be as successful in my life as I am now. They paved the way for us, and we have to remember and honor that.

Being a part of a club dedicated to inclusion within film, how important is it to see the black community represented in the industry?
It's insanely important—if all you see is someone who isn't you doing something you love, it becomes intimidating. You question if you're capable or good enough. Seeing people like me on the big screen helps me have hope and ambition. I feel like anything is possible when I see strong characters, directors and writers creating work that reach millions of people. It helps me remember that while I may not have the upper hand in the industry or in the world, I am still capable of doing amazing things as long as I believe I can.
 
Related stories: 
Cherry Pantry Opens To Help Fight Hunger At Temple 
Gimme That Za: 8 Places To Get Temple Made Pizza
Mental Health 101: Signs of Anxiety And Depression