You got it! 12 things to do before the semester ends
Guys, if we watch one more episode of The Office, Netflix is going to start feeling bad for us. This is our PSA to peel ourselves off the couch and accept that being outside for more than 10 minutes at a time is now OK. More than OK cuz Joe Biden is coming to campus! The Phillies home opener is this week!! You can go to the Philadelphia Art Museum on the cheap!!! Andddddddd Cherry and White Weekend is this weekend!!!! Don't know what that is? Check the list, friends.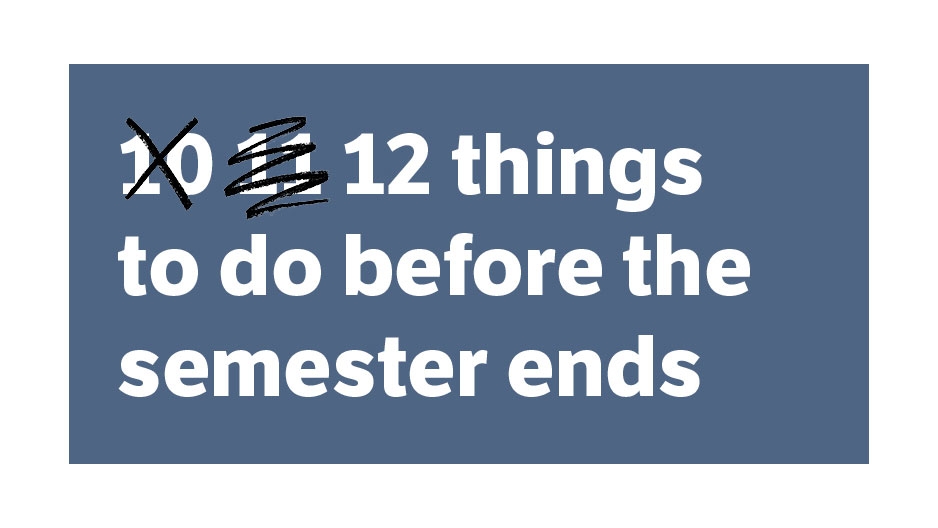 ON CAMPUS
Reintroduce some physical activity into your routine.
Or at least watch some other people be active while you think about being active. Show your school pride at Cherry and White Weekend, where we're told there will be giveaways, prizes, snacks, surprises… oh, and sports. Lots of sports. Then, the following weekend you can cheer on the football team for their annual Cherry and White spring game. 

Cherry and White Weekend: April 7–8, all day
Cherry and White football game: April 14, 12 p.m., Temple Sports Complex

Show your support for our women veterans.
Temple alumna Lt. Colonel Sarajane (Sally) Stenton will present She Wore Her Boots with Pride, a powerful personal story about her experience in the military and current work on behalf of veterans, at this year's Women Veterans Forum. Come for the empowering luncheon speaker (mentioned above). Stay for the panel discussion, networking opportunities and giveaways.

April 18, 11 a.m.–3 p.m., Howard Gittis Student Center, Room 200

Witness entrepreneurship and innovation right here on campus.
Y'all are doing some pretty cool things. Right here on campus there's a cosmetic brand startup, food truck food delivery services and cell phone repair services (speaking directly to those reading this on a cracked screen). Get to know Temple startups at VentureFest. You'll get to do some networking and learn about business funding.

April 3, 4–6 p.m., Howard Gittis Student Center, Room 200
Join in on a celebration of artists, hip hop and Muslim culture.
Global Hip Hop and the New Muslim Culture will feature interactive performances from local rappers, spoken word artists, poets and DJs. There will also be an on-stage talk with Sohail Daulatzai, University of California-Irvine professor and curator of Return of the Mecca: The Art of Islam and Hip Hop, featuring Mos Def. So, you should most def go … Sorry. Had to.

April 15, 2–4 p.m., Howard Gittis Student Center, Room 200AB
OFF CAMPUS

Get to know the Philadelphia art scene.
Let's be honest. All Fridays are great. But First Fridays in Old City are even better. Dive into the Philly art scene for free April 6 at more than 40 galleries. There's also usually some great restaurant deals throughout the neighborhood.

April 6 (and every first Friday of the month), 5–9 p.m., 230 Vine St. and elsewhere in Old City
Spring into the new season and celebrate Japanese culture.
Visit Japan (kind of) without leaving Philadelphia at the Subaru Cherry Blossom Festival of Greater Philadelphia. In addition to sitting and staring at pretty trees in Fairmount Park, you can take part in Japanese cultural celebrations, film screenings, kimono dressings and a 10k race. Or you can just sit and stare at the pretty trees.

April 7–15, various locations around Philadelphia. Sakura Sunday is at the Horticulture Center in Fairmount Park.
Support the Fightin' Phils as they take on the Miami Marlins.
Nothing says spring like the Phillies home opener at Citizens Bank Park. Before the game, the Budweiser Opening Day Block Party will have a Ferris Wheel (!!!), live entertainment and food.

April 5
Block party: 12–3 p.m., Citizens Bank Way
Game: 3:05 p.m., Citizens Bank Park
Grow your environmental awareness through film.
With Earth Day coming up, it's the perfect time to celebrate the environment. The Philadelphia Environmental Film Festival will show 30 films focusing on the earth, its threats and what preservation efforts are happening around the world.

April 6–8, Prince Theater
$5 for students with OWLcard
Pay what you wish on Wednesdays at the Philadelphia Art Museum.
We recommend the Design in Revolution: A 1960s Odyssey exhibit, going on right now, and the Dhyana Yoga class offered twice a week. You can also grab a snack and drink at The Balcony Cafe and explore the world-class collections—all at your own college-friendly price point of whatever you want.

Every Wednesday, 5 p.m.–8:45 p.m., The Philadelphia Art Museum

Get to know Pulitzer Prize-winning author Junot Díaz.
The Philadelphia Free Library is hosting Junot Díaz, successful author of The Brief and Wondrous Life of Oscar Wao, for which he won a Pulitzer Prize and the National Book Critics Circle Award. He'll be answering questions, signing books and talking about Islandborn, his first foray into children's books.

April 7, 12–2:30 p.m., Philadelphia Free Library
$10, $22 optional book with ticket

SEE JOE BIDEN.
We've said it once. We've said it twice. OK, we've said it a millions times: Temple is the place to be. Next week former Vice President Joe Biden will be in the house talking about his life story and his leadership experience. There's a 100 percent chance you'll leave this event feeling 100 percent inspired.

April 11, doors at 7 p.m., event will start at 8 p.m., Temple Performing Arts Center (TPAC)
Students can pick up their free tickets April 4 at 2 p.m. at TPAC. Limited availability. Students only, no guests.

Cheers to your future.
Juniors and seniors: Join the Temple University Alumni Association at a club on the 52nd floor of a building in Center City. Let us repeat: 52nd. Floor. Center. City. There's more to it than just the view. Come out to meet young alumni and expand your professional networks because you're going to be young alumni very, very soon.

April 19, 6–8:30 p.m., Pyramid Club
$15 for current Temple juniors and seniors

Related stories: 
The Truck Stops Here: Richie's Lunch Box
Cherry Pantry Opens To Help Fight Hunger At Temple 

 

-Nicole Quaste