Stella returns for another advice column to address burnout during these trying times.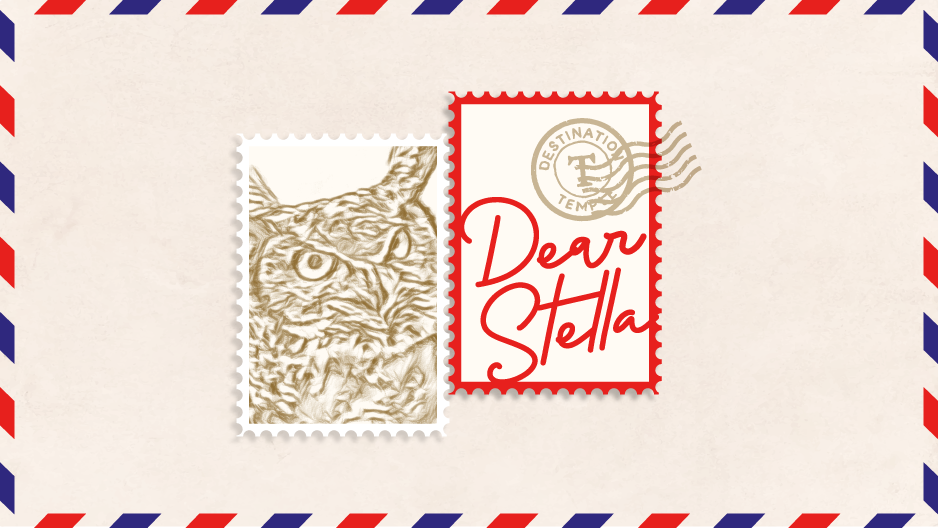 Virtual turmoil
Q: How do I avoid burnout?
A: It's a confusing time, isn't it? There's a lot of uncertainty, and yet we still have to keep up with our courses among everything else. Some of us are coming to the end of our time at Temple, while others were just welcomed as first-year students. And each of our circumstances brings their own unique challenges. We may all have different situations and are all far from the nest, but Temple is still our home, and as a united community, we're in this together.
Take time for yourself. We're mostly confined to one spot (I'll have to admit, my personal little nest is getting pretty boring), and that can feel isolating and draining. Try to change up your environment. Work for an hour in a private room, migrate to the kitchen, chat with your roommates, or phone your parents. Or vice versa, depending on where you're staying.
Take breaks with hobbies you enjoy, and learn new ones! I picked up crocheting, and knitted Sherlock a cozy scarf! Now, if only I could make it talon-proof… Need help getting adjusted to our new normal? The Wellness Resource Center is hosting workshops via Zoom to help you establish new routines, deal with stress and more. 
And remember, if you feel your circumstances are impacting your ability to complete your academic work at an optimum level, you have the option to change your grade mode from the standard letter grade to either credit/no credit (for undergraduates) or pass/fail (for graduate students). This is an option, on a course-by-course basis, for the spring 2020 semester only. From April 6 at 7 a.m. EDT through April 27 at 5 p.m. EDT, you can log in to TUportal to change your grade mode for any of your spring 2020 courses that were taken at U.S. campuses. Under the COVID-19 tab, navigate to the "Quick Links" section on the right, and select "Grade Mode Change." For more information, consult Information for Students.

Online BFFS

Q: How can I make friends during this time of social distancing?
A: It doesn't matter if you're the most social butterfly of all—this time can evoke loneliness, and it's important to stay connected with your peers. Pen pals can make the best of friends. Remember the early days of hootspace? Oh, I'd follow the whereabouts of all my favorite bands (Cage the Talons, Portugal. The Hoot, Fall Out Bird), and met friends who loved the same things as me. I'd start there. Think about your interests, and in what types of spaces you can connect with like minded peers!
Maybe you can want to check out the various Temple Facebook groups? Or maybe a chatroom? I found a Temple-specific discord, an app for group chatting and making friends! Accept the invite and join a room of over 5,000 members. In fact, nearly a thousand Owls are online as I answer this question!

YouAreWelcomeHere
Q: Are international students made to feel at home and welcome at Temple?
A: Our nest is your nest—we have more than 3,000 international students at Temple. There's no denying that this pandemic has caused a spike in negative and inaccurate assumptions about different cultures that impact our international students, mentally and emotionally. Know that here at Temple, that kind of behavior is never tolerated. We pioneered the  #YouAreWelcomeHere initiative into a national campaign for a reason. We are here for you, now during these uncertain times and beyond. 
Temple University's Office of International Affairs leads all of our international initiatives. You can check out its mission and services, and if you have any questions, you can always reach out to international@temple.edu. 
Again, this is a strange and difficult time, but banding together is what makes us strong and united as Owls! It's up to our students to respect the rights of others and to uplift each other in any way we possibly can.

Head in the Cloud
Q: How do I know I want something for the rest of my life?
A: It's hard to know for sure. I didn't know I wanted to be Temple's mascot and an animal educator until I tried it out, but I'm so glad I did! Take this time indoors to explore your hobbies and interests. That could look like watching beauty tutorials for seven hours straight, baking a cake or learning how to change your oil. Or you could take a career-finding quizlet, if you're feeling lost and need some redirection. Better yet, Temple's offerings may suit your fancy.
For instance, did you know Temple offers Adobe Creative Suite to all students? That's right, all Adobe applications are at your disposal. Owls can download the program at no cost, regardless of their major. Craft a montage documentary on Premiere Pro, design a poster on Illustrator, record a podcast through Audacity—your creative options are limitless! 
And these skills will fit in nicely on your resume, versatile skill sets are important no matter what your career aspirations are! Access to Adobe Cloud services is located on the TU Applications section of TUportal.
Hitched

Q: How's married life?
A: We've decided to socially distance ourselves in separate nests. Sherlock is a wonderful man, but oh my does he know how to ruffle my feathers!
Xoxo,
Stella