How to stay well this week … and every week
Because it's Wellness Week!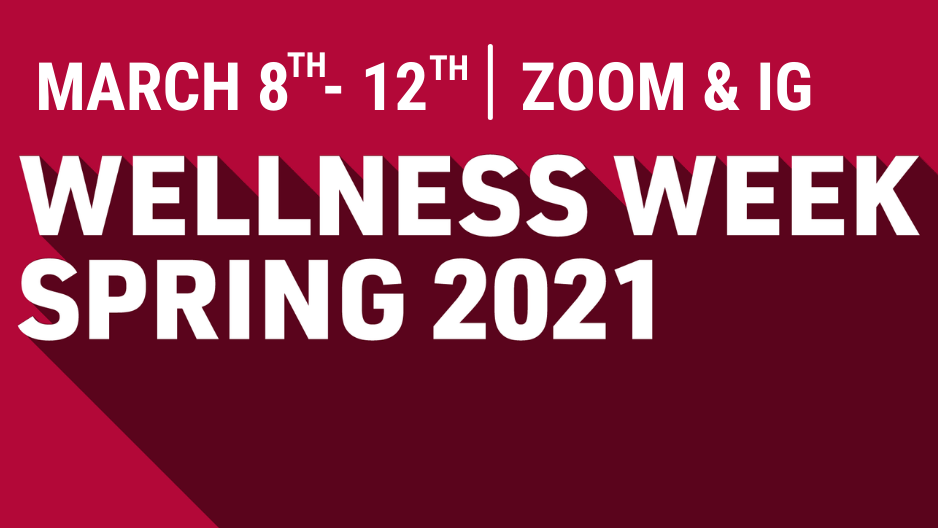 Feeling fatigued, frazzled, unmotivated, stressed out? We hear you. That's why the Wellness Resource Center (WRC) has partnered with organizations across campus for their annual Wellness Week—a week of events dedicated to our physical and mental well-being. And this year, they're all virtual.
1. Internet blues
Not even your new bluelight glasses can save you from virtual fatigue. But there are strategies we can use to lessen lethargy. Join WRC on Zoom in their Coping with Virtual Fatigue Session to learn how to manage the pitfalls of online overload.
When: Monday, March 8 | 11:00–11:30 a.m.

2. To be resilient...
… is to find the power to bounce back when life deals you a bad hand. Our Resiliency Resource Center (RRS) is partnering with WRC to share how you can be resilient in the face of adversity. Practice mindfulness in a guided session, share what's on your mind and connect with the mental health resources on campus.
When: Monday, March 8 | 1:00–2:00 p.m.

3. Chef's kiss emoji
Student Activities is hosting a cooking session as a way to connect students with a common love: food.  And healthy living on a budget. Alex Catalano, healthy foodie of Eat Cute, will teach nutritious and inexpensive practices to fellow Owls in this interactive event. Maybe you'll learn a new recipe along the way!
When: Tuesday March 9 | 12:00–1:00 p.m.

4. Big screen viewing, small screen discussion
In an anonymous, chat-based environment, students will have the opportunity to discuss mental illness and its often stigmatized portrayals in media and entertainment. Following the conversation, three award-winning short films will be screened along with a therapeutic activity to connect our minds and bodies. The event will culminate with a panel of lived-experience speakers to better understand ourselves and mental illness. Register in advance.
When: Tuesday, March 9 | 6:00–8:00 p.m.

5. Perching forward Owl pose
Stretch those tail feathers to the sky in a yoga flow with Campus Recreation. In this Vinyasa-based practice, establish a mind-body connection through intentional breath, movement and pose.
When: Wednesday, March 10 | 9:00–9:50 a.m.

6. Pause and breathe
In... and out... It takes 8 seconds to take a deep breath–breath in for four seconds and breath out for four seconds. Join us in taking a collective deep breath as the entire Temple community simultaneously stops what they're doing breathes. 
When: Wednesday, March 10 | 12:00 p.m.

7. Listen
Sometimes the best way to relax is to just to sit back and listen to some soothing music. That's why we put together this Spotify playlist just for you.
When: Any time, literally
 
8. Manage expectations
Sometimes can be our own harshest critic, especially when we have high expectations of ourselves. In this IG live, we're going to talk with the Career Center about managing expectations when it comes to professional development and explore strategies for self-compassion.
When: Wednesday, March 10 | 2:00 p.m.
 
8. Myth busters
Motivation is elusive for many of us and even more so when it seems like everyone around you has it. The truth is, they don't. Sometimes motivation can be a challenge to achieve, especially during these times. In this Instagram Live, chat with Temple Student Government about the myths of motivation and methods to conquer its obstacles.
When: Thursday, March 11th | 11:30–11:45 a.m.

9. No better time than the present
If you let your mind get stuck reliving past misses, or contemplating future worries and you may overlook what's happening in the now. Mindfulness is a way to help. Join the WRC in their monthly session, Staying Present: Using Mindfulness to Manage Stress, and learn the various ways to manage stress and invite calm. To familiarize yourself with mindfulness, explore these resources brought to you by WRC.
When: Thursday, March 11 | 4:00–4:30 p.m.

10. Cherries are red, violets are blue
Self-care is important and so are you! Temple's Philadelphia Experience (aka PEX) Program and Black Minds Publishing are joining forces to bring you "Poetherapy"—get it? Guests will take the virtual stage and perform original works that underscore the hardships of mental illness and the importance of intentional wellness. We promise their poetry will be less cheesy than ours.
When: Thursday March 11 | 6:00–7:00 p.m.

Bonus: ICYMI: WRC recently hosted LoveTU, a night of powerful storytelling performances from fellow Owls, including poetry that highlights hope and resilience in the face of misfortune and trauma. Watch the recording.

But, Wellness Week is not the only time to care for yourself. Budget time in your daily life to acknowledge and accommodate what you're feeling and going through. You can use this self-care planning guide and ways to find support to get started, or watch WRC's overview of self-care basics.
 
—Nick Eiser