Chill Lo-fi (Temple Made!) Beats to study and relax to
Get into the groove for finals with this playlist made by and for Owls.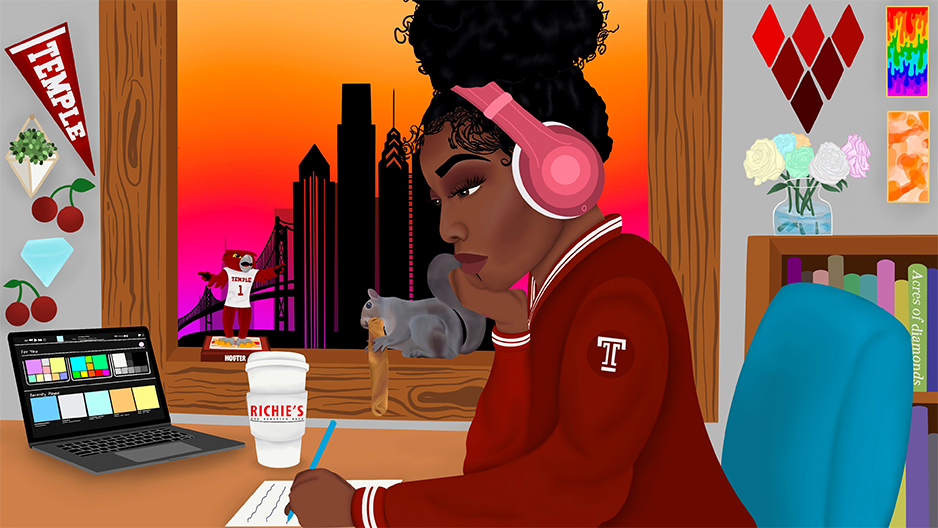 For many of us, the key to getting into a good rhythm during finals week is … well, some actual good rhythms. For that reason, we've assembled a mix of chill, lo-fi beats to help get you into the groove while you're studying for your finals.
And because Temple is so full of talented Owls making some amazing art, the entire playlist is Temple Made!
So grab your headphones, press play and read on to meet the artists behind the beats in our lo-fi finals week study mix.

Jewelssea 
On her Spotify bio, Juliana Concepcion (aka Jewelssea) says that she makes "music for floating," and that's exactly what it feels like from the moment you start listening. The film and media arts major's list of influences is extensive—ranging from Madlib, Nujabes and J Dilla to Solange, Anderson.Paak, Joni Mitchell and Björk.
"Music has always been part of my life since my childhood," said Jewelssea, Class of 2021, whose musical journey has included stops at the guitar, oboe, piano, bass and more, before she started producing her own music in high school.
"Since then I've primarily used Ableton to produce music electronically, and I use many synthesizers and samplers as part of my production process."
Listen to Jewelssea, and check out her album "It's All Love," on Spotify.

Ben Thomas 
Two years ago, we spoke with Ben Thomas, FOX '18,  as he embarked on a career in music engineering. However, even prior to graduation, he already had an impressive resume, working as the lead audio engineer at RECPhilly and Studio Breed, one of the largest recording studios in Philadelphia.
Since then, he's worked as an engineer, producer and mixer with an all-star lineup of artists, including Meek Mill, Lil Uzi Vert and Future, among several others. He also recently earned a GRAMMY nomination for his work with country artist Ingrid Andress.
Thomas currently owns After5 Studios and is a co-owner of the independent record label and management company nicethingsMUSIC.
Read more about Thomas and his work at BenThomasProductions.com. 

jake venture. 
Drawing inspiration from producers like Flying Lotus, Madlib, Kaytranada, Kanye West and J Dilla, jake venture., BYR '18, creates music without genre, fusing his production influences with his jazz background. 
"I grew up learning piano classically and had to teach myself how to play contemporary and jazz," he said. "Their music [from the producers who inspire him] on top of my love of jazz has cooperatively played a role in my creative development that has led me to making my own instrumental music."
Listen to jake venture., and check out his new album "Latency" on Spotify.

SwagMuffinz
Tom Whitney (aka SwagMuffinz), BYR '18, is a Philadelphia musician and composer.
Much of Whitney's creative inspiration comes from the jazz he grew up listening to and studied at Temple, with favorites including Bill Evans, Gerry Mulligan and Kenny Garrett. However, this project explores his interest in the soothing beats of Chillhop, taking inspiration from artists like Nujabes and Idealism, and fuses it with his rich jazz background.
Listen to SwagMuffinz on SoundCloud.
Richmane 
After watching DJs performing on YouTube when he was 10 years old, Richmane, Class of 2021, downloaded his first music software. Since then, he's been using unique sounds and loud bass to bring listeners into his sonic universe. "Creating a world with sound is a beautiful experience," he said. "I also love playing with computers so electronic music was a very natural fit for me."
Richmane continues to be inspired by the artists he spends his time with: "Yung Kira, Bungalo, Philly Sound, Lil Cru$h—these are my good friends. They make life a lot more fun, which makes everything else easier."
Listen to Richmane, and check out his album "Richmvne" on Spotify.

Alex Siravo 
For Alessandro (Alex) Siravo, BYR '18, remote learning helped jump-start his interest in music production.
"I bought a fancy microphone for remote learning at the school I teach at and decided to use it to record a vocal jazz cover of 'In My Life' by the New York Voices. Learning the basics of how to mix that cover helped get me more interested in music production."
Siravo earned a bachelor's degree in music education with focus on vocal arts, and while he's still new to the world of electronic and lo-fi music, he is guided by his eclectic inspirations.
"I am a huge fan of chiptune, and actually started my earliest experiments in songwriting with the little-known DAW, 'Little Sound DJ,' a musical production tool designed for the Gameboy." 
Listen to Alex Siravo on SoundCloud.
Baranello 
Baranello, Class of 2020, who is graduating this December with a major in communication studies in the communication and entrepreneurship track, has always been interested in making music.
"It started with piano lessons when I was in second and third grade. Then I started playing guitar in fifth grade, but had a hard time sticking with it. All of that transitioned into music production," he said. 
He started making beats when he was in high school, and while his mother may have not always appreciated the volume, "I knew I had her support," he added.
Baranello draws his inspiration from artists like Mac Miller, Travis Scott, Kid Cudi and Kanye West. "What can I say about Kanye? He is literally the sole reason I started making beats in the first place." 
Listen to Baranello on Spotify.
Owen Luebbers
Owen Luebbers, KLN '20, who earned a degree in media studies and production, has been making music for as long as he can remember as a way of expressing his inner world. His program at the Klein College of Media and Communication only furthered his love for music production.
Some of Luebbers's biggest musical inspirations are Jack Antonoff (of Bleachers), Phoebe Bridgers and Sufjan Stevens. "There's so much I could say about these artists, but I think the reason they inspire me is because they create beautiful art so effortlessly," he said. "Lyrical and production specificity is also something all three of these artists really specialize in and is something I strive to achieve with my own music."
Listen to Owen Luebbers, and look out for new tunes from him coming soon on Spotify.
—Ryan Walsh