Nine roster-worthy classes for your next semester
Owls, we're going class shopping!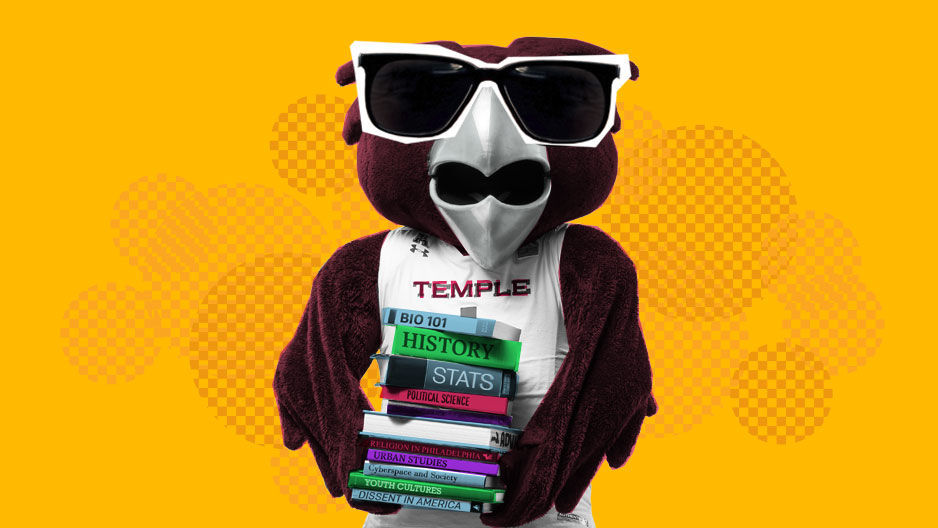 Spring course registration is fast approaching, Owls. Still undecided what to take? Check out our recs for cool classes that may pique your interest.
1. See the bigger picture
Course: Human Behavior and the Photographic Image (ART 0822)
Fulfills: Human behavior GenEd and individual and society core
Credits: 3
Sure, sometimes we snap a pic to capture mouthwatering food or take a selfie at golden hour. But have you ever wondered how to tell a story through photography? This course examines how photos can be used to chronicle our lives and comment on culture and social issues. You'll have the opportunity to display your work in a public exhibition at the end of the semester to show off your newfound understanding of human behavior through photography. 
2. Study a hip-hop legend
Course: Tupac Shakur and the Hip Hop Revolution (AAAS 2111)
Fulfills: Elective
Credits: 3
Regardless of where you fall on the East Coast vs. West Coast hip-hop rivalry, you can't deny that Tupac is one of the most influential rappers of all time. His music speaks to generations of listeners worldwide, even after his tragic death in 1996. Learn about Tupac's poetic impact on Black culture and the rhetoric of Black consciousness.
3. Food for thought
Course: Anthropology of Food (ANTH 1079)
Fulfills: Elective
Credits: 3
Have you ever spent at least an hour deciding what to eat? Same. It turns out it's more than just what you're in the mood for. In this class, you'll examine the biological, cultural, economic and historical influences on what and how you consume, and how food plays a role in our social life; relationships; and perceptions of health, illness and the body.
4. What are the chances I'll use this irl?
Course: Math for a Digital World (CIS 0823)
Fulfills: Quantitative literacy GenEd and quantitative reasoning core
Credits: 4
If you're like us, just the mention of math may make you break out into a cold sweat. But hear us out: What if you could use math to your advantage in your everyday life? This class is all about learning how to be an informed user of quantitative information. For example, how can understanding math help us make better decisions? Does it make sense to play the lottery? How does math factor into email, passwords, IDs and other online tools? Explore these questions and much more.
5. Not just an aesthetic
Course: Dark Academia: The Literature of College Life (ENG 2110)
Fulfills: Elective
Credits: 3
If you've taken a Buzzfeed quiz to find out your aesthetic and gotten dark academia, then this class is for you! DYK that beyond its status as a popular subculture, dark academia is also a literary genre? You'll get to read classic and newer works—including coming-of-age novels, murder mysteries and campus thrillers—depicting the sinister side of higher education. Honestly, the themes sound deliciously devious: secret societies, ancient rituals and all kinds of danger. Sign us up!
6. Assenting and dissenting pop culture opinions
Course: The United States Constitution and Popular Culture (LAWU 0825)
Fulfills: Elective
Credits: 3
Here's something we usually don't consider: the U.S. Constitution's influence on pop culture and vice versa. But it makes sense, right? It's no coincidence how most of the cold opens on Saturday Night Live spoof a political issue related to U.S. law. This class looks at the Constitution through a pop culture lens by presenting films, video parodies, music and cartoons to identify examples of pop culture that the Constitution restricts and others that it celebrates. Prepare to load up on pop culture references to court decisions on LGBTQIA+ rights, abortion, interracial marriage, school desegregation and gun rights, among other issues.
7. An epic soundtrack
Course: Music in Movie Epics (MUST 1762)
Fulfills: Elective
Credits: 3
Usually when we think of movie soundtracks, what comes to mind are show-stopping tunes or tear-jerker ballads. "My Heart Will Go On," anyone? But cinematic universes are also shaped by film scores and sound effects tailored to particular scenes and stories. In this course, after establishing a foundation of sound in movies, the focus shifts to contemporary epics like Harry Potter, Star Wars and The Lord of the Rings to illustrate how music and sound create an understanding of typical themes in this genre including heroism, struggle and good vs. evil. Get swept up in the movie magic.
8. Can I pick your brain?
Course: Brain Matters (NSCI 0817)
Fulfills: Science and technology GenEd and science and technology second-level core
Credits: 3
The brain controls our whole body, so it can be challenging to wrap our heads around its complexities (tens of trillions of connections that change and rewire throughout our lives … what?!). This class touches on knowledge about the brain on various levels including anatomy and physiology, behavior, cognition, and disease, among others. But don't be intimidated by this introductory neuroscience course. It's not brain surgery!
9. Everyday mechanics
Course: How Things Work: The Physics of Everyday Life (PHYS 0847)
Fulfills: Science and technology GenEd and science and technology second-level core
Credits: 3
Are you fascinated by how stuff works? Have you ever stopped to ponder how a computer stores information or whether people and animals see color the same way? If so, this course may be for you. You'll examine important, timely questions pertaining to technology, the natural world and current events through lectures and in-class demonstrations such as a rocket powered by water and a CT scan machine. In the words of Bill Nye, "Science rules!"

Explore what other interesting classes are offered through our general education program.