Sustainable classes, organizations and resources on campus
Learn more about ways to get involved with sustainability on campus!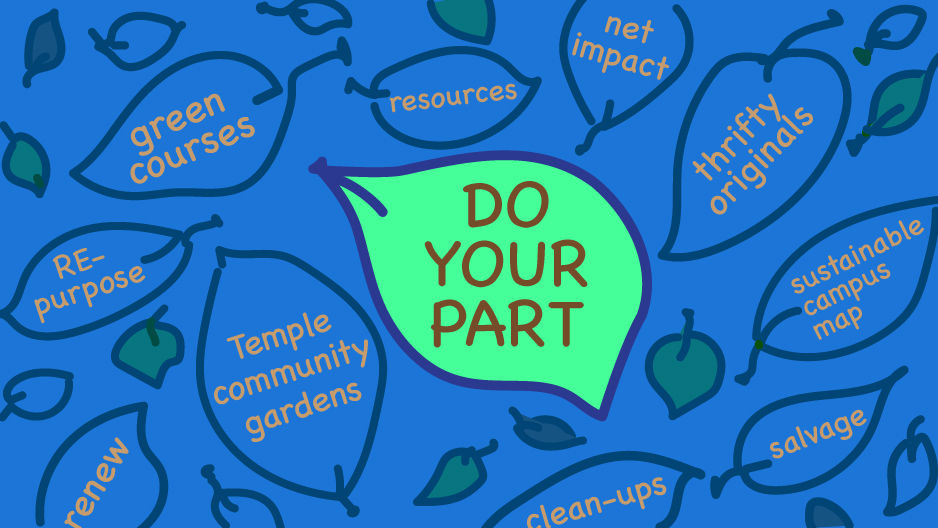 Sustainability initiatives strive to preserve the planet and our future. The best way to initiate change is to become a part of it; luckily, Temple's campus provides a variety of ways to jump right in!          
Here are some classes, organizations and resources on campus.
 
Classes
Temple offers an extensive list of courses pertaining to sustainability, all of which are available to undergraduate students. Knowledge is power, so take action by tapping into your creative side, or uncovering the intricacies of evolution, all while fulfilling your undergraduate GenEd requirements.
Sustainable Design (LARC 0841) 
Are you passionate about creating meaningful solutions? This course responds to the most significant environmental concern: global warming. Within the course, students will explore integrative design, a method dedicated to the influence of a design on its surrounding environment. More specifically, integrative designs incorporate low-waste and energy conservation sciences. At the end of the semester, students are tasked with resolving the greenhouse effect through a design project. If you want to take part in designing for the greater good, consider taking this course!
Geology Versus Hollywood (EES 0836)
Dramatized disasters within film are nothing short of entertaining. Whether it be an explosive volcanic eruption or an earthquake felt worldwide, each depiction raises the question: is there a way to prevent these realities from happening? Within this course, students dive deeper into this fundamental question and begin uncovering the causes of geological disasters. Regarding sustainability, students will focus on the Earth's climate change, therefore providing further insight into the value and influence of sustainability.
Evolution of Earth and Its Life (EES 0837)
To understand the environment's current state it is crucial to understand its past. Covering 4.5 billion years of geologic evolution, the Earth has changed vastly, so what does this mean for its future? Through hands-on experience, students are able to study the Earth's past environments and ecosystems. With this knowledge, students will gain a deeper understanding of current and future environmental issues. 
 
Organizations
In addition to course offerings, Temple has various student organizations pertaining to sustainability and environmental efforts. Collaborate with fellow Owls and become a part of initiating sustainability on campus!
Net Impact
Meeting every Friday from noon to 12:50 p.m., the Net Impact student professional organization strives to improve the business sector socially, environmentally and economically. Inviting students from all schools and majors, Net Impact lends a space to network and grow as a leader striving for change. Students can participate in sustainability tours, block cleanups and guest speaker sessions from professionals actively driving sustainability in the business world.
Find out more about Net Impact here.
Temple Community Garden (TCG)
The TCG is a student-run organization that contributes to both the community and the environment. Fighting food insecurity in the community, TCG strives to establish innovation and sustainable change in North Philadelphia. Members are given the chance to master gardening skills, build community connections and implement sustainable agriculture practices. Get your hands dirty at open garden hours on Fridays from 3 to 5 p.m. 
Find out more about TCG here.
Thrift and Flop
If you love fashion as well as sustainability, Thrift and Flop might just be for you! Through hands-on activities and projects, Thrift and Flop encourages members to repurpose old or unworn clothing into something new. Members have the opportunity to expand their design skills by creating one-of-a-kind pieces for themselves, to donate or to sell at pop-up thrift events. Style should be sustainable, so get ready to create and switch up your wardrobe!
Find out more about Thrift and Flop here.
 
Resources
Want to stay in the know? Temple has you covered with plenty of resources. If you would like to dive into some further research, the ScholarShare resource provides sustainability stories, research data, and learning materials.  A recent ScholarShare Teach-in discusses how to be a climate activist. As Temple progresses toward carbon neutrality, the campus has seen groundbreaking changes. This Temple University sustainable campus map can take you on a tour of all the innovative designs hidden throughout campus.

- Avery Bumstead