5 minutes with … Lexis Trechak, TikTok star
Make your way to the floor and side-step, shimmy or pirouette into the lore to find out what makes this influencer, leader and scholar tick.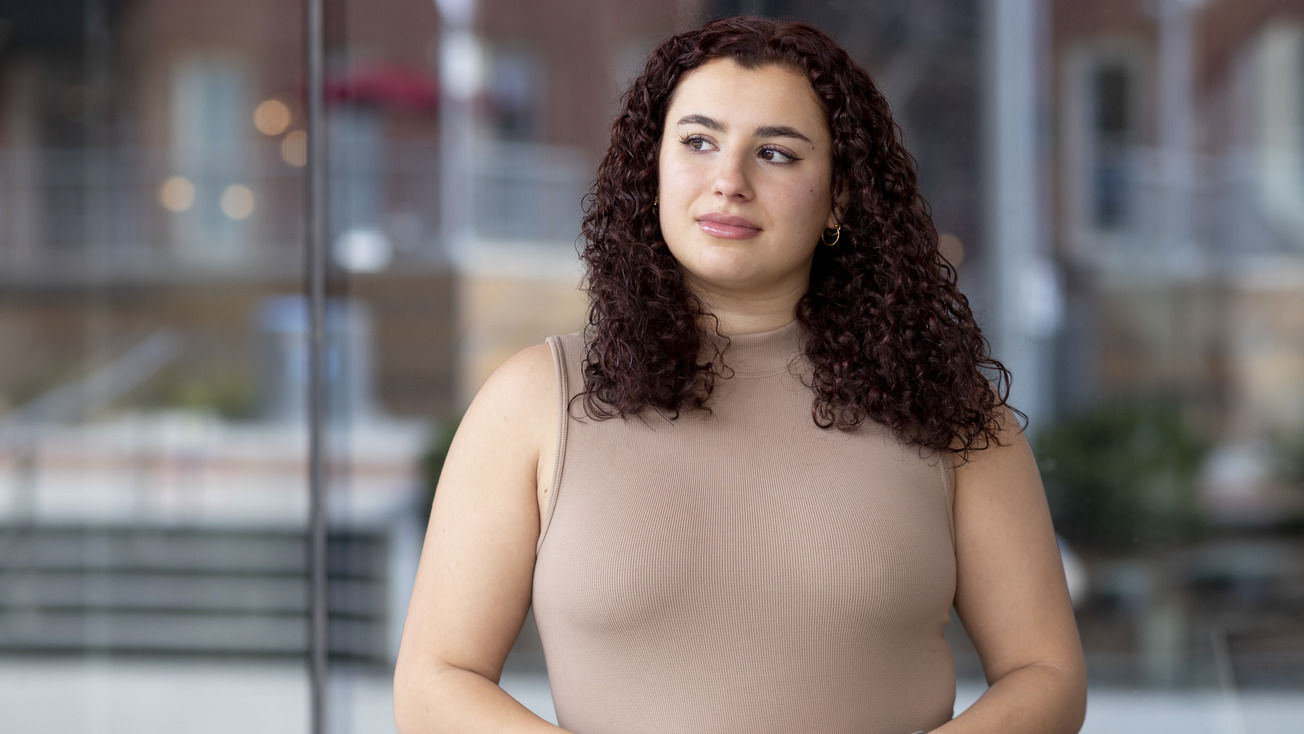 Throughout her college career, Lexis Trechak, Class of 2023, has amassed over 1 million followers and nearly 150 million likes on her TikTok page. The co-host of Barre Chat and speech pathology major produces content that ranges from creative depictions of various exaggerated moments on stage to entertaining dance fails in the classroom. We caught up with Lexis at the SAC to learn the "ins and outs" of her video-making process and her passion for dance. Be sure to visit her instagram for extra dance content.
Nutshell: What goes into making a TikTok?
Lexis Trechak: I've really sped up my TikTok filming process, so to say. I have this whole list on my phone of TikTok ideas and this has been going on for a very long time. A lot of these I'm never going to come back to. Any time I think of something I just write it down and I have 'filming time' when I'm like, okay, I don't have class for two hours, I'm just going to film four or five and just have them in my drafts. I only post one a day.
Nutshell: Do you think about the audience when you make your videos?
LT: Yeah, I always try to think about how it'll be received and I also want to make sure that I'm doing things that they want to see. So a lot of the time, they'll think of an idea in the comments and I'll do that, or I'll respond to their comment in a video. You have to gear it towards your audience, that's what I try to do and that's what being a creator is all about.
Nutshell: How did the TikToks of the roller coaster in your backyard begin?
LT: This is pretty much how I started on TikTok actually, if you want to hear the 'lore' to it. So I've been posting on TikTok all throughout freshman year of college, but kind of just casually. TikTok was growing at that point and I was like, well, if I get a viral video that'll be cool, if not, that's cool too. My brother was building this roller coaster, he was 14 at the time, he's incredible. I made a video that was pretty much mocking Phineas and Ferb and me being Candace and him being Phineas … and Ferb. Dan Povenmire, the guy that voiced Doofenshmirtz, even commented on it.
Nutshell: Did it all start as a dance account, like a "DanceTok"?
LT: I remember in the beginning of quarantine I made three dance videos, similar to what I do now and I thought, "These are all so funny," and then they did well and I was like, "Oh my god I don't have any other ideas." Now, every time I go to dance class or anything dance related I'm not actively looking for ideas, but I always get inspired and the ideas just come to me. 
Nutshell: How did you think of the "Dance vs. Picture" series?
LT: Well it's funny because I would always see people make on TikTok the actual version of it with real pictures from their competition. So it would be a video of them at competition versus the picture and since I usually just do skits, I turned it into one. So I was like okay, I'm just going to take that and exaggerate it because most of my content is relatable to dancers and the series has continued to grow and I am almost at part 20!
Nutshell: When should someone begin dancing?
LT: I think that you can start learning dance at any age. There's no "one" age that you have to start dancing. I feel like most dancers probably started at a young age, but that does not mean you have to. I always encourage people to start dancing regardless of their age if that makes them happy!
Nutshell: Any embarrassing moments on stage?
LT: Oh, there has to be so many. This is from third grade, I'll never forget this. It's not as embarrassing because you're younger, but there was one time when there were 20 of us just standing in line with our hands out like this [jazz hands], and we stand like this for eight counts and then we spin in a circle. I spun in a circle and everyone else was standing still, and I'm spinning in my own little world. You can see in the video the moment that I realized I was wrong. I just kept watching everyone next to me the whole time to make sure, and I was embarrassed for the rest of the dance because I messed up. 
Nutshell: How have you found your confidence in both yourself but also enjoying dance and what you do?
LT: Confidence is something that I've struggled with for a very long time. Before junior year of college, we had all of quarantine to reflect and figure out what we wanted in life. I feel like I really used that time to my benefit. I would say I'm in a much better place where I don't compare myself as much and I just focus on my own journey because everyone has their own journey. Comparing yourself is only going to make you more upset. You will never dance like the people standing next to you because that's not you, that's not your style. Everyone has things that make their dancing individual in the best way! I've learned you just need to dance for yourself, not for the validation of others!
- Caleb Oney