Find out which Philly-area artist matches with your Temple school or college choice
Music to get you in a Temple and Philly state of mind.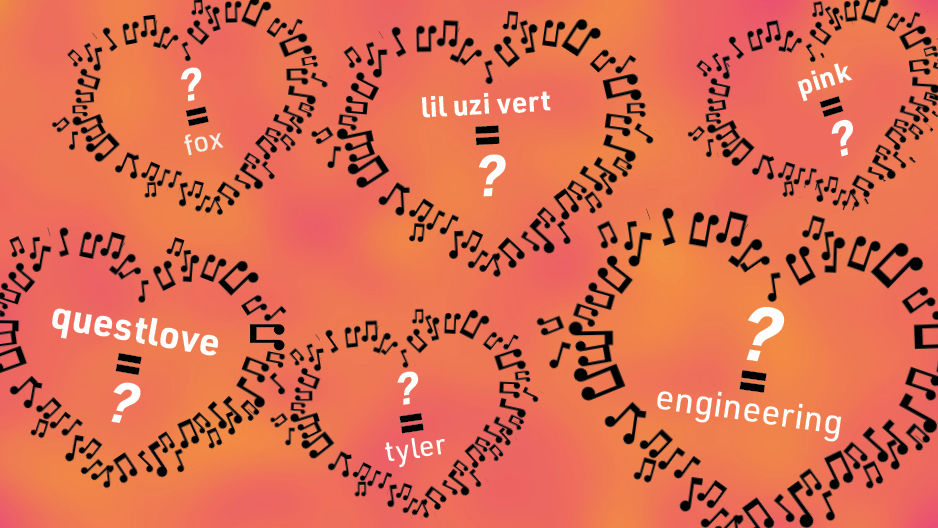 Philadelphia is iconic for many reasons—the Liberty Bell, Rocky, cheesesteaks, its winning professional sports teams and Temple, of course. The university represents what the City of Brotherly Love is all about: passion, grit, diversity, freedom, innovation and opportunity. We also see these values across Philly's lively music scene, another trademark of the city. The numerous acclaimed artists who call our city home encompass eclectic genres and span decades, much like Temple is made up of a broad array of educational options to inspire our students and meet their various needs and interests.
Looking to add some homegrown talent to your playlist? Here we recommend the Philly artist for you based on your Temple undergraduate school/college affiliation. We think you'll find they strike the right chords! 
P!nk—Tyler School of Art and Architecture
Hailing from nearby Doylestown, P!nk is a renowned recording artist revered for her distinct raspy vocals and aerial acrobatics on stage. Her vibrancy and boldness embody the spirit of Tyler, one of Temple's most well-known schools. Here, students are encouraged to break boundaries in the name of change. Similarly, P!nk has challenged the status quo throughout her career and is considered a trailblazer of pop music. Her stage name is even a color—a hallmark of art.
Song recs: "Get the Party Started," "Raise Your Glass," "Don't Let Me Get Me," "So What," "Just Give Me a Reason"
Questlove and The Roots—Fox School of Business
Native Philadelphian Questlove was a go-getter from the jump. As a kid, he followed his father's band, preparing their performance outfits, taking charge of stage lighting and filling in for the drummer at Radio City Music Hall at just 12 years old. He co-founded the jazz and hip-hop group The Roots, who eventually became the house band for Late Night with Jimmy Fallon. Questlove is also a music history professor and bestselling author, and Academy Award-winning director of Summer of Soul. These leadership and entrepreneurial skills match those of Fox students, who learn professional development through experiential learning via internships, organizations and centers at the biggest, most comprehensive business school in greater Philadelphia. Like Questlove, you're well-equipped to succeed in all your enterprises.
Song recs: "The Seed (2.0)," "You Got Me," "What They Do," "The Fire," "Doin' It Again"
Jill Scott—College of Education and Human Development
Before becoming a singer-songwriter, poet, model and actress, North Philadelphia-raised Jill Scott studied secondary education at Temple, intending to be a high school English teacher. Even though she changed course, her passion for education remains. She established the nonprofit Blues Babe Foundation to cultivate academic success for underserved communities in North Philadelphia and Camden, New Jersey. This desire to make an impact resonates with the mission of the College of Education and Human Development, which strives for social justice and mobility for all learners.
Song recs: "Golden," "A Long Walk," "The Way," "Try," "Can't Wait"
Lil Uzi Vert—College of Engineering
Lil Uzi Vert's style and music are experimental and innovative as they take a melodic emo approach to rap and trap, drawing influences from Lil Wayne and the Ying Yang Twins to Marilyn Manson and Paramore. Uzi's eclectic perspective fits well with the College of Engineering, where students can pursue a variety of disciplines and work on cutting-edge projects involving 3D printing, motion capture, robotics and drones. Both the rapper and college have built sturdy structures of success.
Song recs: "Just Wanna Rock," "The Way Life Goes," "20 Min," "Sauce It Up," "How to Talk"
Boyz II Men—College of Liberal Arts
Philadelphia legends Boyz II Men, who have a section of Broad Street named after them, rose to fame in the 1990s and have been going strong since, continuing to perform worldwide. They've left a lasting imprint on R&B and boy bands, dominating the Billboard charts and winning numerous Grammy Awards. Their reach across audiences around the world speaks to the College of Liberal Arts' global consciousness and interdisciplinary perspectives and cultivates social intelligence. But the college remains true to its roots, providing the unique opportunity for students to make Philadelphia their classroom as well.
Song recs: "Motownphilly," "End of the Road," "On Bended Knee," "One Sweet Day," "All Around the World"
Hall & Oates—Lew Klein College of Media and Communication
One of the most successful duos in pop rock history, Daryl Hall and John Oates are Temple Made, Oates studying journalism at Klein in the then-new Annenberg Hall. Both longed for a city experience growing up in the suburbs and entered Philly's music scene while attending Temple. They met at the Adelphi Ballroom in West Philadelphia, and the rest is history. These high aspirations reflect the ambition of Klein, the region's leading provider of media employees. You too can make your dreams come true at one of the country's largest, most comprehensive communication schools.
Song recs: "Rich Girl," "Maneater," "You Make My Dreams (Come True)," "Private Eyes," "Kiss on My List"
John Coltrane—Boyer College of Music and Dance
Jazz up your playlist with acclaimed saxophonist, bandleader and composer John Coltrane. As a pioneer of jazz music, his imprint is timeless. Even after his death, he has continued winning various awards, such as a special Pulitzer Prize, and was canonized by the African Orthodox Church. The genre is an instrumental part of Boyer College of Music and Dance, which includes a Department of Jazz Studies, in addition to other programs and world-class choreographers, conductors, composers and all kinds of performers. Feel free to toot your own horn as a musician in this exceptional school.
Song recs: "My Favorite Things, Pt. 1," "My One and Only Love," "A Love Supreme, Pt. 1," "In a Sentimental Mood," "My Little Brown Book"
The Wonder Years—College of Public Health
A central theme of pop-punk band The Wonder Years, from neighboring Lansdale, is mental health. Since the mid-2000s, they've written and sung about the anxiety and depression one can feel while growing up. The College of Public Health is committed to solving pressing public health issues like these and promoting wellness by developing the next generation of practitioners, clinicians and researchers. In addition to chronicling their mental health struggles, The Wonder Years often reference Philly, such as Logan Circle, Melrose Diner and 2018 Super Bowl hero Nick Foles.
Song recs: "Came Out Swinging," "Local Man Ruins Everything," "Brakeless," "Summers in PA," "The Paris of Nowhere"
Eve—College of Science and Technology
Breaking into the rap game as a female isn't easy, but Eve makes it look effortless. She found success early in her music career when her debut album hit number one on the Billboard 200. She became just the third female rapper to reach this milestone. Similar to women in hip-hop, women in STEM are often underrepresented and hustle hard to accomplish their goals. The College of Science and Technology's skilled professionals and students work toward discovery and innovation in an environment that's also challenging yet rewarding.
Song recs: "Let Me Blow Ya Mind," "Who's That Girl?," "Philly, Philly," "Eve-olution," "Give It To You"
Meek Mill—School of Social Work
In addition to spitting rhymes, Philadelphia rapper Meek Mill fights social and economic injustices. He was the executive producer of the documentary series Free Meek, which shows his battle with the criminal justice system. He also co-founded REFORM Alliance, a nonprofit dedicated to changing parole, probation and sentencing through legislation and lobbying. Meek has donated to support the Flint, Michigan, water crisis as well. His commitment to social welfare aligns with the School of Social Work's mission to advance the quality of life for all by resolving systemic issues and addressing constituents' needs.
Song recs: "R.I.C.O," "Dreams and Nightmares," "Trauma," "All Eyes on You," "Young Black America"
Will Smith—School of Sport, Tourism and Hospitality Management
In West Philadelphia born and raised, Will Smith became a key player in Hollywood thanks to his illustrious music and acting career. His international success and charm match the spirit of the School of Sport, Tourism and Hospitality Management, which opens students up to a world of opportunity in these exciting, expanding fields. You and Will are no stranger to big-name, big-money industries.
Song recs: "Summertime," "Gettin' Jiggy Wit It," "Miami," "Parents Just Don't Understand," "Men in Black"
Patti LaBelle—School of Theater, Film and Media Arts
The "Godmother of Soul," Patti LaBelle was a star from the beginning, leading the girl group Patti LaBelle and the Bluebelles before going solo. In her seven-decade career, she has sold more than 50 million records globally and has won numerous awards and been inducted into halls and walks of fame. She has also achieved success acting and hosting her lifestyle TV show Living It Up with Patti LaBelle as well as competing on Dancing with the Stars and launching her own brand of cookbooks and food. Her production and performance endeavors capture the essence of the School of Theater, Film and Media Arts, which cultivates students' creative talents in filmmaking, directing, acting, set design, theater production and other related crafts.
Song recs: "Lady Marmalade," "New Attitude," "On My Own," "You Are My Friend," "Stir it Up"
Jim Croce—University College
Like University College's adult learners who juggle multiple responsibilities while pursuing their education, folk and rock singer-songwriter Jim Croce worked various odd jobs to support himself while writing and recording music and performing concerts. His hard work ultimately paid off when he released a few singles that hit the charts. Both Jim and our University College students have understood how to adapt to reach their goals.
Song recs: "Time in a Bottle," "Bad, Bad Leroy Brown," "Operator (That's Not the Way It Feels)," "I'll Have to Say I Love You in a Song," "You Don't Mess Around with Jim"
Check out our playlist here.