Questlove headlines the 2022 Lew Klein Alumni in the Media Awards
The Grammy and Oscar winner joined seven alumni being honored for their professional accomplishments.
At Mitten Hall on Oct. 23, Ahmir "Questlove" Thompson explained to gathered guests that Temple played a key role in his journey, starting in sixth grade when he plotted to get his hands on his older brother's cherry red corduroy Temple jacket, and eventually succeeded.

The musician, record producer and filmmaker was there to accept the 2022 Excellence in the Media Award at the 20th Annual Lew Klein Alumni in the Media Awards ceremony. 

Prior to attending the awards ceremony, Questlove participated in a student conversation with students from across the university. Lew Klein College of Media and Communication Dean David Boardman got the conversation started by introducing Questlove and asking a few questions before turning it over to the students. Questlove encouraged the students to step outside their comfort zones and pursue their passions, and told them: "Your talent is much greater than the voices you might hear in your head."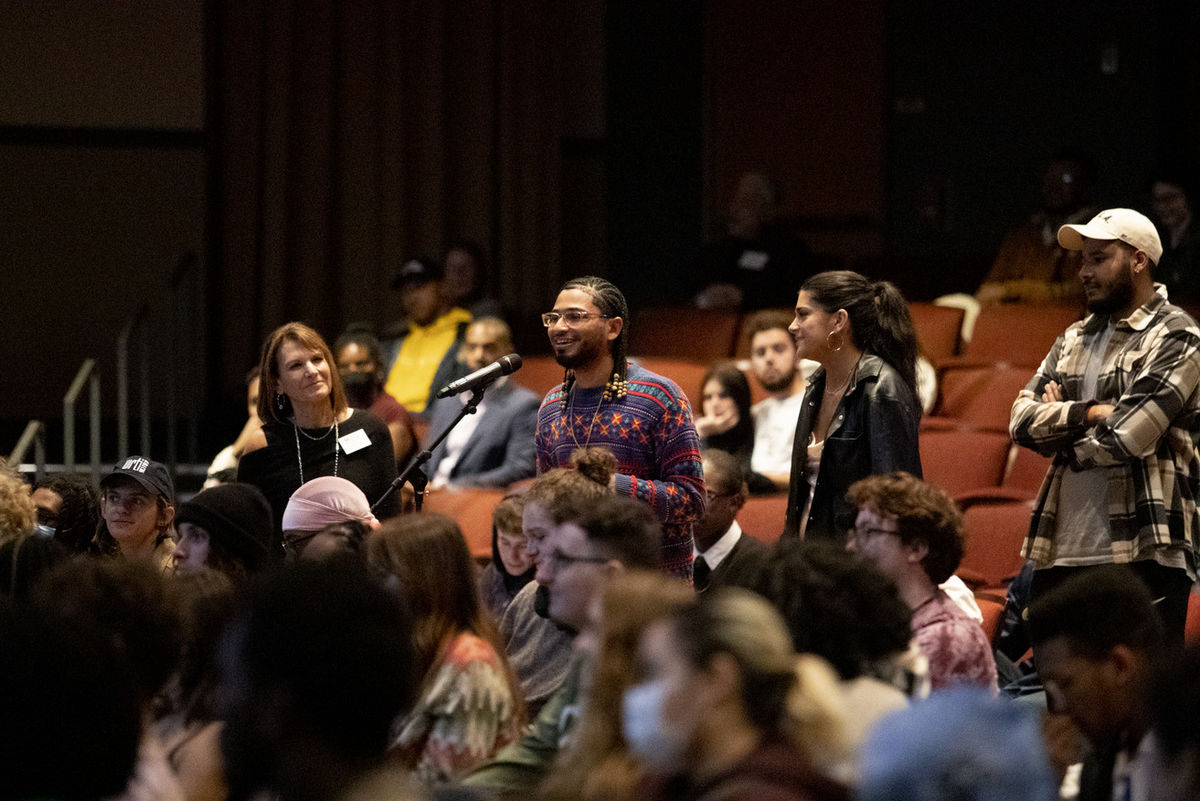 Each year, in addition to recognizing the professional accomplishments of prestigious alumni, Klein College honors one luminary from the media world whose achievements and career serve as a special inspiration for students. Previous winners have included comedian Tina Fey, sports icon Charles Barkley, CNN anchor Anderson Cooper and New York Times executive editor Dean Baquet.

This year's honorees were
Howard Bryant, KLN '91, author, sportswriter and commentator, Meadowlark Media and ESPN.com;
Chris Carl, KLN '92, director of news and programming, WDEL Radio in Wilmington;
Danielle Cohn, KLN '95, former vice president of startup engagement, head of LIFT Labs, Comcast NBCUniversal;
Nora Gerard, KLN '74, retired director, CBS Sunday Morning;
Pete Jones, KLN '92, executive creative director, brand consultant; and
Eugene Kane, KLN '81, columnist, Milwaukee Journal Sentinel (posthumous).
This 2022 Rising Star Award went to Ray Boyd, KLN '13, director of syndication and social media at The Philadelphia Inquirer.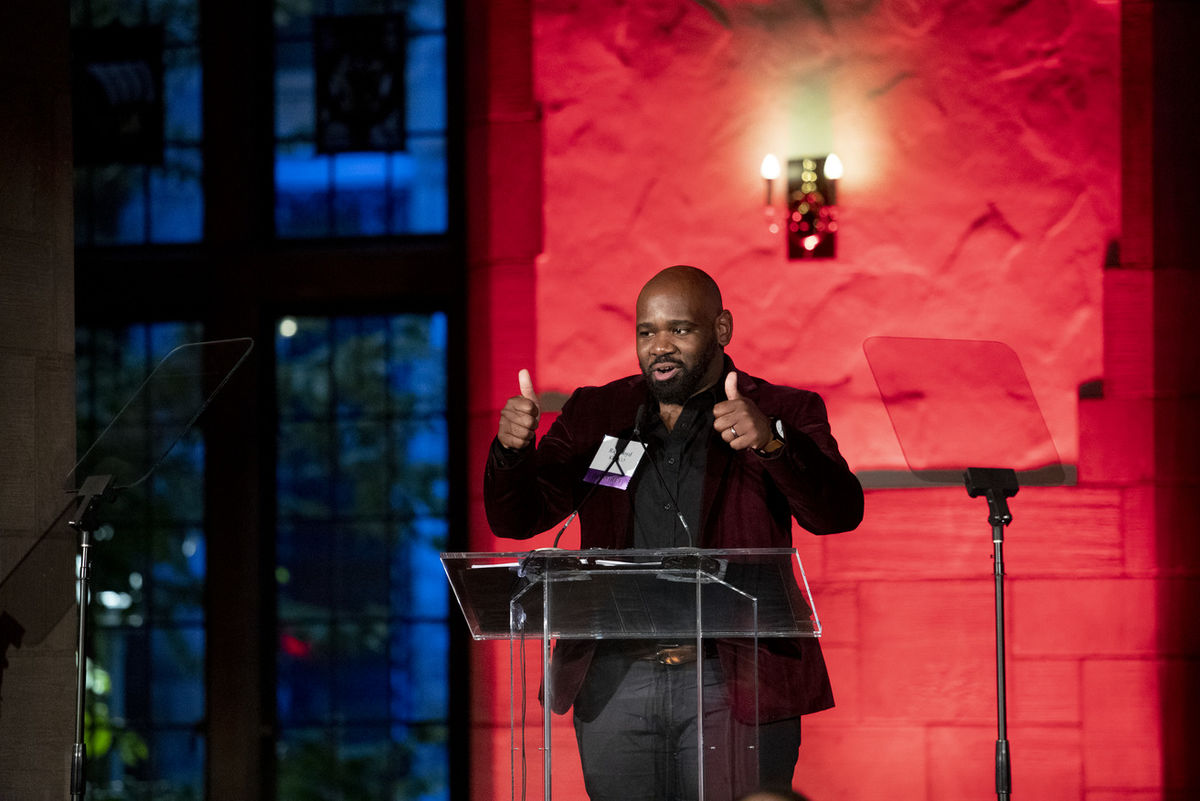 Amy Caples, KLN '85, assistant professor of media studies and production at Temple and a former anchor and reporter at CBS3/KYW Newsradio, served as the evening's emcee and introduced Questlove as someone with many commas: "Filmmaker, comma, actor, comma musician, comma, producer, comma, DJ, Grammy and Oscar winner, comma…"

In his remarks, Questlove described filming his first music video on campus, and he spoke fondly about his late, longtime manager Richard Nichols, whose free-form, late-night, avant-garde jazz show on WRTI Thompson had listened to as a youth.  
"Who knew this crazy DJ would be the mastermind who turned weekend busking for four high school friends into a 30-year and counting institution to be reckoned with," he said.  

After learning his band was being sent to tour in London, he recalled taking a trip to Temple: "It made me feel I had a home base even though I wasn't a student."

In closing, Questlove told the crowd: "My life has been a journey, taking one foot in front of the other. Thank you very much. I'm a proud Philadelphian."


My life has been a journey, taking one foot in front of the other. Thank you very much. I'm a proud Philadelphian.
-- Ahmir "Questlove" Thompson
The annual awards event raises funds for the Lew Klein Scholarship fund, which supports students in the Lew Klein College of Media and Communication who are in financial need. This year's event raised more than $135,000.
On its 20th anniversary, the ceremony was marked by an outpouring of affection for beloved mentor and award namesake Lew Klein. His wife Janet Klein, a major community leader, philanthropist, and supporter of Temple and the Klein College, was in the audience.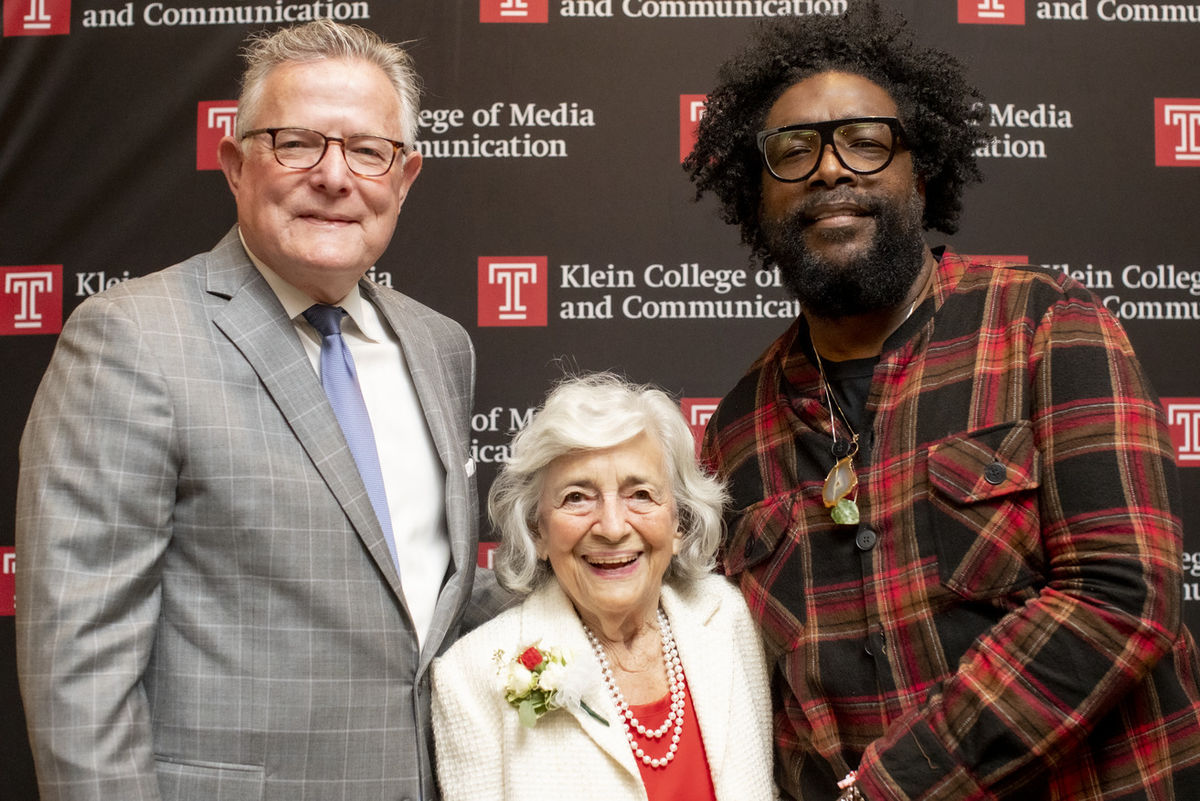 ​"On this occasion, we remember, honor and thank the man for whom the award is named—the incomparable Lew Klein—who came up with this idea," said Boardman. "As many of you know, Lew was a giant in the industry and he taught part-time for 67 years just to help young people achieve their dreams as he had achieved his."
- Kim Fischer