Intern adventures: An inside look at one Owl's experience working at 6abc
Graduating senior Steven Escobar is getting hands-on experience in his dream industry—broadcast news! Get the inside scoop about his cool internship at a local TV news station.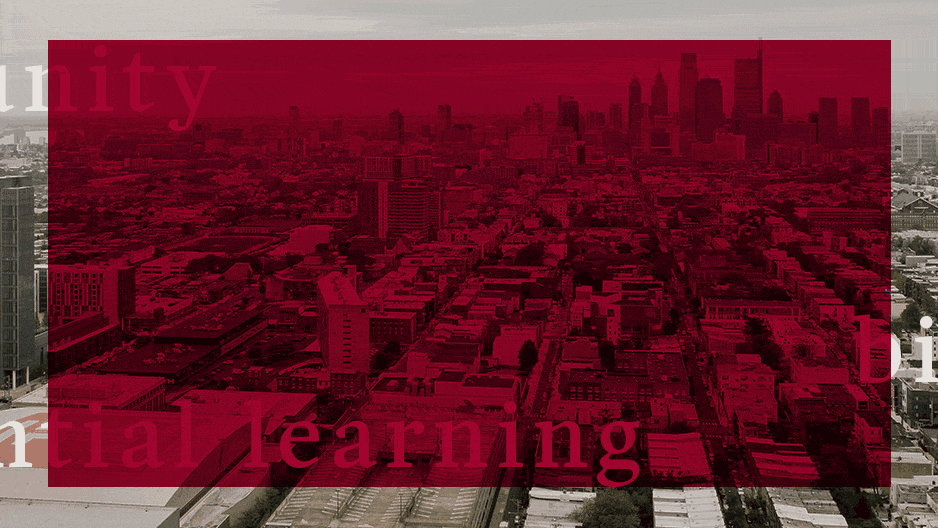 Breaking news! Temple Owl Steven Escobar, Class of 2023, has been hard at work this semester interning for 6abc's technology department before he graduates at the end of the semester. 
A senior media production major in Klein College of Media and Communications who hails from Wilmington Delaware, Steven has had a passion for television since high school. Now his 6abc internship has allowed him real-world, hands-on experience in the industry he has dreamed of working in. It's also a two-in-one experience because Steven gets to work for the department's engineering team as well as its IT team at 6abc. From sound checks and package editing to control room reviews and radio equipment monitoring, he has had a chance to experience and better understand the industry he's been studying for the last four years. 
Now we'll hand it over to Steven to give us the behind-the-scenes look at his internship with 6abc.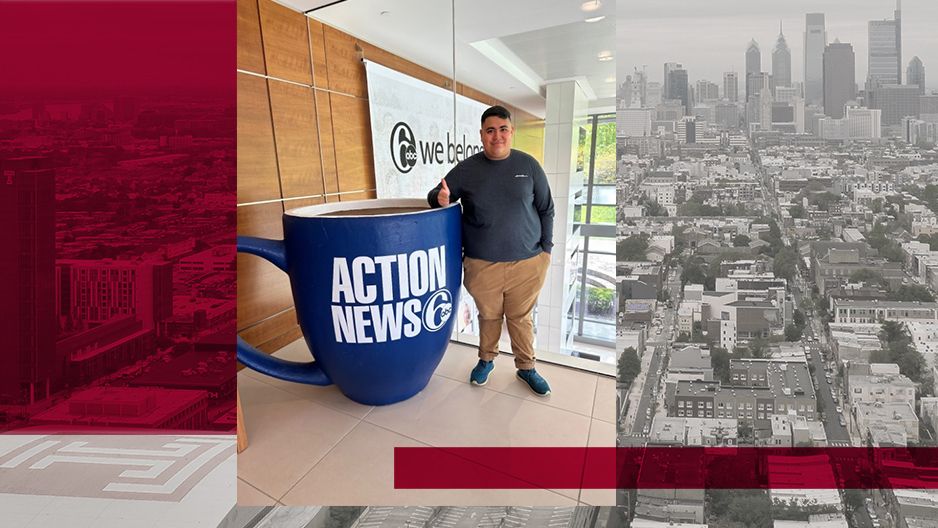 Hey everyone, I'm excited to show you what my 6abc internship has been like this semester. I intern Monday through Thursday, working "dayside" on Monday and Wednesday, then "nightside" on Tuesday and Thursday. Working on this schedule allows me to better see and experience the entire operation of a 24/7 TV station. Because I have classes in the early afternoon, I am able to work throughout the rest of the day. Commuting to my internship is a breeze. The studio is on City Avenue, and the drive from my apartment takes no more than 20–25 minutes.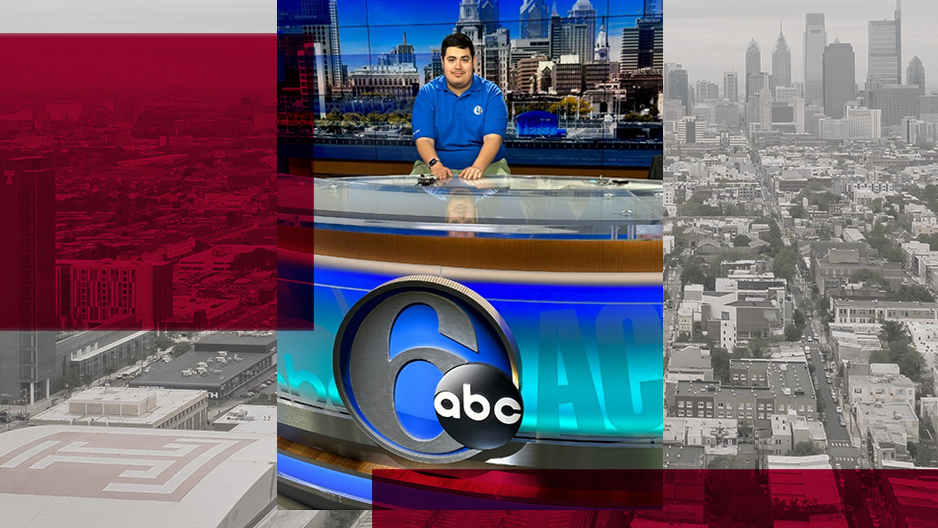 Coming to you live from Philadelphia! I'm sitting here at the anchor desk in the WPVI studios, testing the audio. This task is not something I do every day, but on this day a coworker was called to replace a microphone used by the on-air talent. In order to test it out, he asked me to put on the microphone and talk so he could make sure everything was working properly.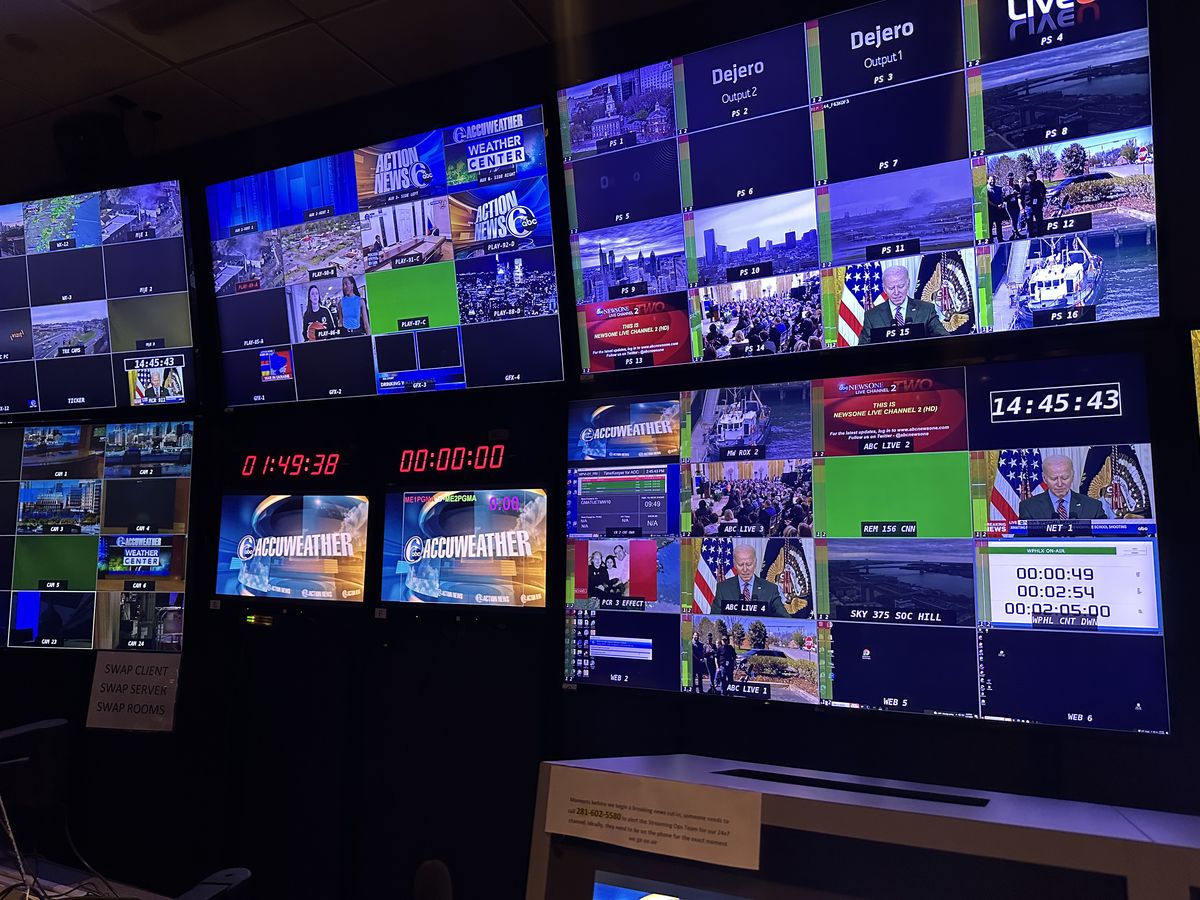 Pictured here is one of the two control rooms at 6abc. The control room is vital to everyone on the 6abc team, so we monitor feeds in the control room all day every day. This is where Action News and public service programming come to life! Typically, a director and producer work in here to direct the show, as well as communicate with in-studio crew and talent. The control room is also where our first line of troubleshooting begins when over-the-air issues occur. During my internship, I have occasionally run computers in the control room that work our in-house data network.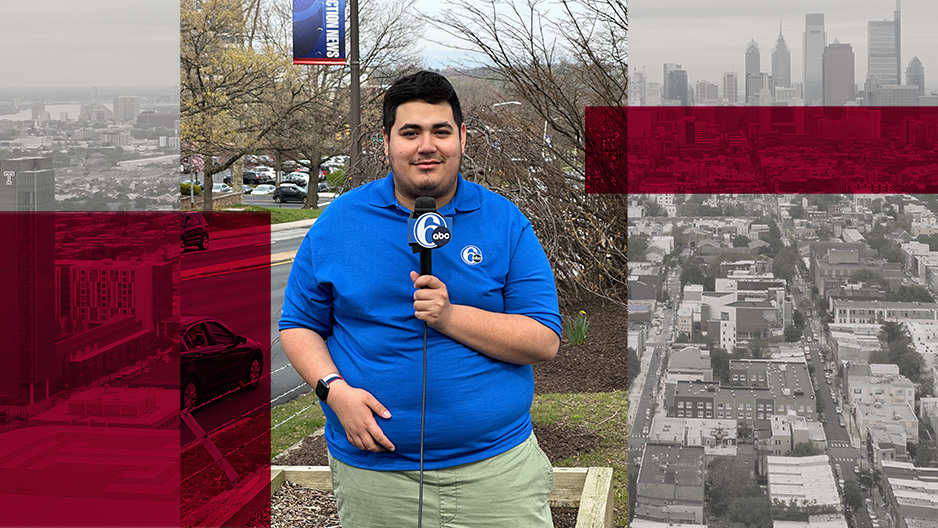 In this photo, I am outside of City Avenue as a "standing in" to check the lighting because it was almost evening and growing dark outside. In order to fix this issue, my team and I stepped in to provide a new light in this area so the shot would still be crisp and clear when the 6abc weather team took over. Part of my responsibilities during this internship is to replace studio fixtures like this as needed.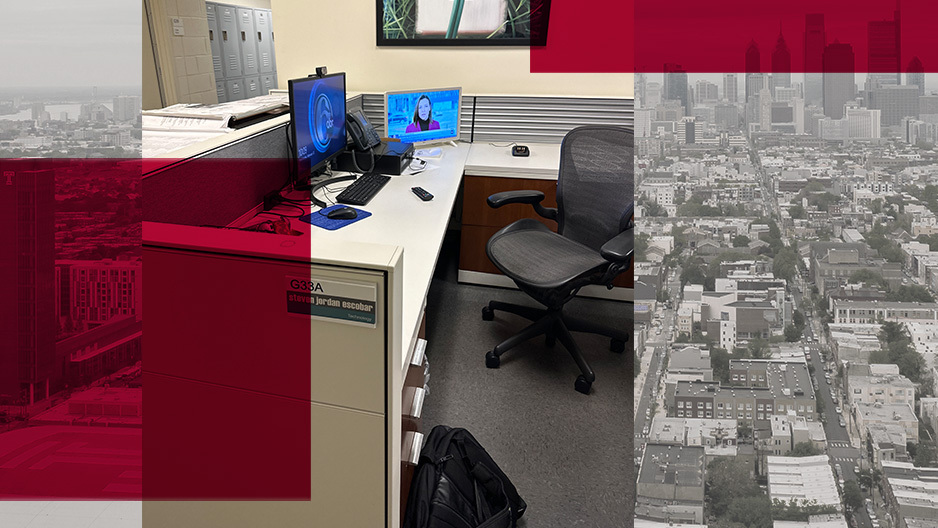 As you can see by the name tag, here is my desk at WPVI! This is a space where I check communications with the team and complete general tasks. Most of my work is done beyond my desk space, as I am usually working more hands-on.
Taking a selfie in the server room. The server room is the powerhouse of the entire 6abc operation, housing the computer network, master control and other technologies. The server room also houses some of the on-air equipment and contains technology such as feed monitoring for the transmitter and cable systems. 
I got to visit Chopper 6! On this day, I had to go out to replace radio equipment on the helicopter. We put in a new receiver, which the people inside the helicopter use to communicate with the news producer back at the station. This equipment allows the producer and director to dictate where the helicopter captures footage, of what and when to zoom in.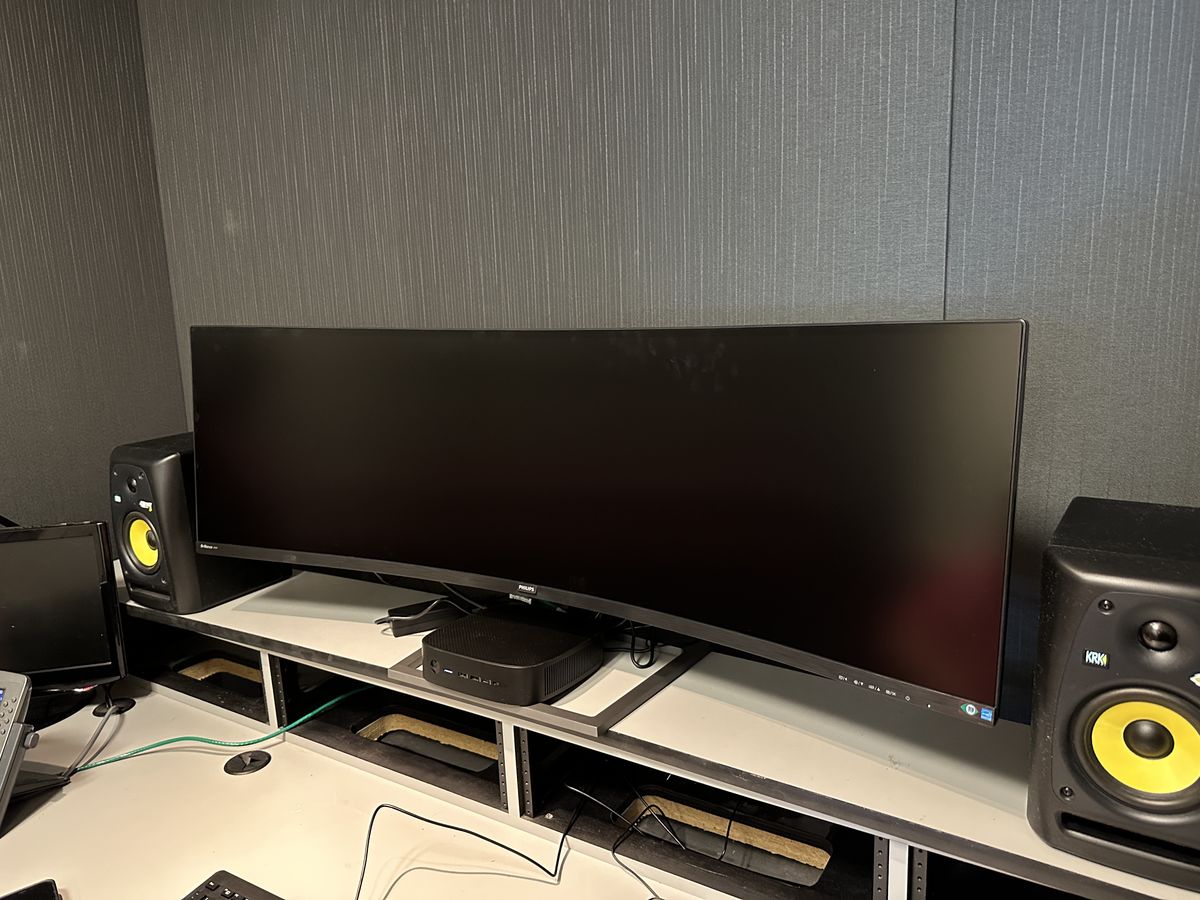 Finally, here is a photo of the edit room, also known as the edit bay. This space is not one I regularly work in, but I have been called in a few times to swap out the computers as a part of a shift to newer technologies. The edit bays are used by those in the programming department for creative projects such as promos, which are promotional ads. Shows such as FYI Philly are also partially edited in the bays.
Looking for support finding an exciting internship experience like this one? Temple University's Career Center helps current students and alumni explore different career paths and prepare for their dream careers.