4 things I wish I knew as a first-year college student
I'm sharing some of the things I wish I knew as a first-year student so you can hit the ground running as soon as you land on campus.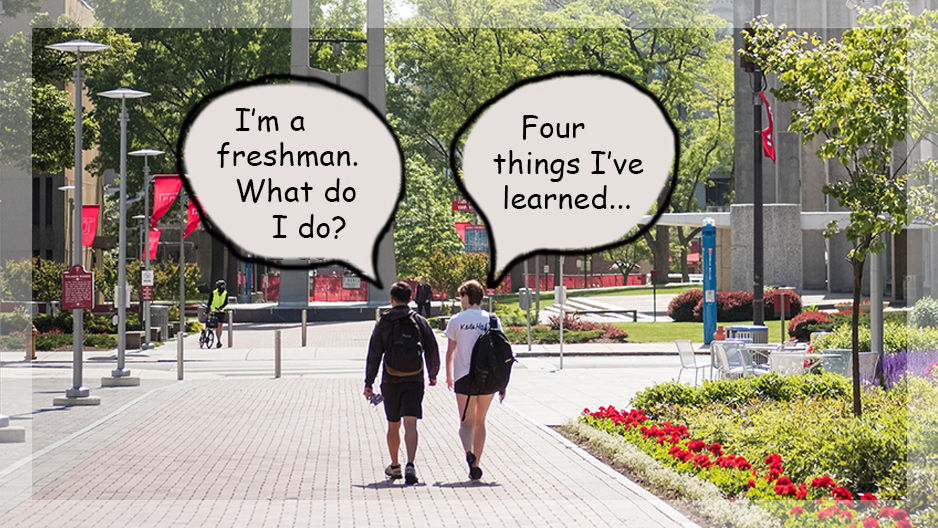 Gearing up for your first year? Get ready for plenty of changes, fun and, above all, self-discovery.  Your first year is a time of evolution and exploration. When you start your first year of college, you are beginning with a fresh slate and that provides you with the freedom to determine your own path. 
When diving into this new phase in your life, you won't know everything straight away. With that in mind, here are four things I wish I knew as a first-year student. 
Nothing is set in stone
During my first year, I quickly realized that marketing, my chosen major, was not something I enjoyed. Coming into freshman year, I was convinced  that marketing would be a perfect major for me. But soon after my first semester began, I was faced with  a slew of economics and statistics courses and quickly realized that this career was not for me. I craved creative courses, not the barrage of analytical ones that seemed to endlessly fill my calendar. When I realized I needed to change my major, I was wracked with worry about the repercussions of throwing away the roadmap I had carefully crafted. 
Takeaway: Have patience with yourself and anticipate adjustments. Ultimately, I ended up looking into alternate avenues and discovered that advertising more accurately aligned with my strengths and passions. When you realize you need to change course from a meticulously laid out plan, keep in mind that realization is  a positive thing. When new avenues present themselves, dive in fearlessly. In the process, you will discover who you are. 
Quality over quantity
Your first semester of college may leave you dizzy because the opportunities to get involved in organizations and clubs will seem endless. Following Orientation week, I signed up for as many activities as possible, thinking I would have time for it all. From baking club and badminton to Fashion & Business club, I had myself booked day in and day out. Once reality hit and my course load picked up, I realized I had to severely downsize the number of activities I was involved in. 
Initially, I was disappointed that I couldn't juggle everything, but I learned to reflect on where I truly wanted to dedicate my time and pursued it with full force. This meant focusing all my attention on the Temple American Marketing Association, a student professional organization that met multiple times a week. Being able to participate in these meetings regularly allowed me to get the most out of what it had to offer, meeting new people, and building relationships that were more valuable than a long list of club affiliations.
Takeaway: Your first year is a transitional period, and fortunately, you have three other years to continue getting involved on campus. Signing up is the easy part, but showing up is where it counts. So be thoughtful about where you want to spend your time.
Don't be afraid to ask for help
While the newfound freedom in college is certainly exciting, the transition to being on your own can also be (understandably) challenging. During my freshman seminar, a required first year course where you learn about Temple's resources, juggling time management, and how to navigate the first year experience, I was hesitant to reach out for help and stayed silent when given the chance to ask questions. So I struggled through the process of scheduling my courses on my own and got lost in the process. This ended up setting me back and creating unnecessary stress. Temple's resources are abundant, and taking the time to ask for help will allow you to navigate your first year with full confidence. 
Takeaway: For one, ask questions. Understanding credits, your academic standing and discussing future plans are a few areas where an advisor comes in handy. Also, it's important to remember that struggling during a life transition is completely normal and seeking help when you feel you need it is important. In the end, you aren't expected to know it all and that's what Temple's resources are here for. 

 
Put yourself first
College comes with free time, a self-made schedule and your own personal autonomy to get things done. When entering my first year I took on an 18 credit schedule solely comprised of in-person classes. While others around me had similar schedules, I found it counterproductive for my own lifestyle. I was in class all day, every weekday, alongside my extracurriculars. It was nearly evening by the time I finished class for the day and then would have a mountain of coursework that would take up the rest of my time before I went to bed.
Feeling overwhelmed and overworked, I knew I needed to stop and reflect on what kind of schedule would better suit my needs rather than blindly adopting the schedule of those around me. When planning my schedule in the following semesters, I chose to lessen my course load to 15 credit semesters, and incorporated asynchronous course options to gain more flexibility. 
Takeaway: Take the time to reflect on what works best for you in all areas of your life. Although it is easy to fall in with the patterns and habits of those around you, focus on what will push your personal success in the right direction. 
For some, this means scheduling a day off during the week; for others, the busier the better. Either way, I wish I would have been more forgiving and focused on my own needs. You can push yourself, but also be responsive to what suits your productivity and mental health above all. 
Your first year is an individual experience for each and every person. I hope these lessons act as a guide and put your mind at ease when taking on your first year. Best of luck and welcome to the nest, Owls! 
- Avery Bumsted, Class of 2025