<p>President Neil D. Theobald<span style="color: rgb(51, 51, 51); font-family: 'Droid Sans', Arial, Helvetica, 'Nimbus Sans L', sans-serif; font-size: 14px; line-height: 19.9999809265137px;">'</span>s academic career has been the perfect preparation for his role at Temple. (Being a top-notch grillmaster doesn<span style="color: rgb(51, 51, 51); font-family: 'Droid Sans', Arial, Helvetica, 'Nimbus Sans L', sans-serif; font-size: 14px; line-height: 19.9999809265137px;">'</span>t hurt, either.)</p>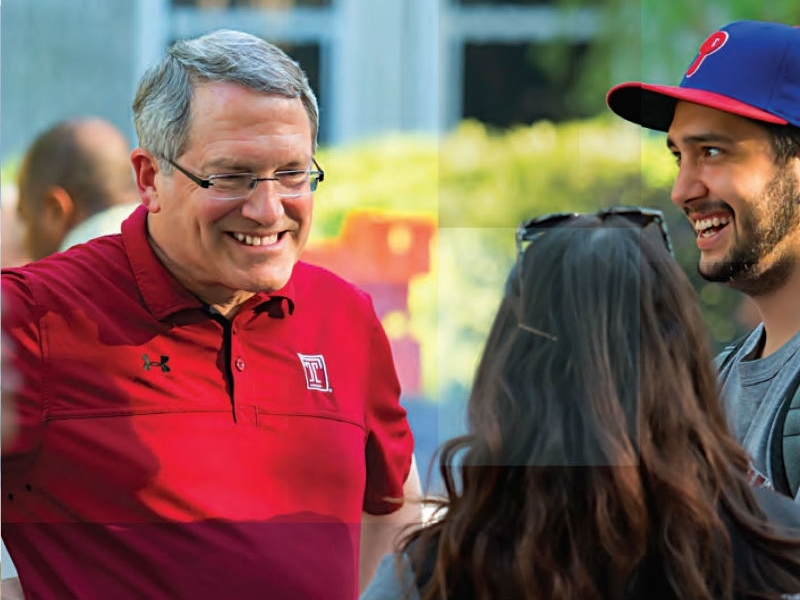 Story by Hillel J. Hoffmann
Photography by Betsy Manning, SMC '87, CLA '08
Neil D. Theobald took the phone call in his room on the third floor of the Conwell Inn on a warm afternoon last August. Patrick O'Connor, chair of Temple University's Board of Trustees, was on the line. The members of the board had made their decision. And just like that, after months of interviews, the search for Temple's 10th president was over.
What is the first thing that comes to a person's mind when he has accepted a job at the pinnacle of his profession? How to break the news to his staff at his soon‐to‐be‐former employer? Find a new home in a new city? As soon as he hung up the phone, only footsteps from Sullivan Hall and the office of the president of the nation's 28th largest university, Theobald's thoughts turned to his parents.
"I was the first person in my family to go to college," Theobald says. "My parents never dreamed that their youngest son would be a university president."
It is hard to imagine a more improbable launching pad for a career in higher education than Theobald's hometown of Peoria, Ill., in the middle of the 20th century. Peoria is an old, industrial, river‐valley town with the world headquarters of Caterpillar, an equipment manufacturer, at its economic heart.
If you grew up in Peoria in the 1960s, your father worked for that company, and perhaps your grandfather, as well. (Theobald's late father, Milo, worked in the shipping department; his mother, Agnes—who passed away one day after Theobald's new position at Temple was announced—was a bank teller.) Boys were expected to join their fathers at Caterpillar, and no one, says Theobald, went to college. But he did well in school, and thanks to a gift from a donor, Theobald earned a scholarship to Trinity College in Hartford, Conn. When confronted with the news that his son was going to college, Theobald's father, a man who had never lived more than a mile and a half from the home where he was born, was nonplussed. "Why would you do that?" he asked.
When you come from that world, you do not take the transformative power of education for granted. To the Presidential Search Committee, Theobald's background was an essential part of the rare mix of attributes—decades of experience as an innovative administrator, a world‐class researcher and an award‐winning teacher at two of the nation's largest and finest comprehensive research universities—that made him the right person to lead Temple.
"Neil Theobald understands the Temple experience because it was his experience," Chairman O'Connor says. "He understands that you never forget where you come from. He appreciates the value of education and the importance of access to it. He knows why students need to graduate in four years with less of a debt burden. He knows these things because he's lived them."
TEACHING FELLOW
After graduating from Trinity with a degree in economics in 1978, Theobald returned to Peoria to work in the Caterpillar plant, pricing engines as the youngest‐ever manager to work for the company. Yet only 18 months later, he quit on an impulse, drove to Washington state and found a job at a truck company. In Seattle, he met and married Sheona Mackenzie, who encouraged him to leave his desk job and get into teaching.
A middle‐school math teaching job led to graduate school at the University of Washington and a research position with an educational consortium. After earning a PhD in educational finance in 1988, the University of Florida offered him a faculty position. Washington replied with a counteroffer to stay—an unusual opportunity in a world where high‐profile institutions seldom hire their own doctoral graduates.
"If we want this university to fulfill its immense potential, we must do everything in our power to serve its students.
-- Neil D. Theobald, president, Temple University
At Washington, Theobald quickly developed a reputation for his research into how states should allocate money among school districts. In 1993, he accepted a tenure‐track faculty position at Indiana University (IU). There, he won three teaching‐excellence awards and directed the Indiana Education Policy Center, a research center funded by the Lilly Endowment and the Indiana General Assembly that focused on the state's complex and ambitious efforts to improve how approximately $7 billion per year was allocated in its public schools.
In 2002, the year he was promoted to full professor, the university's chancellor asked Theobald to serve as senior vice chancellor, a position responsible for Bloomingon's $1.3 billion budget and a capital campaign. Five years later, he was promoted to senior vice president and chief financial officer for all seven IU campuses, overseeing a $3.1 billion budget, human resources services for more than 17,000 employees and management of the largest student union in the world.
Theobald's path to a college presidency is not typical. According to a recent American Council of Education survey, most first‐time presidents come from the ranks of academic officers (provosts or deans, for example), while only about 7 percent come from the ranks of chief financial or business officers.
But as colleges and universities across the nation face increasing pressure to control costs, there may be no better training ground for the new fiscal realities of public higher education than being a college CFO at a university of IU's size and reputation.
Even as Theobald rose through the ranks as an administrator at IU, he kept teaching and stayed active as a researcher. To senior faculty members at Temple like Joan Poliner Shapiro, professor of educational leadership in the College of Education and the immediate past president of Temple's Faculty Senate, Theobald's experience as a scholar will be critical to his success as a president.
"His background as a professor in all three of the areas by which we're judged—teaching, research and scholarship, and service—is outstanding," says Shapiro, a Temple faculty member for 25 years. "That's one of the reasons he understands us. He has gone through our rites of passage. And I've found him to be an exceptionally good listener. It's important to have someone who really hears what faculty members are saying."
ADVOCATE‐IN‐CHIEF
A listener. If anything has defined Theobald's first half–year as president, it is his willingness to engage the Temple community in face–to–face conversations. He meets with students in residence halls and eats with them in the Johnson–Hardwick dining facility, and convenes with faculty members in Sullivan Hall. Starting this fall, he will be teaching a class on a shared vision for Temple's future to 25 freshmen. When he decided to introduce himself to the Temple community in the spring, he did not schedule an early inauguration or some other type of podium–bound event. Instead, he organized a barbecue for students in Founder's Garden—and did the grilling himself. (The formal event, on Oct. 18, is also true to style: It will be held the weekend of Homecoming and incorporates academic symposia, a public concert and pep rallys.)
"He's different than the typical college president you see portrayed in movies or in the media," says Sean Carlin, a senior in the School of Media and Communication who has covered the presidency for The Temple News for two years. "He's not someone in a tower, hiding from students. That's not his style. For a school as big as Temple, it helps to not have that distance between students and the president. Students can just come up to him and speak about anything."
Theobald sees being a good listener as more than just a handy social skill. It is an essential part of being a good leader. To be an effective advocate‐in‐chief for Temple students, Theobald says he needs access to the unfiltered truth, and the only way to get that is through conversation.
"In my years in higher education, I've seen leaders sit in cabinet meetings and say, 'Well, the students like this,' or 'The students dislike that,'" Theobald says. "I would always think, 'How do they really know?' That's why I've always taught classes. And that's why I love spending time with students here. Students are the future, and they have great ideas about what we can do differently."
After months of listening, Theobald is getting a clear picture of how students view their Temple experience. What they love is their school, their professors and their city. What frustrates them, Theobald has learned, can be boiled down to three persistent issues that bubble to the surface in nearly every one of his face‐to‐face interactions: anxiety about student debt, concern about the obstacles some students face in their quest to graduate in four years and frustrations about the higher‐ed equivalent of "customer service." In Theobald's mind, those challenges are related—and he is eager to tackle them with the same grit and determination with which he tackled professional challenges throughout his life, from the Caterpillar factory floor to Indiana's state house.
"The greatest predictor of debt is how long you take in college," Theobald explains. "Students who graduate in four years here owe $10,000 less, on average. We need to do everything we can to help students get an excellent education and get them through college in a timely manner.
"Temple is well‐positioned to be one of the great public universities in the U.S. The faculty, which is the engine of the university, is superb. The students are talented and willing to work hard. The staff is dedicated and the university has a great academic tradition. We are located in a vibrant urban setting. But if we want this university to fulfill its immense potential, we must do everything in our power to serve its students. We are going to give them a clear path to graduation, and we're going to provide support services along the way," says the man from Peoria. "That's a promise."
Hillel J. Hoffmann is assistant director of University Communications at Temple.