'The Temple News' might be the toughest gig on campus, but it has been churning out award-winning journalists for years.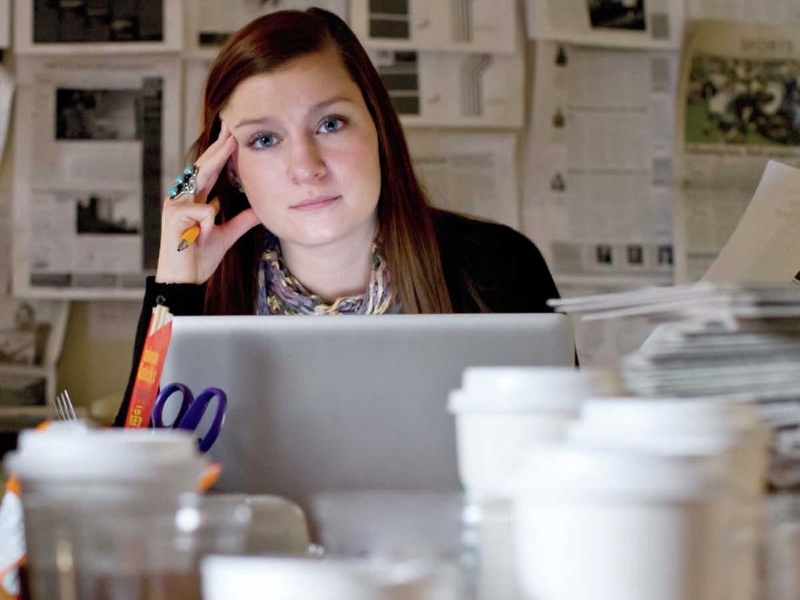 Every overextended reporter or editor who has ever worked for The Temple News (TTN)—Temple's 91-year-old, independent, student-run newspaper—has heard the same question. "Remind me," a friend or family member says. "Why are you doing this?" Sometimes, that question comes from within.
It happened to Angelo Fichera, a senior journalism major and current editor-in-chief of TTN, as he lay in bed in the middle of the night in September 2011, unable to sleep after 17 hours on the job. A day that had begun with a 7 a.m. email alert about an incident near Main Campus and two hours of interviews had ended with a marathon editing session. Fichera was panicked. Was everything correct in the section he edited? Sleep or no sleep, he knew what was waiting for him in the morning—an 8 a.m. class about public-affairs reporting.
A similar moment of doubt hit junior journalism major Sean Carlin on a Sunday night at the end of March 2012 as he looked at the logjam of due dates on his calendar. He had a full slate of midterms and papers due in the coming week, not to mention three TTN assignments: a story about a political debate, an interview with a philosophy professor and the next installment in his series on a proposed neighborhood improvement district in North Philadelphia. Piled on top of that were his responsibilities as a pizza delivery driver and a volunteer firefighter.
"At the end of that week, I had nothing left," says Carlin, now news editor. "I thought I could never do it again, but it's a never-ending cycle."
PAPER CHASE
For TTN's editors, that cycle begins each Wednesday, the day after the previous issue has hit newsstands. They meet for an hour to recap the past issue and the state of the website. During the week, each editor of the paper's four sections—news, features, opinion and sports—also conducts a meeting with his or her reporters, to assign stories for the issue after next, and to review ideas for future issues. Section editors also must make time for one-on-one meetings with reporters.
In the midst of the planning, reporters submit for editing the stories that were assigned the previous week. The design phase of production begins on the weekend, when four student designers create pages of edited text, photos, illustrations and empty text boxes—spaces for headlines, photo captions and credits, for example—for the section editors to fill in later.
"'The Temple News' has made a lot of progress in the last few years, but we have an incredible tradition to uphold."
-- John DiCarlo, SMC '98, '06, director, Student Media Program
Beginning on Sunday night and continuing into Monday, TTN's editing team begins a grueling final push. They fill in captions and headlines. They review each section, with every word read and reread carefully by copy editors, section editors, the managing editor and the editor-in-chief. At some point during Monday afternoon, editors take a break to discuss stories and review multimedia and photo requests. When all the sections are done late Monday night—usually between 10 p.m. and 1 a.m.—they create a PDF file and send it to the printer in New Jersey.
"After that," Fichera says, "we can only cross our fingers and hope the newspapers are on the stands the next day." Five thousand copies are printed and delivered by truck to Main Campus, the Health Sciences Center, Temple University Center City and Ambler Campus early Tuesday morning.
HOT TYPE
So why do it? People cannot be blamed for asking the question, and headlines about the industry's decline do not help. Newspapers are folding. Dailies are being published three times a week. Reporters are getting laid off. According to the Pew Research Center's Project for Excellence in Journalism, the newspaper industry has shrunk by 43 percent since 2000. Why put up with the long hours, the sleepless nights, the merciless weekly deadlines?
The answer, in part, is that the weekly push hurts less when the end product is a marvel. And TTN is on a roll. In recent years, it has broken big stories (including the hiring of Men's Basketball Head Coach Fran Dunphy and the source of funding for the football program's Mid-Atlantic Conference exit fees) reshaped itself to keep pace with changing media consumption habits (launching bold websites with multimedia features, from videos to photo galleries); and earned national recognition in the process. The American Collegiate Press, the nation's largest and oldest student media organization, honored the publication with a Newspaper Pacemaker Award in 2005 and Online Pacemakers in 2008 and 2009. The Temple News also won a 2009 EPPY, the most prestigious award for media-related websites, from Editor & Publisher and Mediaweek magazines. And Keystone awards from the Pennsylvania Newspaper Association have become commonplace for Temple´s student journalists: TTN has won 19 since 2010.
Awards are nice, but that is not why most of the paper's staffers are in the game. What fuels them—especially the students who have risen through the ranks from reporters to section editors and then to the top of the masthead—is the knowledge that their real-world publishing experience will help them land good jobs.
For proof, they need only to look at the bylines in the back issues archived in TTN's newsroom in the Howard Gittis Student Center. Each issue is filled with the names of alumni who have found jobs and gone on to become industry leaders, including: Michael Sisak, SMC '64, an editor at The New York Times for nearly three decades; the late Phil Jasner, SMC '66, Philadelphia Daily News basketball columnist; Ray Didinger, SMC '68, sportswriter and Pro Football Hall of Fame McCann Award winner; Nancy E. Krulik, SMC '83, prolific children's and young-adult fiction author; Clarence Williams III, SMC '87, a Pulitzer Prize-winning photographer and educator; Damian Holbrook, SMC '94, a senior writer at TV Guide; ESPN's Kevin Negandhi, SMC '97, the first national sports anchor of Indian descent; The Philadelphia Inquirer education reporter Kristen Graham, SMC '00, who—with Sharon Gekoski-Kimmel, CHPSW '73, and Dylan Purcell, SMC '00—won a Pulitzer in 2012; and Morgan Zalot, SMC '11, a crime reporter for the Philadelphia Daily News who, within one year of graduation, was named one of the city's top newspaper journalists by a Philadelphia magazine blog.
"The Temple News has made a lot of progress in the last few years, but we have an incredible tradition to uphold," says Temple Student Media Program Director John DiCarlo, SMC '98, '06, a former TTN staffer who returned to Temple in 2001 to advise the students who produce TTN, WHiP radio and the yearbook. "I always tell the students we owe so much to our predecessors."
TO THE NEWSROOM
DiCarlo says that though new media have emerged, one aspect of working for a student newspaper has proved to be immutable: the grind. Balancing the round-the-clock responsibilities of being an editor with the demands of coursework, media internships and jobs makes working for TTN arguably the toughest co-curricular activity on campus. The paper's reporters and editors are covering the same stories as their Inquirer and Daily News counterparts. Students who adapt and flourish are prepared to do the same as professionals.
As a student, the Inquirer's Kristen Graham did not think her balancing act was a big deal. Yes, she had to maintain her grades to keep her scholarship while holding down as many as three jobs in addition to her gigs as reporter and editor. But at Temple, where many of her fellow students were working their way through school, it didn't seem unusual. Graham used that TTN-tested toughness when she and her colleagues at the Inquirer pushed to complete "Assault on Learning," their Pulitzer Prize-winning series on school violence.
"Toward the end of the series, we were working 14-hour days," she says. "We talked to more than 500 teachers. We knocked on doors. [The series] was thousands and thousands of words. We triple-checked everything. We must have rewritten the lead of the first-day stories 150 times. It felt like college again. It was brutal, but it felt good to know I had these reserves of strength."
Will print-media jobs like Graham's still be around when today's TTN underclassmen graduate? Newspaper circulation has dropped nationwide and publishers are struggling to find sustainable business models, yet something about the printed page has kept newspapers relevant for some readers and advertisers. "People like a tangible print product," says Andrew Mendelson, chair of the Department of Journalism in the School of Media and Communication. "It feels good to pick up, and it feels good to see your name, your photo or your advertisement in print. There's a permanence to it." Even so, the department's mandatory Multimedia Urban Reporting Laboratory capstone class and its many multimedia, social media and other new-media course offerings are preparing students for a market evolving at a feverish, unrelenting pace.
No matter what the future holds for the newspaper industry, SportsCenter anchor Kevin Negandhi believes working for TTN gives students confidence and skills that are applicable in any profession. Regardless of the medium, the ability to tell a story under pressure never goes out of style.
"Being able to bang out a story or a column after a night game when I had two tests the next day helped me with the rest of my schoolwork," says Negandhi, who served as TTN's sports editor. "You learn how to back up your arguments and manage your time."
"I did it [on the SportsCenter set] today,"  he continues. "A story broke. During a commercial break, I had to read the story and find a way to express it effectively in 25 seconds—and make sure we got it right. Those are basic fundamentals I learned as a Temple student that I will carry with me for the rest of my life."
Hillel J. Hoffmann is assistant director of University Communications at Temple.