A Temple program bridges the digital divide for Philadelphia high school students.
Photography By:
Ryan S. Brandenberg, CLA '14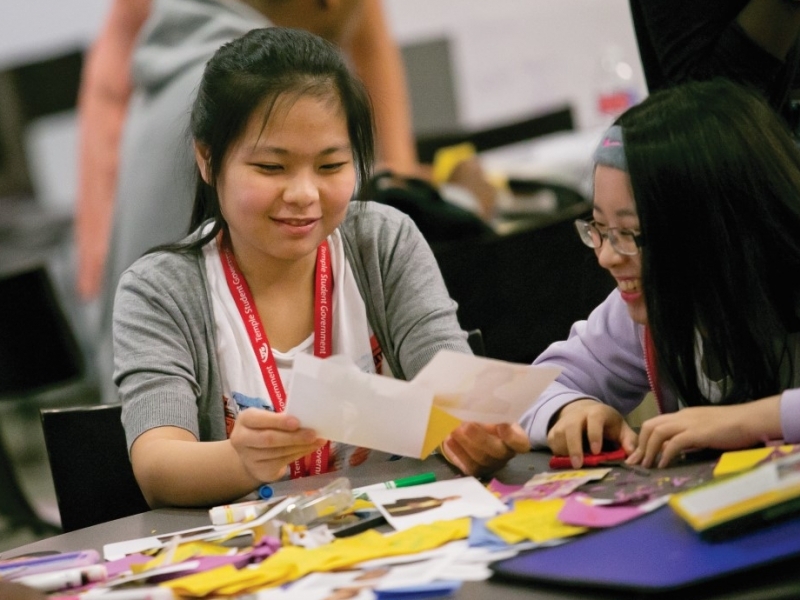 Nicodemus Madehdou, a senior at Philadelphia's New Foundations Charter high school, pulls out his phone, presses an icon of a brain and opens an app called ME.mory. The app, which is still in development, is being created by a team of young designers led by Madehdou for Thomas Dixon, EDU '14. He demonstrates how users like Dixon, who has a memory disability, can record the events of their lives and how the app will serve as a digital memory for people who want to track their experiences.
Madehdou's own memories include an early childhood in Ghana, where he would stare at the sky when a plane passed overhead and wonder if his father were on it—the last time he saw him was when his dad got on a plane headed to the United States.
Madehdou doesn't remember his own trip to the U.S. when he was 8 years old; he slept as he and his mother traveled to join his father in Philadelphia. He has memories of racism and bullying after he arrived and of making friends in elementary school by playing online computer games.
"It helped me acclimate," he says. "I mentioned a game at school, kids started playing, I was playing, we became friends."
Soon Madehdou's interest in gaming grew beyond simply playing, and he looked for online communities of people who create them, eventually becoming a moderator of a game makers forum. He remembers the day in 2012 when Professor of Management Information Systems Youngjin Yoo visited a web slam in which the young gamer was participating. Yoo talked about a Temple University program called Urban Apps + Maps Studios, which teaches urban high school students how to code. Madehdou applied and was accepted. Since then, he's spent his summers—the past three—and three days per week during the school year on Main Campus.
"I've learned language and programming," Madehdou says, "but I found my calling managing others to make games and apps. I'm really good at keeping people on task, knowing what's happening everywhere, setting up meetings and knowing what files we need to make." He put those skills to use to found Jumpbutton Studios, the company that's developing the ME.mory app for Dixon.
The 8-year-old Ghanaian boy who stepped off a plane in Philadelphia didn't know what a computer was. The 18-year-old who uses a slender finger to navigate the app on his phone is CEO of a fledgling company that develops games, apps and educational videos. "I didn't know Urban Apps + Maps would be this involved in my future," he says, "and how I ended up getting to where I am."
URBAN DEVELOPMENT
Urban Apps + Maps Studios evolved from a program at Temple called BITS, which was established in 2004 by Michele Masucci, then a professor of geography and urban studies at Temple and now the university's vice president for research administration. BITS gives urban minority high school students opportunities to learn about technology by hiring them to work over the summer. When Yoo came to Temple in 2006, he envisioned creating a physical space where Temple students working in different disciplines could come together to design apps. Urban Apps + Maps is the fusion of Masucci's idea with his—an interdisciplinary program focused on reducing the digital divide for urban high school students by having Temple students and faculty teach them technical skills and new ways of thinking.
"Urban Apps + Maps Studios represents Temple's authentic response to the problems in our community," Yoo says. "It's not something that happened because it sounds like a good opportunity or because it's popular now. It's who we are at Temple University; it's what we believe in. And because we are a large urban public university, we are able to address urban issues in a serious way."
The heart of Urban Apps + Maps is a sixweek summer program. One hundred fifty students from public high schools across Philadelphia come to Main Campus to participate in paid internships, funded through the Philadelphia Youth Network and the Knight Foundation. Temple faculty members from nine departments and programs create curricula for the students. Thirty-five Temple students implement the curricula through hands-on projects.
"I want this to be my career, forever."
-- JEFF COOK, SENIOR AT GEORGE WASHINGTON CARVER ENGINEERING AND SCIENCE HIGH SCHOOL
The high school students are divided into groups that work on different projects depending on which university department they're associated with. Across disciplines, students learn coding and design; with faculty they identify a community-based problem and develop a technological solution for it.
"It's very empowering for students when you ask them to identify problems in their communities," says Assistant Professor of Management Information Systems James Moustafellos. "And when they start proposing ideas of what would change things, they are thinking like entrepreneurs; they realize they can be change-makers."
Students working with Li Bai, chair and professor in the Department of Electrical and Computer Engineering, developed a smart greenhouse that could be used in community gardens to monitor soil and notify residents when the garden needs attention. Other groups have designed headphones that match workout music to the user's heartbeat, proposed ideas for the city's vacant lots and worked with Temple University Hospital to map patients' experiences there. In his three summers in the program, Madehdou has worked on an app called Gotcha! that would allow local shopkeepers to report petty crime, a community book-sharing website and an app that would serve as a guide to the food trucks on Temple's campus.
"It's helped me learn how to identify what's possible and impossible so you can go with what's possible," he explains.
At the end of each summer, 20 interns are selected to continue working on projects over the school year. "The thought," Yoo says, "is that ideas will come out of the summer 
program, students will continue to work on them during the school year and they'll form a startup."
While this plan has not been fully realized, several projects have come close: the greenhouse, which was ultimately shelved because a similar product came on the market, and the app Gotcha!, which has evolved from a crime-reporting app to a peer-to-peer social network that includes events and is now in prototype.
"At this point we have to say, 'You're on your own,'" Yoo says. "The students working on Gotcha! need to decide if they want to own it, and if so, they need to take charge and move forward."
The students want to own it.
Jeff Cook, 17, a senior at George Washington Carver Engineering and Science High School, has worked on the Gotcha! app for the past year. "It's made me think about what I want to do with the rest of my life," he says. "I want to make lots of money off this project and other projects we develop. I want this to be my career, forever."
Between now and the rest of his life, Cook, and many of the other Apps + Maps students, wants to go to college, something that might not have felt possible before participating
in the program.
"Many of the students had never been on a college campus before," says Alec Foster, Class of 2018, a geography/urban studies graduate student who has worked at Apps + Maps for the past three years. "They've never been in a college classroom or interacted with faculty. Being here makes them feel like they belong here."
Madehdou plans to apply to Temple for fall 2016. "The connections I have here through Apps + Maps mean I won't be a stranger when I come."
STUDENT TEACHERS
An innovation by Apps + Maps that began in 2014 connects high school students with businesses. "Many people have the attitude that we have something students can get from us. But we can learn a whole lot from them, too," Yoo says. "Urban youth hold the golden key to next-generation product ideas. They are experts on urban opportunities and challenges,
and when they are mixed with the university, it produces a powerful platform."
Thus far, students have worked on projects for the Pennsylvania Ballet, Samsung and Comcast.
"The ballet is delivering a 19th-century product to 21st-century consumers, and there's a big disconnect," says Moustafellos, who leads the Pennsylvania Ballet project. "If you take an urban youth market and have them look at a product they are most likely unfamiliar with, they can help figure out how two groups can connect. Businesses and institutions talk about connecting with today's world; these students are today's world."
For Comcast, Madehdou and several other students worked on an online service and mobile app called EveryBlock, which curates content at the neighborhood level. The service's user base is generally people 34 and older, and Comcast wanted to understand how it could be useful and relevant to younger people.
"The best way to do that was to let young people use it directly and provide us with their honest feedback," says Paul Wright, director of local media development at Comcast. "We wanted to get out of the way and learn from them."
The Apps + Maps students devised a game that would fuel competition among young users in different neighborhoods and pitched their idea to Comcast executives.
"The ingenuity and creativity of the students provided us with great insight," Wright says. "The students looked at the world and our product's part in it from a vantage point we had not, which was fantastic to see."
"Corporations focus on how to make money and keep a business going," Madehdou says. "With teens, our mindset is more free and open. We think a lot, we have a lot of ideas; someone in a professional field has to follow certain steps and do things in a certain way that might not allow them to think of these ideas."
As CEO of a fledgling tech company, Madehdou needs to develop innovative ideas and know how to present them to clients, and the experience was especially valuable in this regard. "We came up with a plan, fleshed it out, presented it to the Comcast executives and got feedback. It was a realworld experience making a pitch, which was meaningful to me."
Students at Apps + Maps also have access to Blackstone Launchpad, a Temple program that promotes entrepreneurship and helps people in the Temple community launch successful businesses. It is through Blackstone that Madehdou learned what he needed to do to incorporate his company, a necessary step when seeking contracts and directing apps to the Apple market. Blackstone also introduced Madehdou to Thomas Dixon, the alumnus with the memory disability.
"I had the idea for ME.mory," Dixon says, "but I'm not a programmer. I needed a developer, and Jumpbutton is hungry in a great way."
For his part, Madehdou is excited about the opportunity to develop a product that helps people, and about the opportunities his connection with Temple might create for his young company. Jumpbutton could also provide a solution to Apps + Maps' problem with seeing projects through.
"If Apps + Maps has a project with potential," Madehdou says, "it can connect students with Jumpbutton, and our team can help bring the project to life."
It would be a way to return the favor for what the program has done for him. "My path would have been much harder without Apps + Maps," he says. "I got my fullest potential here."