Temple's chapter of a national mentoring program connects college and grade-school students with learning differences.
Photography By:
Ryan S. Brandenberg, CLA '14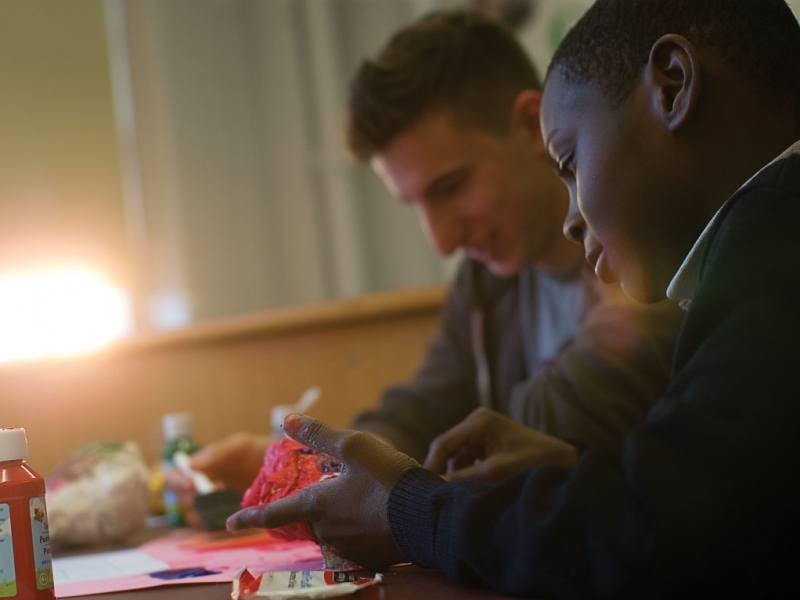 In a North Philadelphia elementary-school classroom, students race toward plastic bins teeming with art supplies. Today's project: decorating plaster casts of their hands, which one week earlier were molded when Temple University students with learning disabilities or attention deficit hyperactivity disorder (ADHD) shook hands with grade-school students with similar disabilities.
Nat Margolis, Class of 2015, a media studies and production major, served as one half of a handshake. Twelve-year-old Javon Bennett, a student at Clymer Elementary—about two miles north of Temple's Main Campus—was the other half.
Each week, student-mentors in
Temple's chapter of Eye to Eye
—a national, one-to-one mentoring program—visit Clymer and Grover Cleveland Elementary, both part of Mastery Charter Schools, to engage in art projects with the young students they mentor. But the handshake between Margolis and Bennett was not just a vehicle for creative expression; as with all Eye to Eye projects, it was also meant to spur conversation about what it means to have a learning disability or ADHD.
SHARING A PASSION
Matt Cahill, a senior studying history and secondary education at Temple, was in second grade when he first noticed he learned differently than his peers. While some of his classmates could read chapter books, he was still on basic sentences. As his friends were placed in different reading groups, Cahill felt alone and lost. It wasn't until high school that he understood that because of his processing disorders, he requires more time to digest information.
Cahill co-founded Temple's Eye to Eye chapter after serving as an Eye to Eye mentor while a high-school student at Delaware Valley Friends School in Paoli, Pennsylvania. Upon coming to Temple, he wanted to strengthen the bonds among students with learning disabilities while also working with the community.
Naomi Leibowitz, Temple's assistive technology coordinator—in Disability Resources and Services—helped Cahill and Holly Jean Mainiero, also in the Class of 2015, launch the university's Eye to Eye chapter and facilitate outreach to other Temple students who had registered as having a learning disability or ADHD.
After "a million emails to get mentors," the inaugural meeting attracted a handful of people, says Mainiero, a tourism and hospitality management student. But after additional networking, Eye to Eye at Temple started in March 2013 with about a dozen members.
"They are very dedicated and they have a passion for this," Leibowitz says of Cahill and Mainiero. "That's what makes anything successful: to have a passion and really believe in what you're doing and sharing that passion with others."
"We want to let them know the good things they can accomplish."
-- Holly Jean Mainiero, Class of 2015, co-founding student coordinator, Temple's Eye to Eye chapter
Micah Goldfus, Eye to Eye's national program director, credits that passion with the success of Temple's chapter of the program, which after a slow start now serves as a model for other chapters.
Nationally, Eye to Eye has 57 chapters at high schools and colleges across 22 states and annually serves about 2,000 mentors, mentees and volunteers. In only its second year, Temple's Eye to Eye membership has surged to 30 mentors, making it the largest chapter in the U.S. and one of only a few high-impact chapters that partner with more than one school.
"Philadelphia wasn't on the map," Goldfus says, adding that Temple's success bodes well for the region, as Eye to Eye opens chapters in geographic clusters. "If Temple is the flagship in Philadelphia, future chapters can all learn from Temple and build this movement in Philadelphia. We see our chapters as local change agents, and Temple is doing that to an exemplary level."
In addition to partnering with Mastery Charter Schools, Eye to Eye mentors participate in social events. At Share Your Story Night, Temple members openly discussed living with a learning disability or ADHD, including issues such as being bullied.
In summer 2014, four Temple students attended the Eye to Eye Organizing Institute, an annual, national conference that helps student coordinators build leadership and other skills they can use to start or strengthen their chapters.
Two Temple students have been selected and trained as Think Different diplomats, the Eye to Eye speakers bureau that gives presentations across the country. It's a rarity to have two diplomats from the same chapter: The speakers bureau selected only 13 students nationally last year.
Fifth-grader Mikailah Capehart, who has ADHD and dyslexia, developed a strong bond with Temple sophomore Danielle Snowden. "In Eye to Eye, I get to talk to somebody and tell them how I feel," Capehart says, adding that the connection with someone facing similar challenges is different than talking with family members or teachers.
"I get to hear what she goes through, and I wish that I'd had someone who could understand what I was going through, so I like talking to her," says Snowden, tears welling in her eyes as Capehart snuggles her side.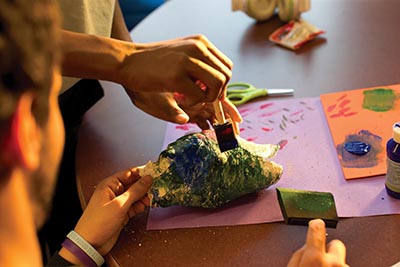 CONVERSATION STARTERS
Eye to Eye is built on one-to-one mentoring, but the organization is not a tutoring or academic remediation program. Instead, mentors share their own experiences and skills with mentees, focusing primarily on three areas: metacognition (the ability to understand and express how one learns best), self-advocacy, and proactive learning strategies and academic accommodations.
"People with learning disabilities have to understand how they think so they can figure out how to structure their routines, class experiences and learning styles to be successful," Goldfus says of metacognition. Self-advocacy encourages grade-school students to speak up for their unique needs, including academic accommodations such as requesting extra time for tests.
Eye to Eye art projects provide opportunities to better understand and discuss how each student learns best. Recent projects have included giving the younger students shoe boxes and asking them to create dioramas of their perfect classroom. One student glued felt around the edges that represented sound-absorbing walls to limit distractions so he could focus on his teacher. Another transformed his shoe box into a basketball court because playing sports helps him relax.
A different project challenged the gradeschool students to brainstorm ideas for smartphone apps that could help them. One suggested an app that would allow users to take pictures of their textbook pages and have the app turn the information into songs—the student has an easier time remembering lyrics.
Throughout the process, mentors engage mentees in topical conversations about their ideas and discuss ways to put concepts into practice.
"Unconsciously, [the grade-school students] are talking about what their strengths are, what they need to do to succeed in life, and what skills and technology they need to use in order to do that," Cahill says.
At the end of each art session, students present their projects to the full group.
"We want you to feel that you can do anything you want and that you can show people and they'll love it," Mainiero says. "We want to let them know the good things they can accomplish. I've struggled my whole life with a learning disability and look where I am."
Shoshi Goldfus, a social worker at Clymer Elementary, facilitates the relationship between Temple and Mastery Charter Schools.
"I think the kids, from day one, got this incredible sense of investment and caring from the Temple students," she says. "For kids in our community, that means a lot."
Goldfus is involved with Eye to Eye directly and through family connections. Her cousin serves on the organization's board, and Micah Goldfus, the national program director, is her brother.
She views Eye to Eye as more than mentoring. She sees friendships develop and role models emerge.
"To see adults who have had the same struggles that [students] have and accomplish great academic success—that was really game-changing for our kids," she says. "It helped answer the question of 'What happens to me next?'"
Cahill knows he and his peers can help younger students answer that question. He notes the worry he sees in parents who are new to the world of disabilities. "They're scared for their kid, because they think it's the end—that their kid won't be able to graduate high school or college or anything like that. My own parents had that thought once. But I'm a testament to the fact that there's nothing to be scared of. You can graduate high school. You can graduate college."