Project ENGAGE overcomes obstacles to provide dental care to Philadelphia's most underserved children.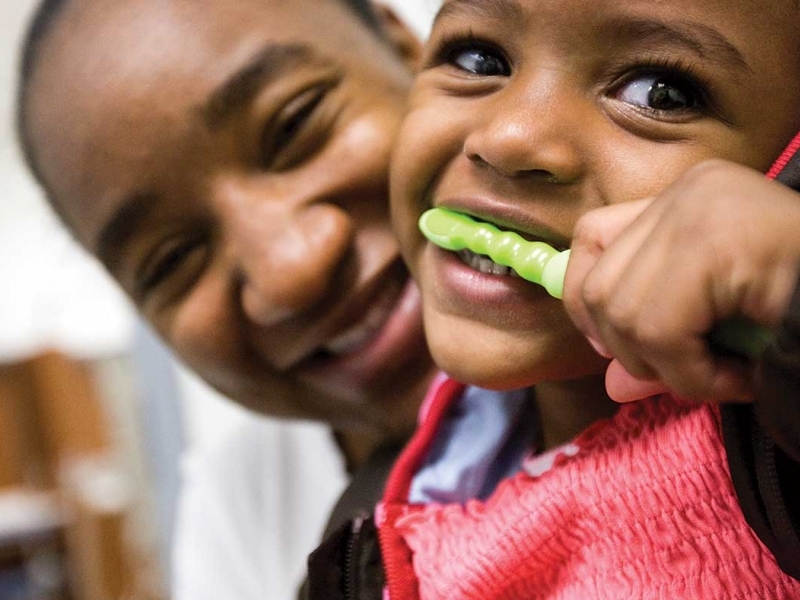 Shandea Wellmon is working to make a better life for herself and her two boys, Jahir, age 5, and Zakir, age 3. Wellmon, who lives in a small row home on a North Philadelphia street lined mostly with boarded-up houses, hustles each day to take public transportation to the Harris School of Business in Upper Darby, Pennsylvania. When she completes her training to become a medical assistant, she'll join the just 18 percent of residents in her ZIP code who hold a professional degree.
She's spent almost her entire life in the neighborhood, where the median income is just below $18,000. It's a place where help rarely comes unsolicited, which is why Wellmon was skeptical the day Elleatha Bell called, asking questions about Zakir and whether she could help him access dental care.
"I wasn't sure what was going on," Wellmon says. "I was like, 'I don't remember signing up for anything.'" 
Bell told Wellmon she wanted to help schedule an appointment for Zakir at one of several dental clinics in North Philadelphia; the appointment would be paid for through the family's Medicaid. Wellmon agreed and a few weeks later made the short walk up North Broad Street to Kornberg so Zakir could see a dentist at the school's pediatric dental clinic.
Zakir was found to be in good dental health and at low risk for cavities. He is scheduled for another visit in the spring, when he'll receive his first fluoride treatment. For his mother, finding a nearby dental clinic was a relief.
"It's tough to find places that accept Medicaid," Wellmon says.
 
"Everyone is tracking the realities of high-cost care. We believe we can provide a solution."
-- Amid Ismail, dean, Kornberg School of Dentistry
Right Place, Right Time
The Wellmons' experience is exactly what Amid Ismail, dean of the Kornberg Dental School, had envisioned for nearly a decade. Ismail, who came to Kornberg in 2008 from the University of Michigan, is the architect of Project ENGAGE, a multimillion-dollar effort to link low-income children in North Philadelphia with dental care.
Project ENGAGE contacts families to initiate preventive care for children under 5 years old who have never seen a dentist or are at high risk for tooth decay, hopefully before their caretakers face costly dental emergencies. The need is great: Nationally, oral infection is the leading chronic disease in children, with a prevalence five times that of asthma. According to a 2008 study by the Public Health Management Corporation, more than 25 percent of children living below the federal poverty line in southeast Pennsylvania hadn't seen a dentist in the past year, compared to 8.5 percent of nonpoor children.
Ismail originally developed the idea for Project ENGAGE while working in Detroit as a professor of health services research and cariology at University of Michigan. There he saw the same need among people living in Detroit's inner city and floated the idea of an outreach model to regional healthcare providers. They all balked.
"We were ahead of our time proposing this—before people started talking about systems and integrated care," Ismail says.
But his arrival in Philadelphia was well-timed. Following the signing of the Patient Protection and Affordable Care Act, he says, the national conversation around healthcare began to change. Expanded coverage meant potential new customers who previously couldn't afford care, and providers began to take interest.
It was the breakthrough Ismail had been seeking for the better part of a decade.
"A health insurance company became interested in testing a new model because everyone is tracking the realities of high-cost care," Ismail says. "We believe we can provide a solution."
Ready, Set . . . Slow
Early elation about finding a project partner was dampened by legal and administrative hurdles for Ismail and his staff.
Project ENGAGE called for the development of a database utilizing the healthcare records of UnitedHealthcare beneficiaries, which would then be accessed by community health workers. As a state-contracted provider of Medicaid insurance in Philadelphia, UnitedHealthcare had to ensure no privacy laws would be violated. In an age when laws such as the Health Insurance Portability and Accountability Act place an increased emphasis on the privacy of patient data, the project was a tough sell to the legal teams of all parties involved.
"We went into uncharted ground with a health insurer giving data on their patients to a dental school for use in a large registry, which would then be accessed by people in the community," Ismail says. "When we first presented that, they said, 'Are you really serious about doing this?'"
This caused delays, but legal teams for all the parties involved eventually reached an agreement. Ismail then had to find a vendor to build the database and recruit community health workers. To aid in the
latter process, he hired Nija Rivera, CPH '12, who earned a master of public health degree at Temple, as project manager.
It was critical that Rivera find workers who could navigate both the five ZIP codes Project ENGAGE would cover and the healthcare system. Workers would be tasked with scheduling appointments, assisting with paperwork and sometimes helping families apply for assistance such as public transportation vouchers.
Familiarity with the neighborhoods and hardships faced by residents who lived in them would also be crucial to efficiently enroll families in the project.
"We cover a wide range of the city, and a lot of the neighborhoods have very different populations," Rivera says.
To find community workers from the neighborhoods Project ENGAGE targets, Rivera looked to Temple's Health Information Professions Career Pathways Initiative, which certifies low-income Philadelphians for health professions. It was there she met Bell, a resident of Philadelphia's West Oak Lane neighborhood.
"I have a daughter, and she didn't have healthcare when she was born, so I took her to a health center," Bell says. "Just going through that process and feeling like nobody is there for you is really discouraging."
Easier Said Than Done
Bell and four other workers began contacting families in July of 2014. In theory, they would schedule appointments at one of six clinics—either at Kornberg or one of five community-based clinics that agreed to participate—through phone calls to the families of children who met the Project ENGAGE criteria. But the reality is different.
"Originally we thought there were about 4,000 eligible children, but when we ran the report in July, there were only 960 kids," Rivera says. "Insurance changes. They might lose insurance or fall out of an income bracket, so when the report is run again there might be more or fewer eligible children."
Calls to the families who still qualify often go unanswered; messages are unreturned. So Bell and the other workers follow up by knocking on doors.
Once families make an appointment through Project ENGAGE, the community health workers conduct follow-up sessions to review the results of the visit, provide oral hygiene information and help set dental-care goals. But occasionally contact is lost along the way.
"Some parents will schedule an appointment, and then the day comes and they don't show up," Rivera says.
Despite the program's hurdles, Ismail remains optimistic and believes strongly that Kornberg must take the lead in testing new models for healthcare. And if Project ENGAGE is successful, Kornberg will be seen as a national pioneer in making preventive dental care a reality.
"Health is connected with all of the social, economic and cultural beliefs that people have, and we cannot isolate it from that. We need to design programs for people who use them," Ismail says. "We are on the road and know the direction. It's a matter of maintaining momentum until we get results."
Bell says she's already seen the benefits of Project ENGAGE in action—each phone call or visit improves the lives of families like the Wellmons. "Being here for children," Bell says, "and helping them get dental care is an awesome feeling."
 
Kyle Bagenstose, SMC '11, is a professional writer who works in journalism and marketing. He lives in Philadelphia's Francisville neighborhood.