Temple now offers an admissions option that doesn't require standardized-test results.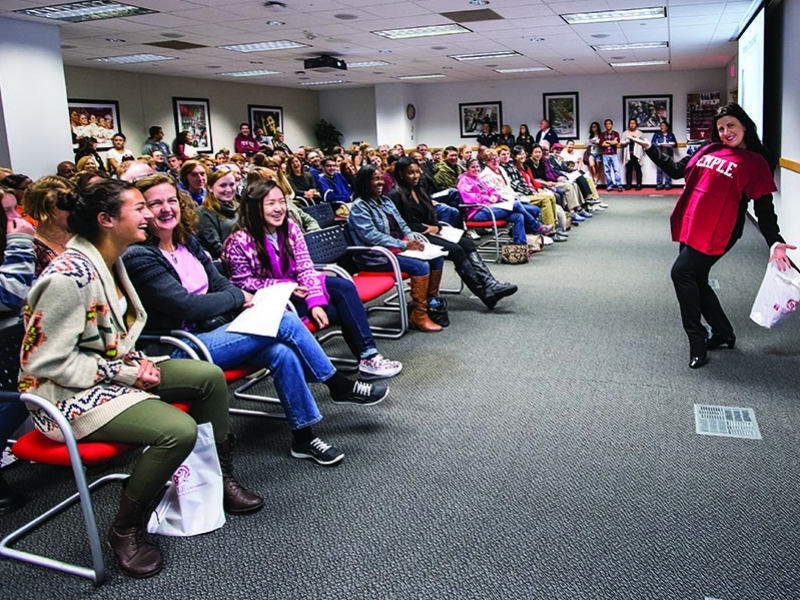 One morning last fall, Niki Mendrinos, EDU '03, '14, senior associate director of undergraduate admissions at Temple University, was delivering her characteristically high-energy presentation to a crowd of approximately 100 prospective students and parents in the Welcome Center on Main Campus.
Midway through, she pointed to a slide that outlines the university's newest, and in her mind most exciting, admissions development—the Temple Option, which offers applicants the choice to not submit standardized test scores. Less than two months earlier, Temple had become the first large public research university in the Northeast—and one of the nation's only urban public research universities—to offer such an option.
"It's just been rolled out for the first time for our fall 2015 applicants," Mendrinos explains. "So you don't have to submit your test scores if you think they don't best represent you." As an alternative, she added, applicants must respond to four short, self-reflective essay questions designed to assess noncognitive factors such as grit, determination and self-confidence.
The Temple Option is part of a growing national trend—so far, more than 850 of the country's approximately 2,500 four-year, degree-granting colleges and universities have made standardized tests such as the SAT and ACT optional in some way. The rationale: to level the playing field for the significant percentage of college applicants who either don't test well or don't score as well as others, in some cases because they cannot afford to take test-prep classes. It's a movement based on a growing body of research that questions the ability of standardized tests to predict collegiate success. Evidence of hard work and strong high school GPAs are much more predictive of success in college and beyond.
In fact, after looking at nearly 123,000 students at 33 public and private institutions with test-optional policies, Bates College researchers found that those who didn't submit test scores finished with GPAs just 0.05 lower than those who did submit scores. They also graduated only 0.6 percent less often than those who submitted scores.
"The Temple Option literally puts us in a leadership role for major research universities by giving us the opportunity to look at the whole story of some amazing students and giving them opportunities they wouldn't have otherwise," says Temple Chancellor Richard Englert.
This past summer, just weeks after the university adopted the Temple Option, Mendrinos earned her EdD in higher education administration from
the College of Education
by successfully defending her dissertation on that very topic: how some students who score poorly on SAT and ACT tests nonetheless excel at college.
Looking at the fall 2009 incoming freshman class of 4,100 students at an unidentified public research university, she identified a group of students who—despite SAT scores below 1,000 or ACT scores below 21—proved their high school GPAs of 3.3 or above were no fluke. They graduated in four years, and they didn't simply eke out their degrees. Their average college GPA was 3.56, a whopping half-point higher than the rest of the graduating class' average GPA of 3.03.
Surprising? Not to Mendrinos. Those students' stories are her story, too.
Grit and Determination

At Kingston High School in upstate New York, Mendrinos was the kind of high-achieving, well-rounded student most colleges would fall all over trying to admit. She was active in Students Against Drunk Driving, captained the cheerleading squad for three years and portrayed Aunt Eller in Oklahoma! During her senior year, she was president of her school's student government and served as her class's social chair. All while working part time and summers at the local mall and in her mother's real estate office.

And she would finish high school with a 3.3 GPA.

Yet when she informed her high school guidance counselor of her dream to attend Pace University in Pleasantville, New York, she was told she would never get in.

Why? In her words, Mendrinos was—and still is—"horrible" at taking standardized tests. Despite spending 15 to 20 hours studying, the first time she took the SAT, her combined math and verbal scores didn't break 1,000 points. Her results were just as poor the second time she took the test.

"All these other things didn't matter," Mendrinos recalls in her Welcome Center office after her admissions presentation. "My guidance counselor based her assessment just on my test scores." Her unspoken response: "Yeah, well, we'll see about that."

Admitted to Pace after a successful interview with an admissions officer, she more than rewarded his faith in her, finishing with a 3.3 GPA. She tutored students in New York City who were learning English as a second language and, fittingly enough, served as a peer advisor for Pace students who had been admitted with high GPAs and low SAT scores. In addition, she was the social chair for her sorority, vice president of Pace's Future Educators of America chapter and senior class president.

Finally, after making the dean's list every semester, in spring 2000 she delivered her graduating class' commencement address.

In 2001, after working briefly as a Pace admissions counselor, she assumed a similar job at Temple University—the first of many admissions positions she has held here.

Mendrinos figured that her academic achievements as an undergraduate had put to rest questions about her abilities based simply on standardized tests. She was wrong. When Mendrinos applied to earn a master of higher education degree at Temple, she again bombed the standardized tests—this time, the Graduate Record Exams and Miller Analogies Test—and had to take three graduate courses to prove herself before being formally admitted to the program.

Then, despite finishing her master's degree with a 3.87 GPA, it was déjà vu five years ago when she wanted to earn a doctorate. Refusing to again embarrass herself by retaking the GREs and MATs, she took three doctoral-level courses to illustrate her worthiness—and aced them all. Nonetheless, she was told by one administrator that no one with such low previous test scores would ever be admitted into the Educational Leadership doctoral program.

Mendrinos was undeterred. She elicited strong support and recommendations from two of her master's program professors: James Earl Davis, then the interim dean of the College of Education, and Richard Englert, the university's current chancellor and former acting president who, at the time, was deputy provost.
"On the basis of her very strong performance in my class and my knowledge of her excellent work in
the Office of Undergraduate Admissions
as a leader and administrator, I was very impressed with her," Englert says. "She had energy, she had dedication, she was intelligent, and she was very engaging with potential students and their families and existing students."
As a senior associate director of undergraduate admissions, Mendrinos manages programs that draw more than 80,000 prospective and admitted students and their family members to Temple each year. Under her watch, prospective student visits have been increasing 10 percent to 15 percent annually.
In addition, she reviews and makes admission decisions on nearly 5,000 applications per year.
"I love that I am able to advise and help students find the right fit for them," she says. "The best part of the job is being able to tell some applicants during a visit, 'Congratulations, you've been admitted to Temple!'"
"Going test optional has opened the door for so much growth, opportunity and access to college for so many more deserving students."
-- Niki Mendrinos, EDU '03, '14, senior associate director, Undergraduate Admissions

Test Subject

Once Mendrinos was ultimately admitted to the doctoral program, there was no doubt in her mind what her research topic would be. "I'd been waiting all my life to do this type of study," she says of her research on college students with low test scores and excellent high school GPAs. "It's also one of the reasons I went into admissions—the recognition that students who do well academically and have a lot to offer may not do so well on standardized tests."

In order to obtain unbiased, objective results, researchers must avoid subjectively inserting themselves into their work. But though Mendrinos never related her own experience to the college students who became her study subjects, she says, "I saw myself in all of them."

Among the students' most common comments, she says, were "How does one test predict how I'm going to do in school or life?" and "Why isn't more than four years of schooling looked at more heavily than a four-hour Saturday test?"

As one subject told her: "College is much more than scores/grades; it's the ability to adapt to a new environment while main-taining that focus to get an education. No standardized test can gauge that."

Obviously, not everyone who has low standardized test scores and a strong high school GPA will do well in college. Of the 384 incoming freshmen Mendrinos considered because they fit that profile, only 82 graduated in four years with a 3.5 GPA or better.

After surveying all 82 with a questionnaire and conducting in-depth interviews with 20 of them, Mendrinos identified four noncognitive characteristics that allowed her subjects to overcome and disprove their standardized test scores:

• motivation
• persistence
• self-efficacy, and
• emotional intelligence—the ability to be in tune with, and act upon, one's own and others' feelings and emotions.

The majority of the 82 students were white females from small public high schools—a somewhat surprising finding that nonetheless conforms with previous research that shows standardized tests disadvantage both females and minorities.

Mendrinos and her dissertation suggest that colleges and universities need to find better ways to
• evaluate gender- and minority-related test results;
• evaluate applicants' noncognitive traits; and
• better measure the progress of, and better support, high-achieving students with low test scores once they matriculate onto college campuses—which a recently awarded $225,000 grant from the
Bill & Melinda Gates Foundation is designed to help Temple do.

Mendrinos was compiling her research at the same time Temple University was considering the test-optional admissions procedure. Although the Temple Option program was not based on her work, she did sit in on several of the Temple Option committee's meetings and discussed her findings.

"Niki's research supports that decision and provides even more evidence about a policy decision that, in some corners, was controversial," says Davis.

Simultaneously, the committee that was considering the Temple Option was finding that a certain percentage of high-performing Temple students had also failed Advanced Placement tests at a higher rate than other incoming freshmen and had performed poorly on Temple's math placement screening tests. "Her dissertation enforced what we were finding," says Temple Option committee member Joseph DuCette, the College of Education's senior associate dean of assessment and evaluation.
Adoption of the Temple Option has elated Mendrinos. "By really taking a holistic look at what students can offer beyond their test scores, going test optional has opened the door for just so much growth, opportunity and access to college for so many more deserving students," says Mendrinos. "It's about time, and I'm really happy I'm here while it's happening." 
Bruce E. Beans is freelancer located in Bucks County, Pennsylvania, who writes frequently for Temple University.