<div>SCT '03, CLA '07</div><div>Degree: BA, Advertising, School of Communications and Theater, 2007</div><div>Occupation: Harlem Globetrotter</div><div>Location: Philadelphia</div>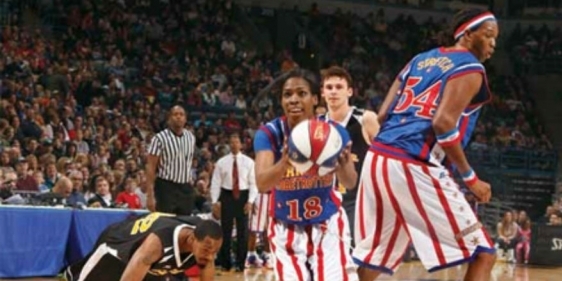 Story by Alix Gerz
Photography by Jeffrey Phelps
As children, who among us did not occasionally pick up a basketball and try to spin it like a Harlem Globetrotter? Or attempt a halfcourt shot, or try to dribble two basketballs at once?
For 86 years, the Harlem Globetrotters have amused the young and the young at heart, giving kids a bevy of tricks to try at home and breaking down cultural barriers through their comedic game play. Today, Fatima Maddox, SCT '07—the ninth–ever female Globetrotter to grace the court—takes her role on one of the world's zaniest sports teams very seriously.
"We spend a lot of time off the court giving back."
The Colorado Springs, Colo., native, known as "TNT" for her "explosive" ball–handling skills, calls herself a "dribbler in the spirit of Globetrotter legends Curly Neal and Marques Haynes."
And, because the Globetrotters consider their players ambassadors of goodwill who are dedicated to both charity and entertainment, Maddox says the tricks and skills she executes on the hardwood allow her to do what she loves most: give back to her community.
"[The Globetrotters are] absolutely about more than sports. We spend a lot of time off the court giving back," Maddox says.
Despite being on the team for a short nine months thus far, she has been able to visit elementary schools to talk about character building, and to spend time with patients in children's hospitals.
"I love that I am able to play basketball professionally, and that I am now an official Ambassador of Goodwill, traveling the world, putting smiles on families' faces and making memories for them."
As the first woman on the team since 1993, Maddox also realizes she has a powerful impact on girls who are awed by the Globetrotters. "I really enjoy being able to show women and young girls that we can do anything we set our minds to," says Maddox, who was coached by a strong female while at Temple: three–time Olympian Dawn Staley. As a senior, Maddox averaged 11.6 points per game as a guard. During the 2005–2006 season, she was named the team's best three–point shooter.
For Maddox, embodying the powerful moniker "TNT" means more than being a great dribbler. "I bring a passion for the game of basketball," she says, "as well as a passion to try and make others´ lives better off the court."

For more alumni profiles, check out the latest issue of Temple.